The Last day of this week BM : Sandwich without using bread!!! When i picked up this theme, i surely didn't know it would be a bit tough to tweak. But totally loved the way i strained my pea brain to come out with ideas that would not only look good, but be appreciated and enjoyed by my family. Thanks to valli for challenging us with themes like these !!!
For the last day, here i m with a sandwich from the humble idly. Idly, a South-indian Rice Cake, Loved by Many. But has that many haters too, especially kids!!! Nothing bores them down, like a Idly on a busy Morning!!! That too when the idly is not as fluffy as it should be. Yup, today morning breakfast, didnt turn out that good, i might have added too much water to the batter, my idlies came out little flat. My Kiddo already doesn't refer idlies, What to do, I had different plan for sandwich, but then changed the idea and made these cute filling idly sandwiches!!! Needless to stay, I literally locked the room to finish clicking pictures!!!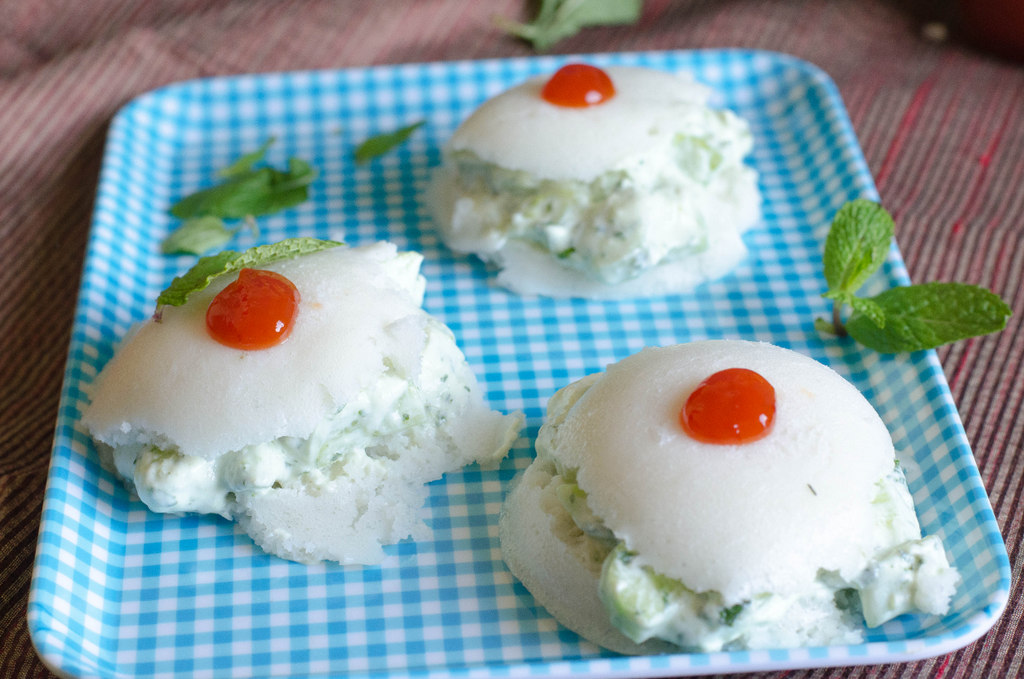 Ingredients
Tomato-Chilly Sauce for serving
few mint leaves for garnishing
Minty Cucumber Spread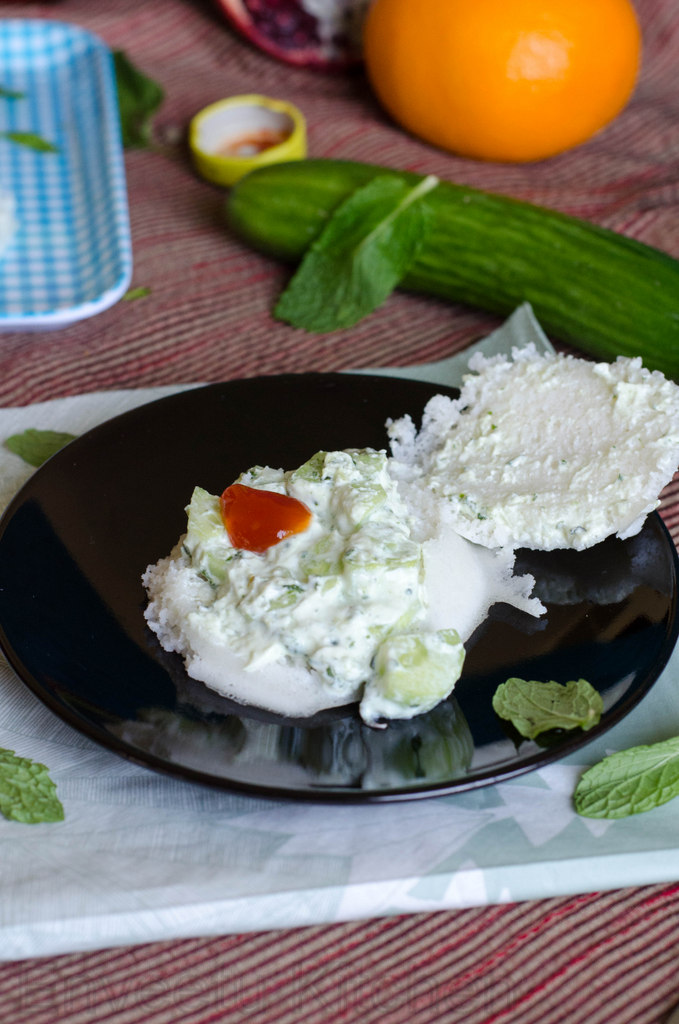 To Grind
Method
To Make Hung Yogurt
Take ¾th cup of Yogurt in a Tea Strainer and Keep it on top of a bowl and leave it for an hour aside. The Whey would collect in the bowl below the strainer. 
The Yogurt would be thick like ice-cream, use the hung yogurt as per the recipe.
To Make Minty Cucumber Spread
Grind the Ingredients given under "To Grind" to a coarse paste.

Wash, Peel and Chop the cucumber into small pieces. Take it in a bowl, add coarsely ground masala, add hung yogurt and Salt. Mix well.
To assemble the sandwich
Using a Idly steamer, Steam Cook  4 Idlies. Let it cool, umould it and take it on a plate.

Make a horizontal slit on the idly, like a burger bun. But do not cut into 2 slices. Make a Slit, so you can open n close the idly.

Spread 2 spoonfuls of Minty Cucumber spread on the idly. Close. 
Spread a blob of Tomato-Chilly Sauce, Garnish with mint leaves and Serve Immediately.
Check out the Blogging Marathon page for the other Blogging Marathoners doing BM#26