For the third week of Blogging Marathon i m doing combo dishes. There are some dishes, which taste awesome only with certain accompaniments, so for the next 3 days i will posting such awesome recipes. For the first day, i m with a breakfast recipe. Sandwich and Cutlet. I was first confused on how to serve, thanks to Vaishaliji, she helped me with that.
A simple vegetable cutlet,served along a onion-cucumber sandwich. But my family didn't prefer it that way, so i served with the cutlet stuffed in the bread along with some cheese. It was a yummmy breakfast and will also be a wonderful snack along with tea.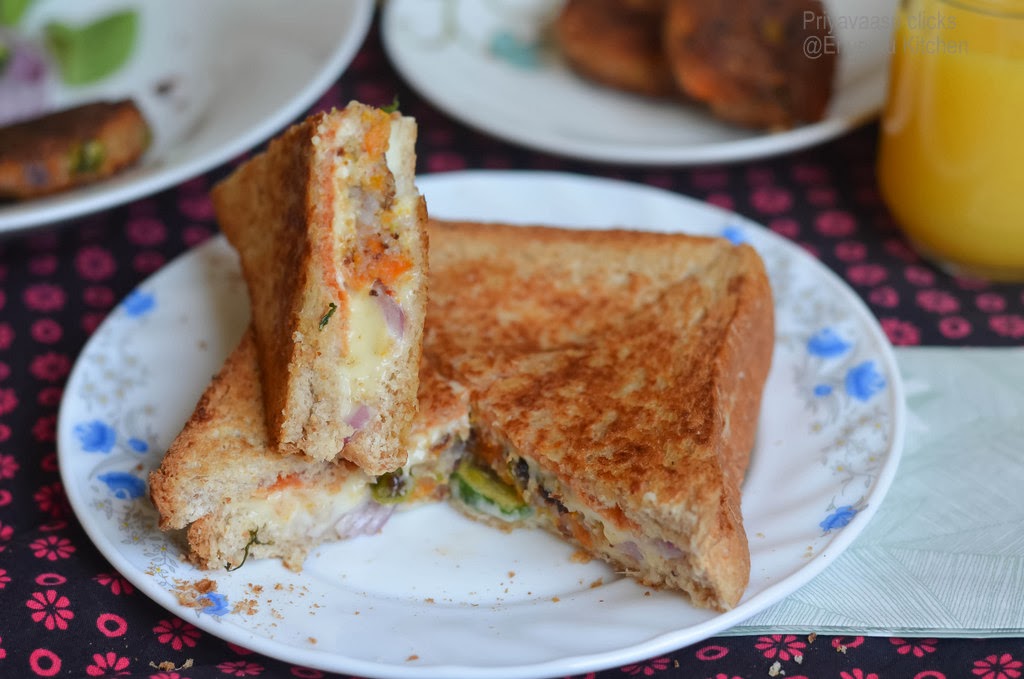 Ingredients
¾ teaspoon red chili powder
1 teaspoon coriander powder
¼ cup bread crumbs +2 tablespoon extra for coating
2 tablespoon white sesame seeds
Method
Peel Potato, Carrot, and chop them into cubes. Take it along with other veggies in a Microwave-safe bowl, add a cup of water, and Cook @ high for 12 minutes.

Drain the excess water. Do not waste it, add it to some curry or soup. i added it to my rasam. Let the veggies cool for 5 minutes. Mash them well using a potato masher.

Next add the seasonings, red chili powder, coriander powder, add ¼ cup bread crumbs, corn flour and salt. Finally add sesame seeds and mix well with your hands.

Take the remaining 2 tablespoon bread crumbs in a flat plate. Make golf-size balls of the vegetable mixture and flatten them slightly to make a patty. Roll the patty in the breadcrumbs and place it on a flat plate.
Assembling the sandwiches
10 slices of brown bread (makes 5 sandwiches)
2 onion, cut into roundels
2 cucumber, cut into roundels
2 tablespoon tomato chili sauce
Method
Take 2 slices of bread. Squirt little sauce on one side of a bread slice, place a cheese slice, top it with a cutlet and 2 slices of onion and cucumber, close it with another cheese slice and a bread slice.

Toast the sandwich on a hot gridle with or without butter until crisp on both sides.
Slice and serve hot.If packing, make an X on top, to ease picking and eating, pack it in alu-foil.