As part of trying world cuisine, we have landed at Nepal today. Nepal the land of Mount Everest. The Mountainous north of Nepal contains 10 largest peaks of the world, including Mt. Everest also known as Sagarmatha in Nepali.
Lumbini, birth-palce of Lord Gautam Buddha  is also here.
So, what are we tasting from Land of Buddha today? Chatamari, served with Pineko golbheda achar or simply Tomato achar.
Chatamari, refered as the Nepali pizza, is a traditional food of Newari people. It is topped with minced meat and eggs. Since we don't eat meat or eggs, i tried to top it up with mixed vegetable curry and served with spicy nepali style tomato pickle.
There were 2 versions of this dish, one made with rice flour and another by sokaing rice and dal together and grinding it to make the crepes. I chose the later one and served it for dinner yesterday and for my breakfast today. It was a filling breakfast and that tomato achar is not be missed, as it adds a super zing to the dish.


Source: Food, pleasure & health
Ingredients
Topping
¼ cup carrots & beans (mixed together, i used frozen)
½ teaspoon red chili powder
½ teaspoon coriander powder
¼ teaspoon turmeric powder
Wash Rice and dal separately with water and soak together for 8 hours. 

After the soaking time, drain the water well and take it in a mixer and grind it to a smooth batter. I used around ¼ cup of water while grinding.

Transfer the batter to another vessel, if it is very thick, add another ¼ cup of water. I added that much to get a pourable consistency batter. Let the batter rest till the filling is ready.
Preparing the filling
Peel and boil potatoes until soft. I used my Microwave's Auto-cook menu to cook the potatoes. Once done, drain and cool.

Chop onion finely, heat a pan with 1 teaspoon oil, splutter mustard seeds, add cumin, hing and turmeric powder. Add chopped onions and saute till translucent. Next add green peas and frozen veggies and saute for 2-3 minutes.

Next add cooked potatoes, followed by red chili powder, coriander powder and salt. Mix well and using a potato masher, mash it all together. 

Let this cook in a simmer flame, covered, for another 8-10 minutes. If you feel the masala's are burning, just sprinkle water 2 or 3 times to avoid that. Do not add excess water, coz we need a dry curry to spread on our chatamari.

Once done, remove it from flame and keep it covered until use.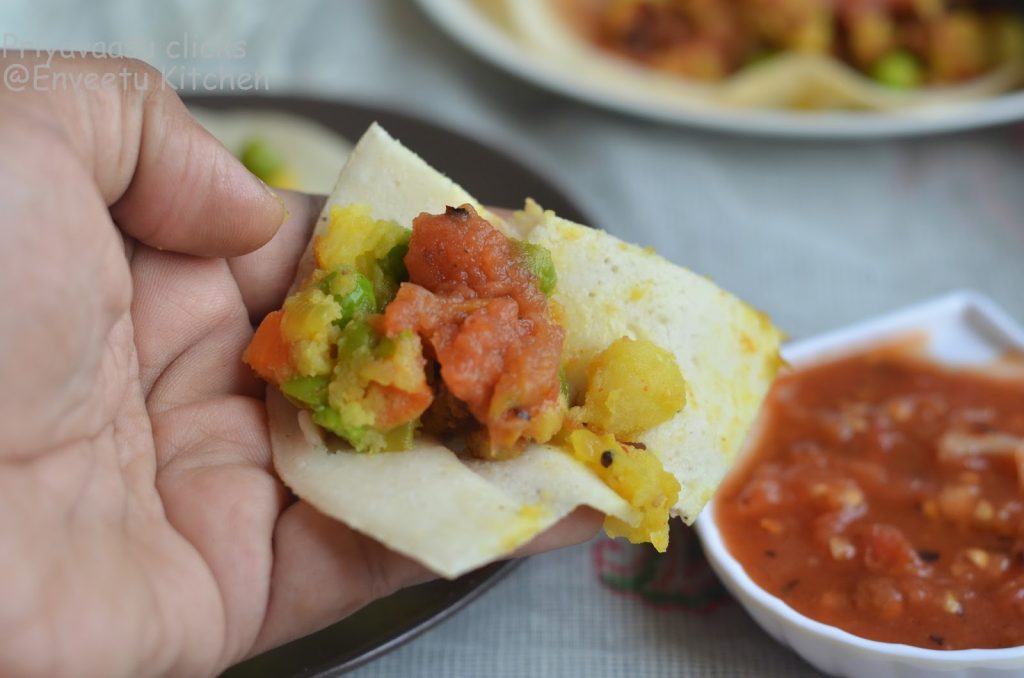 Making Chatamari
Heat a pan for making the crepes, i used my cast-iron pan. Prep the pan, by smearing a teaspoon oil on it and wiping it well with a paper towel.

Now take a ladle full of batter, pour it in the center, and spread it in a circular motion in the pan to make a pancake. Take care not to make it paper-thin or brick thick. 

Let it cook in a medium flame. Cook the chatamari only on one side. it took around 1 minute for the top to dry. 

Now spread 2 tablespoon of filling on top of the chatamari, and let it sit for another 2 or 3 seconds. Remove the chatamari to another plate and serve it topped with pineko golbheda achar or simply tomato chutney.

Do not miss the chutney, that is what makes this Nepali pizza, irresistible!!!
Sending this to Come, join us for breakfast, happening 
@ 
+Srivalli Jetti
's space.