While searching for No Knead bakes, i came across this overnight bread. Quite a simple recipe, just mix flour, salt and yeast with water. Add any seasonings you like, rest it overnight for about 12-18 hours, shape and bake . I have tried 2 savory breads and one fruit bread with this recipe. All came out super good. All the 3 times i baked half the recipe given below. Since the dough is rested for long hours,the amount of yeast is very less. 
I would definitely recommend this for anyone who fear the yeast. There is nothing you can go wrong here, except with the flavors. 🙂 
I m sharing picture recipes of the savory breads i made with the recipe. Since i made a very small loaf,it got over the same day even before i could take a decent photo. The savory bread can be paired well with a soup or a salad for a filling meal.
Savory Bread 1 : Tomato-Basil Cheddar Bread


Savory Bread 2: Coriander & Cumin Bread

Inspired from here
Ingredients
For the fruit bread
3 tablespoon candied fruits/tutti frutti
For savory bread 1:
¼ cup chopped fresh coriander
1-2 green chilies, chopped fine
¼ teaspoon white sesame for topping
For Savory bread 2:
1.5 teaspoon tomato paste
¼ cup shredded cheddar cheese
1 tablespoon finely chopped basil
Method
I made 2 versions with the above ingredients. I mixed the dough with yeast and salt. Divided it into two half and added fruit to one portion and savory to other portion. It is up to you to bake a sweet or a savory bread completely. 

Take flour,yeast, salt  into a wide bowl. Whisk well to combine. Add the fruit/savory ingredients to this and mix well.  Now add water to it and mix well with a spatula. 
Cling-wrap the dough and refrigerate it overnight. The dough has to rest for 12-18 hours minimum. I made the dough in the evening and baked it next day morning around 12 in the afternoon.

After 12 hours of resting, take the dough out of the fridge. Prepare the loaf pan with parchment paper. Dust the dough with flour, and shape the dough into a loaf and place it in a loaf pan.  since i used half the above recipe i baked in a small loaf pan.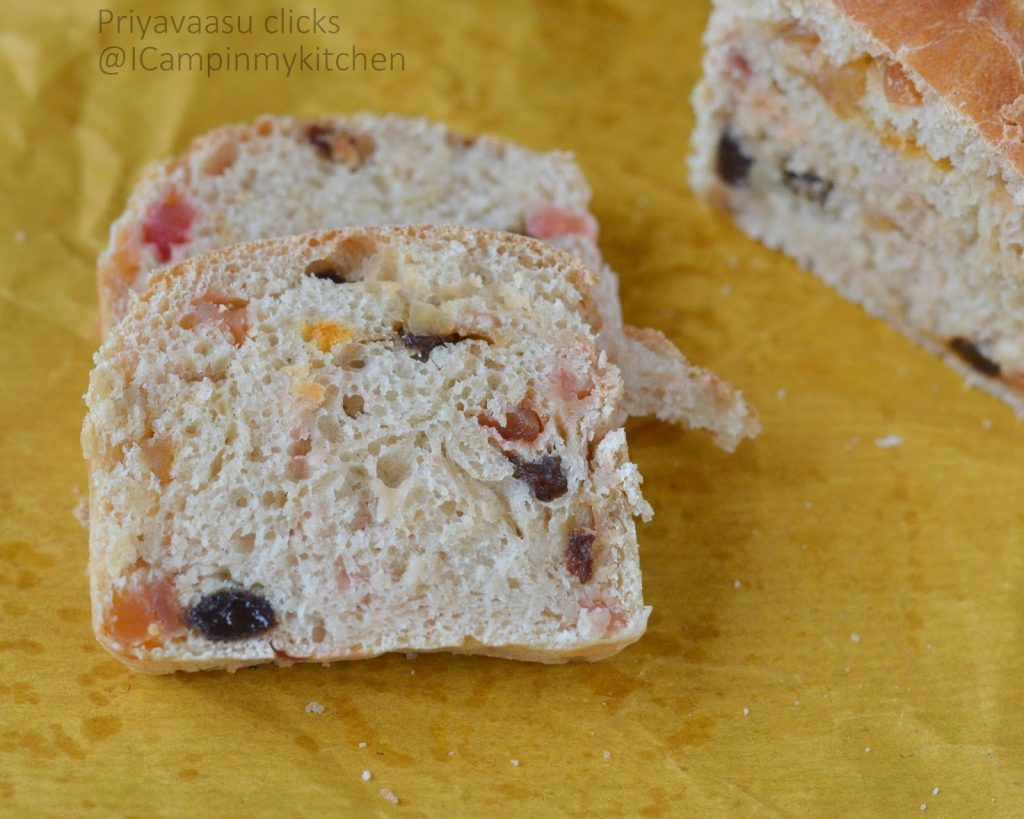 Let the dough sit for 2 hours. Preheat the oven to 200C and bake the loaf for 20-22 minutes or until the top turn golden brown. 

Remove the loaf from the oven, transfer it to a wire rack, let it cool completely. Cut and serve with your favorite spread.  
I served it with nutella to my kids and whereas we enjoyed it as such warm. 

Since i said i have used half measurements i m giving those measurements which i used to make the above said savory breads