I m pretty much in my vacation. yes, reached Chennai on Saturday and i m just lazing around in my mom's place. Life if ok, but then my LO keeps me reminding that, it is not fully my vacation with his occasional tantrums. Chennai is pretty much hot than i expected. Last 2 days, i couldn't step out of my house and a causal run in the auto to the nearby market, turned quiet itchy for my LO with heat boils all over. hmm, Me and my siblings along with our cousins used to go around pretty much everywhere when we were kids, we never bothered hot,cold or rain, but with our kids in tow, we literally become weather man, before stepping out.
Coming to today's post, it is from the drafts. I baked this bread in June and didn't find time to sit and do the post. Here it is a mildly sweet, flavorsome bread we baked for Aparna's We Kead to Bake#27. Every bite of it bursts with zesty orange and coupled with sweet, tangy apricot preserve and cinnamon. Though i baked it with a doubt that my people won't like the combination, but i was wrong, it was a super hit and both daddo and the kiddo loved it. Though both the kiddo's preferred the bread part sans the filling, daddo enjoyed the filling too. When served warm, it is the best bread to go along with your evening cup or morning breaky!!!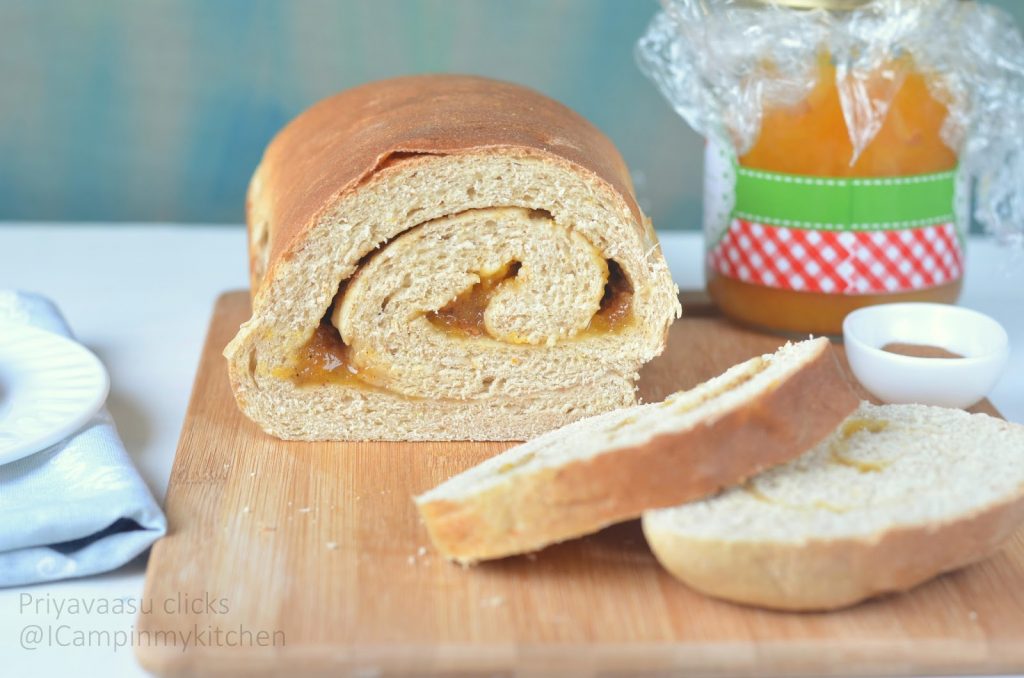 (Reproduced from 500 Breads by Carol Beckerman, with permission)
1.5 cups Whole Wheat flour (not chapathi atta)
3 teaspoon egg replacer powder (EnerG) mixed with ¼ cup of water or 2 eggs
The juice and finely grated zest of 1 orange
For the filling
5 tablespoon apricot preserves (i used homemade preserve)
¼ cup brown sugar (i used powdered jaggery)
Method

Grease two 8"x 4" loaf tin with a little oil. I used one big 10 x 5 inch loaf pan.

I used my food processor for making the dough, it can also be kneaded by hand. In the food processor bowl/large bowl, mix together the flour, yeast salt and the 3 tablespoon sugar. Add the EnerG mixed with water, the juice and the zest of orange and start kneading the dough.

Slowly add the warm water and make a firm dough. Knead the dough for another 5-6 minutes in the processor to get a smooth and elastic dough. if kneading by hand knead for around 10 minutes to get a soft dough.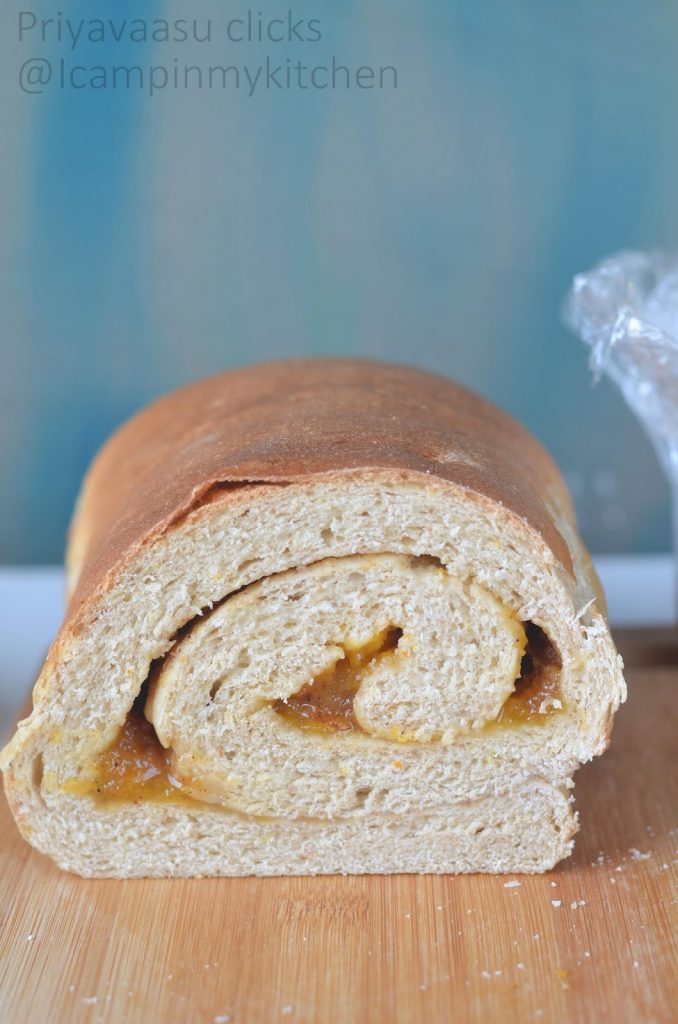 The dough should be soft and firm. A loose dough might give you a soft bread, but rolling it with a filling inside will be pretty messy. So try to use the correct liquid to get a firm dough.

Place the dough in a large oiled bowl, and turn so it is coated all over.Let it sit in a warm place for about 1 1 /2 hours, until doubled in size.

Turn the dough out onto a lightly floured surface and punch down. Knead for a few minutes until the dough feels firm. Roll into to 6 x 13-inch rectangles.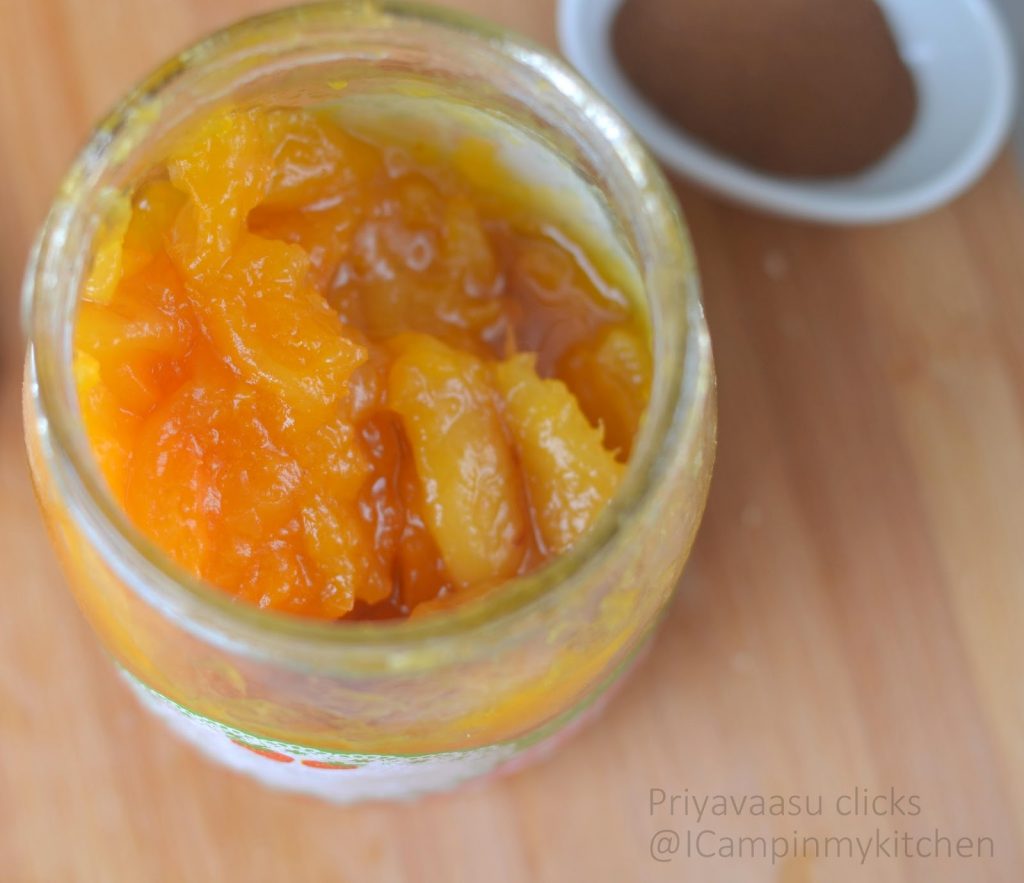 Since i made it as a single loaf, i just rolled it slightly bigger rectangle. Take care not to roll it very thin, as there is a chance of loaf tearing up while baking.

Spread each rectangle with apricot preserves and sprinkle with cinnamon and brown sugar. Roll up each rectangle like a jelly roll and place it seam-side down in the loaf tin.

Try to roll it a bit tight, that makes the swirl nicely seen without any big gaps. i forgot to do this, and you can see my swirls pretty loose. But nevertheless

the taste was spot on!!!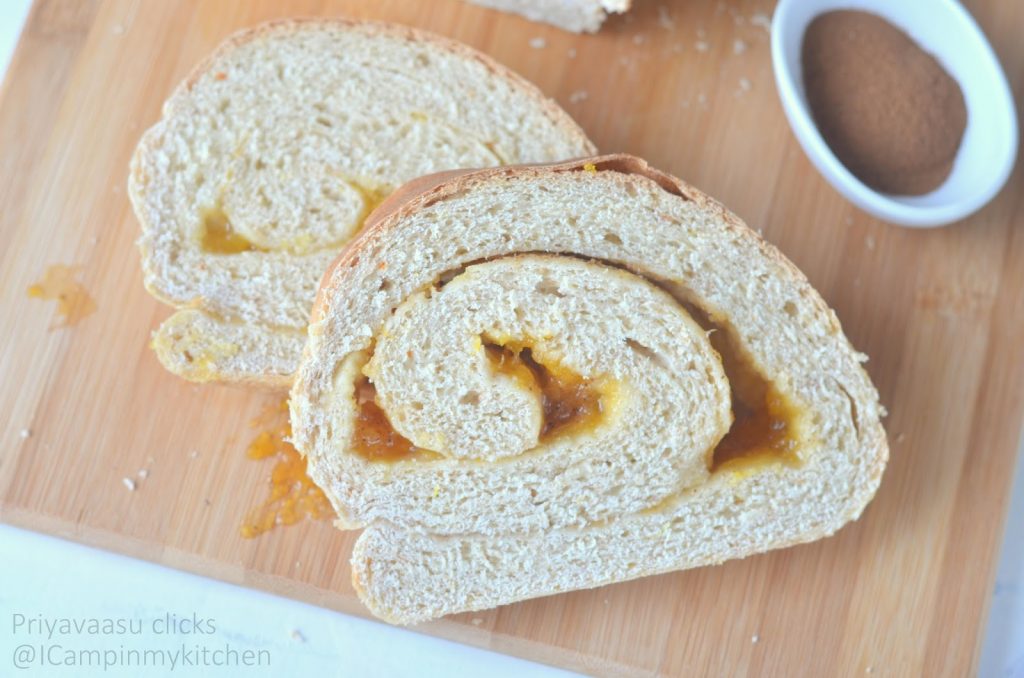 Let the prepared rolls, sit for about 30 minutes for the rolls to plump up.

Pre-heat the oven to 200C (400F) and bake the loaves for about 40 to 45 minutes until the top is golden brown and the bottom of the loaves make a hollow sound when tapped. Cool on a wire rack. Slice and serve it along with your evening cuppa or serve it warm for morning breakfast.
Sending this to Kids Delight-Fruits in any form, happening @ Harini's space, event by +Srivalli Jetti