Kulcha, is a leavened flat-bread, popular in India and Pakistan.
Flour dough is rolled into a flat, round shape and baked in an earthen clay oven until golden brown. When baked, it is usually rubbed with butter, and then eaten with spicy chickpeas curry.
Do you know that kulcha was a royal symbol and appeared on a flag? No, i m not joking. Who gave that royal status to humble kulcha? The Nizams. 'Kulcha' was the official symbol of the Asaf Jahi dynasty and even appeared on the Hyderabad state flag.
A state known for its niharis and kebabs gave kulchas a royal status than any other food product. Kulcha appeared not only on their Coat of Arms but also on the official flag of Hyderabad state. So, What is the story behind?It all dates back to Mir Qamruddin, an old courtier in Mughal court. Once, he was informed that he was appointed the Deccan Governor, he headed straight to meet his spiritual guide, Hazrat Nizamuddin Aurangabadi. Hazrat Nizamuddin invited him for a meal and offered him kulchas tied in a yellow cloth. Mir Qamruddin apologised for his hunger, on which Hazrat said that he could eat as many kulchas as he wanted.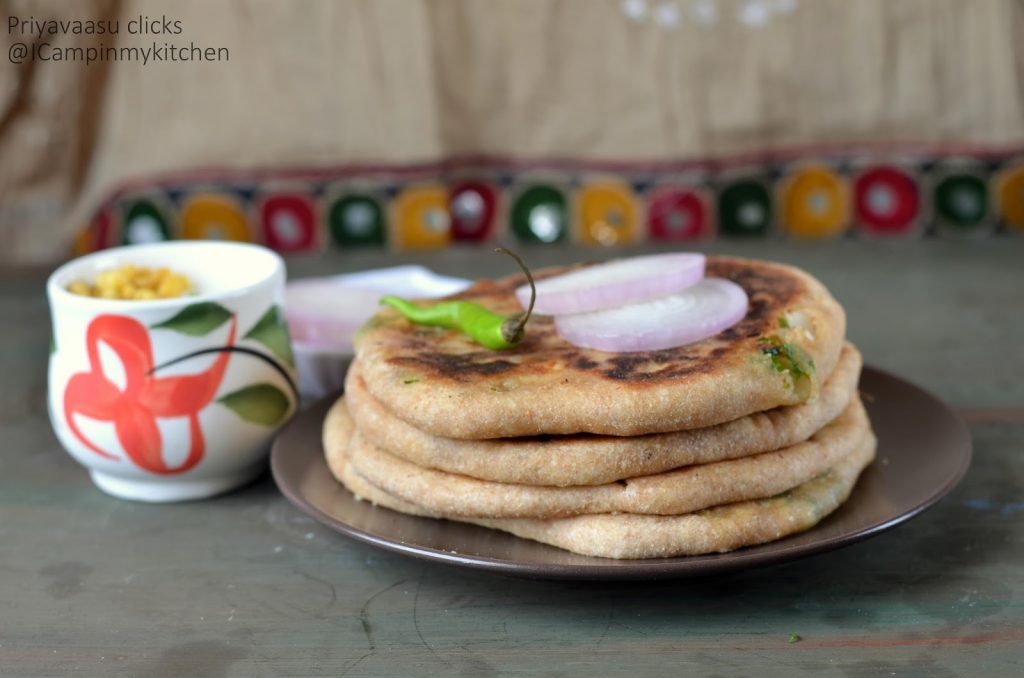 Hearing this, Mir Qamruddin gobbled down seven kulchas. On his apology, Hazrat Nizamuddin prophesied that one day he would be king and that his descendants would rule for seven generations. This prophecy came true. Soon after Mir Qamruddin came to Deccan, Nadir Shah invaded and sacked Delhi. With the Mughal power gone, the Nizams, who were simply governors, declared their rule in the Deccan, and became the richest kings of the biggest kingdom in India. And the kulcha became the centerpiece of the
Hyderabad coat-of-arms. It would appear everywhere, from the golden-yellow
state flag and the velvet ministerial insignia's, down to the rank
markings on a policeman's epaulets.
So, when +Chef Mireille gave us the theme of Yeasty flatbreads for this month's Bread Baker's theme, i decided i would do a kulcha. Kulcha is actually leavened using Baking soda and powder. But then since it is a leavened flatbread, it should also come good with yeast right? So, i decided to go with yeast. Here is the recipe, the original uses All purpose flour, i have used Whole Wheat flour for good.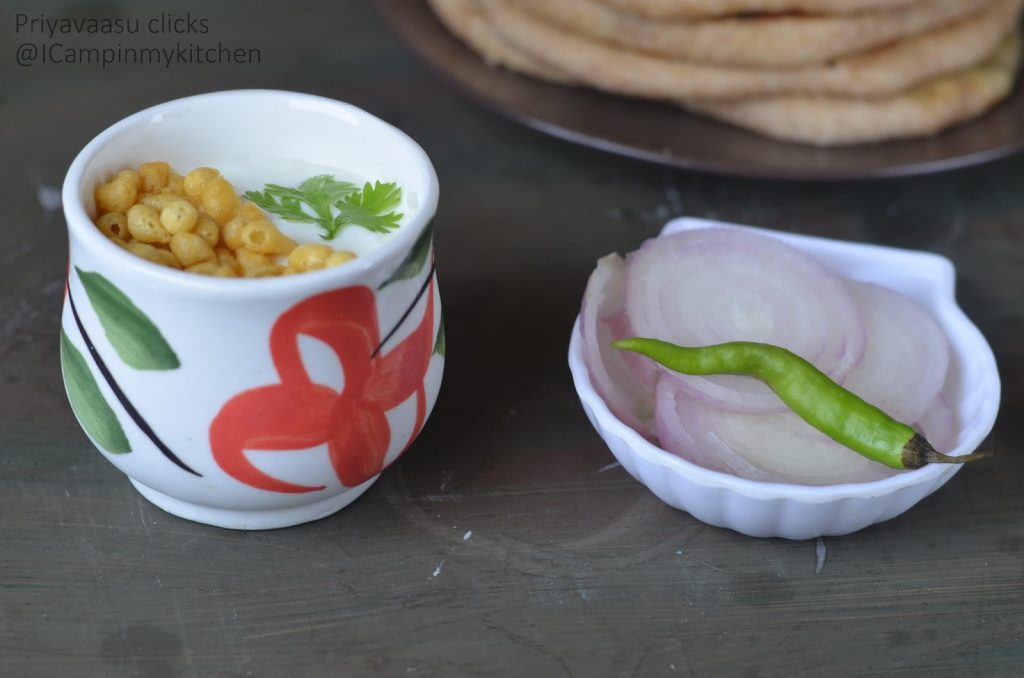 Ingredients
2 cups Whole Wheat flour (Not Chapathi flour)
1 teaspoon instant yeast (or use ½ teaspoon baking powder & ¼ teaspoon Baking soda)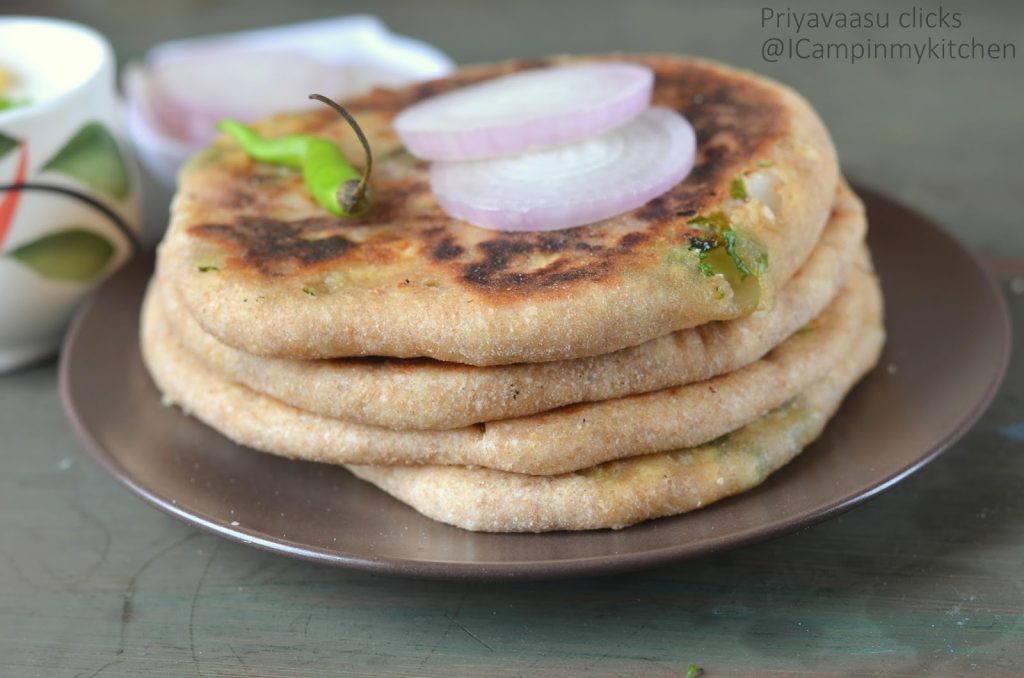 For the filling
200 gram of paneer ( I used store-bought paneer)
2 fistfuls of chopped coriander leaves
2 green chilies, finely chopped
1 large onion, finely chopped
Method
I used my food processor to knead the dough, it can also be kneaded by hand. Take the flour,salt, sugar and yeast in the processor bowl. Add curd and start running the processor to knead dough.

Slowly add water and oil to get smooth, soft pilable dough. Remove the dough to a large bowl. Let it rest covered for about an hour. The dough can also be made and rested in the fridge overnight, in that case, just remove it from the fridge an hour before making the kulchas.
While the dough is resting, let us make the filling ready, crumble paneer in a large bowl, add coriander, chilies, onion and salt. Mix well and set aside until use.

After an hour or so, remove the dough to a flat working surface, punch it down, knead a couple of time and divide the dough 6-8 pieces.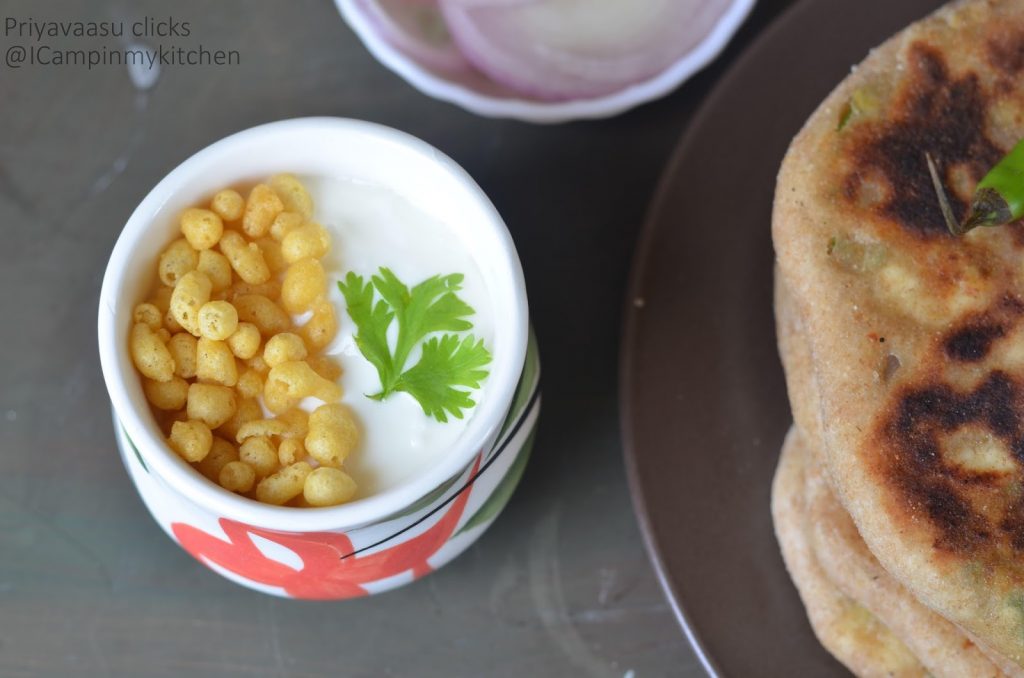 Dust your kneading surface liberally, flatten each portion of dough and roll it into a circle using a rollig pin, place 3 tablespoon of filling in the centre of the rolled dough. Bring the edges together and seal by pressing it together. Roll again into a flat, thick disc. Take care while rolling, excess pressure might break the dough and the filling might ooze out.

Heat a tava, when it is smoking hot place the rolled kulcha on it, Flip 3 or 4 times and cook both sides until brown spots appear and the bread puffs a bit.
Remove from the stove, apply ghee generously on both sides and serve hot. The bread can be paired with any spicy curry, but i served it with raita/spiced yogurt sprinkled with boondi/gram flour crisps.
#BreadBakers is a group of bread loving bakers who get together once a month to bake bread with a common ingredient or theme. Follow our Pinterest board
right here. Links are also updated each month on this home page. We take turns hosting each month and choosing the theme/ingredient. If you are a food blogger and would like to join us, just send Stacy an email with your blog URL to foodlustpeoplelove@gmail.com.