The 4th week of our baking marathon, i m bringing you some Dinner ideas. Everyday i m trying to bring a bake stuffed with different veggies, if you notice well. Eggplant pizza, feta roses, capsicum,cauliflower-peas and paneer pizza, Now today, i bring a lip-smacking peas masala rolls. One can smell these rolls from a distance like cinnamon rolls. The flavor and aroma of freshly ground coriander, compliments these rolls very well, hyping that smell a foot away!!!
The inspiration for these beauties are from nalini's vanilla sweet buns. I loved the layers it had and tried my best to get the same in this too. But with the filling it was a bit tough to get that many, but if you try these with garlic butter and coriander/parsley, you might succeed.
These rolls was our dinner yesterday and the leftover's were packed to my hubby for breakfast and he complained for not giving more. The rolls came out super soft and fluffy and it was one yummilicious dinner.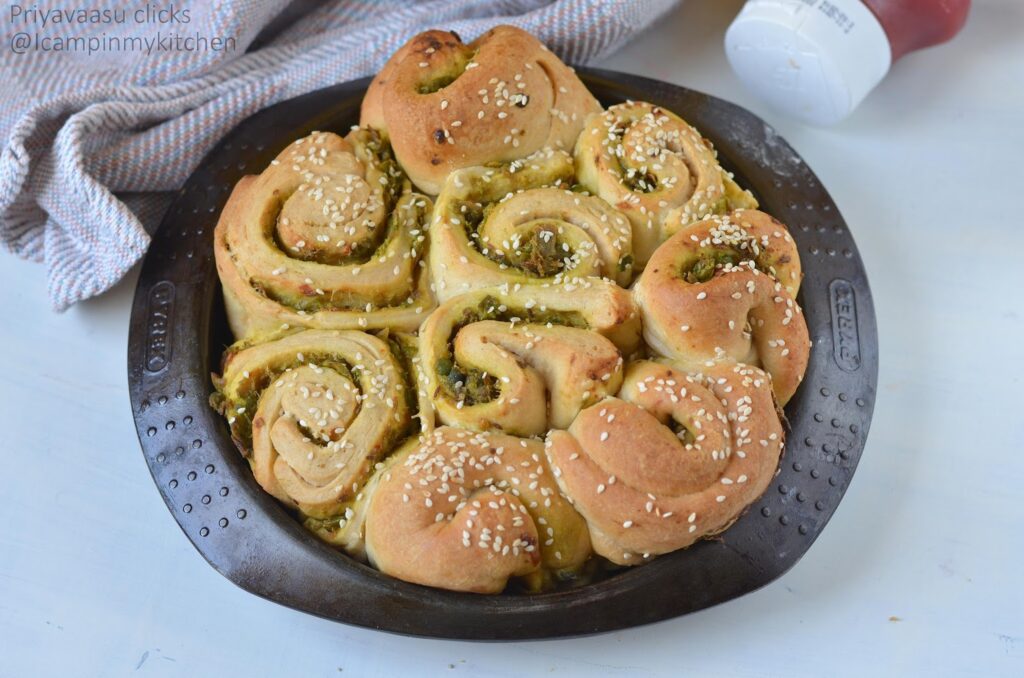 Ingredients
¾ cup milk/water (i used half of milk and half of water)
For the filling
½ teaspoon red chili powder
½ teaspoon coriander powder
¼ teaspoon garam masala powder
2 pinches of turmeric powder
salt to taste (remember the dough too has salt)
Method
I used my food processor to make the dough, the dough can also be kneaded by hand. Take the flour, salt,sugar and yeast in the processor bowl. Run at a low speed for the ingredients to mix well.

Microwave the milk/water for 30 seconds in a mug. The liquid should be hot but not scaling hot. Too much hot or cold liquid will kill the yeast. Once you start baking with yeast, you will get hold of this temperature in no time. I always put a finger inside the liquid, if it is a bearable hot, i use it, if it scalding hot (ooh, ouch, sort of hot) i wait 30 seconds for it cool and use.
Now add this liquid slowly to the flour mix and start kneading the dough. Once the liquid is added, add oil and knead to get a soft ad smooth dough. The dough comes very easily off the bowl. A super easy, non-sticky and soft dough. If kneading by hand, knead for 5-6 minutes to get a non-sticky, smooth and dough.

Place the kneaded dough in a well-greased bowl, cover it with a cling-wrap and let it rest for an hour or until it doubles. I actually left if for 90 minutes, after 1 hour, the dough was pretty swelled, i didn't prepare the filling by that time, so i punched down the air, kneaded it for couple of times and rested it again for 30 minutes to get the filling ready.
To prepare the filling, chop the onion fine. In a pan, heat oil, crackle cumin, add onion and garlic, saute until onions turn translucent. Next add the peas, followed by red chili powder, coriander powder, turmeric powder and salt. Add a ¼ cup of water, cover and cook for the spices to mingle well. The filling should be dry. So, let it be on the stove until it is dry. Take if off the stove and mash the peas while it is hot using a potato masher. Set aside until it is cool enough to be used as stuffing.

Let's get back to our dough. Take the dough onto a flat surface, punch down to release the excess air. Divide the dough into two portion. Take one portion and roll it into a 9 x 9 square. While rolling, i folded it twice to get a good layers. Roll, fold into a square, roll it again. Do this twice.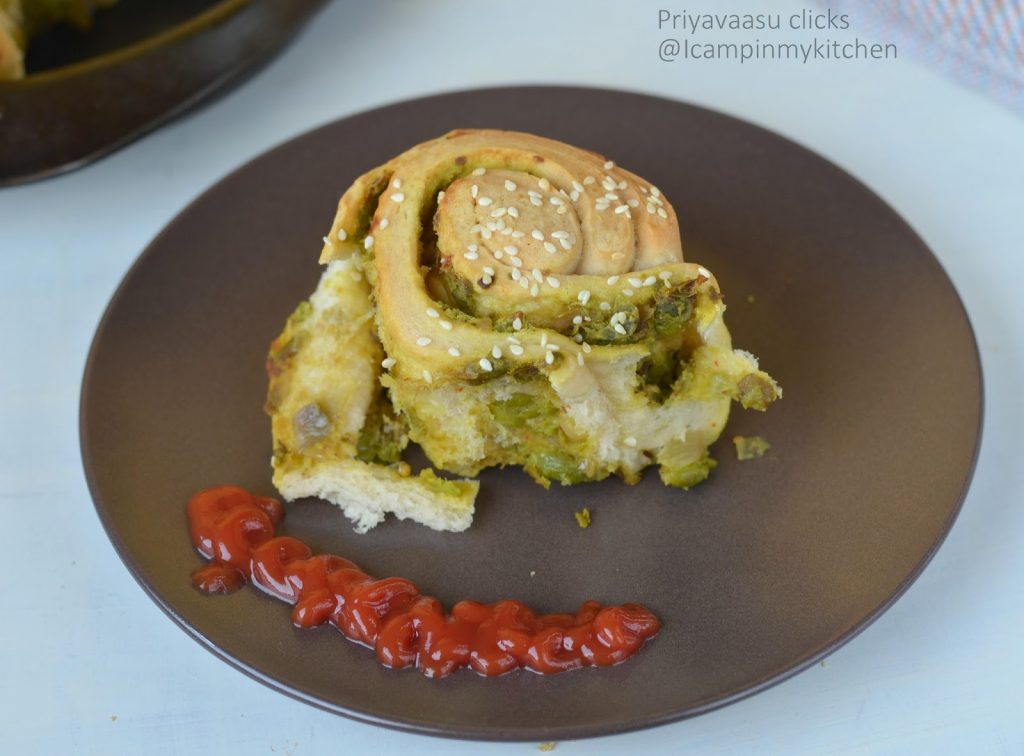 Now spread half the filling on one half of rolled dough, close it with the other half. Slightly roll with the rolling pin to press. Take care and do lightly. Roll tightly into a log. Cut the log into 5 pieces.

Prepare an 8 inch baking pan, line it with parchment or aluminium foil. Place the cut rolls, cut side down.

Repeat the same with the other portion of the dough. Let the made rolls sit for another 45 minutes. During last 10 minutes of the second rise, preheat the oven to 180C. Brush the top of the rolls with milk, sprinkle sesame seeds all over. Bake the rolls for about 28-30 minutes or until the top turns golden brown.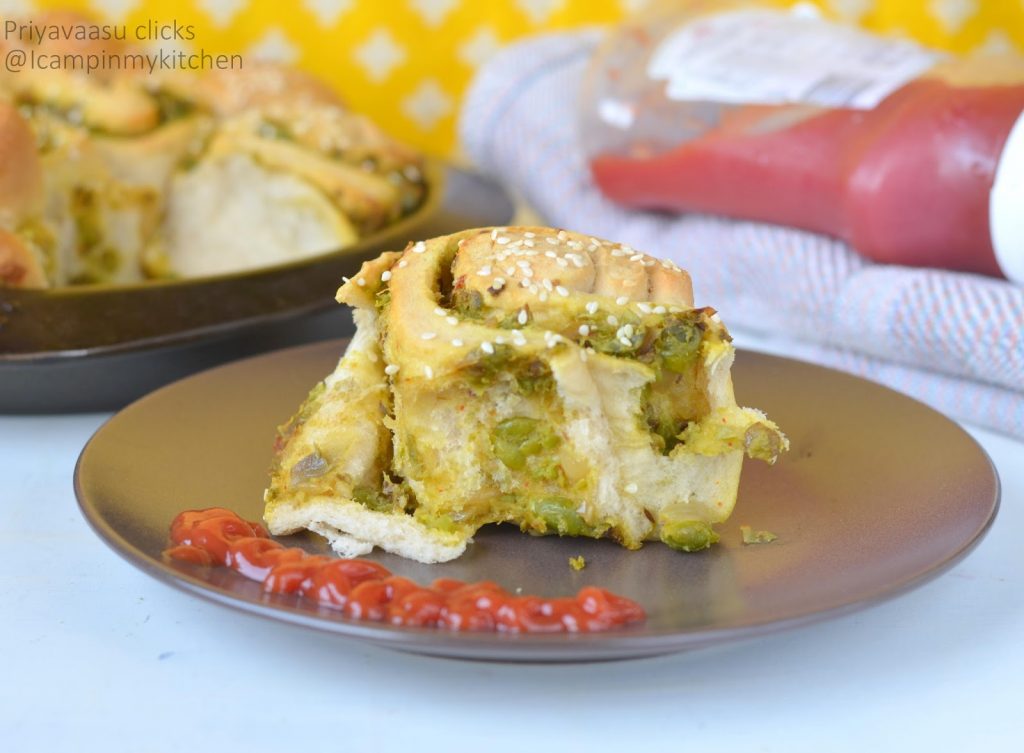 Remove from the oven, to a cooling rack. Let it cool for 10-15 minutes. Serve them warm with some sauce by the side.