#BreadBakers for the month of june is hosted by our BM friend +Chef Mireille of The Schizo Chef, she gave us the theme Stone Fruit. So, we have to bake a bread with stone fruit in it. When the theme was announced i decided to bake something with plums, thought of a braided bread with it, then i switched to baking a galette. But then had a doubt whether it might be accpeted as a bread. So, finally i settled with this simple quick bread.
I even thought of topping it with a nice streusel with pecans and walnuts, but then both my kiddos hate things studded on top of the bread/cakes. So i had to drop it at the last minute. Even the nuts inside the bread has been chopped fine, so they dont see it and pick it out. They are really "Picky" eaters, they pick everything out!!! 🙂
This bread has an amazing flavor, totally love the addition of cinnamon and candied ginger, it gives a nice zinnnggg to the bread. Makes a lovely combo with your evening cuppa!!
Ingredients
½ cup dark brown soft sugar
¼ cup butter/oil, if butter, then melted
3 nos plum, pitted and chopped (around 1 & ¼ cups)
3 tablespoon pecan nuts/Walnuts/or any nuts, chopped  ( i used both walnuts and pecans)
3 tablespoon chopped dark chocolate (i used lindt)
2 tablespoon chopped candy ginger
½ teaspoon cinnamon powder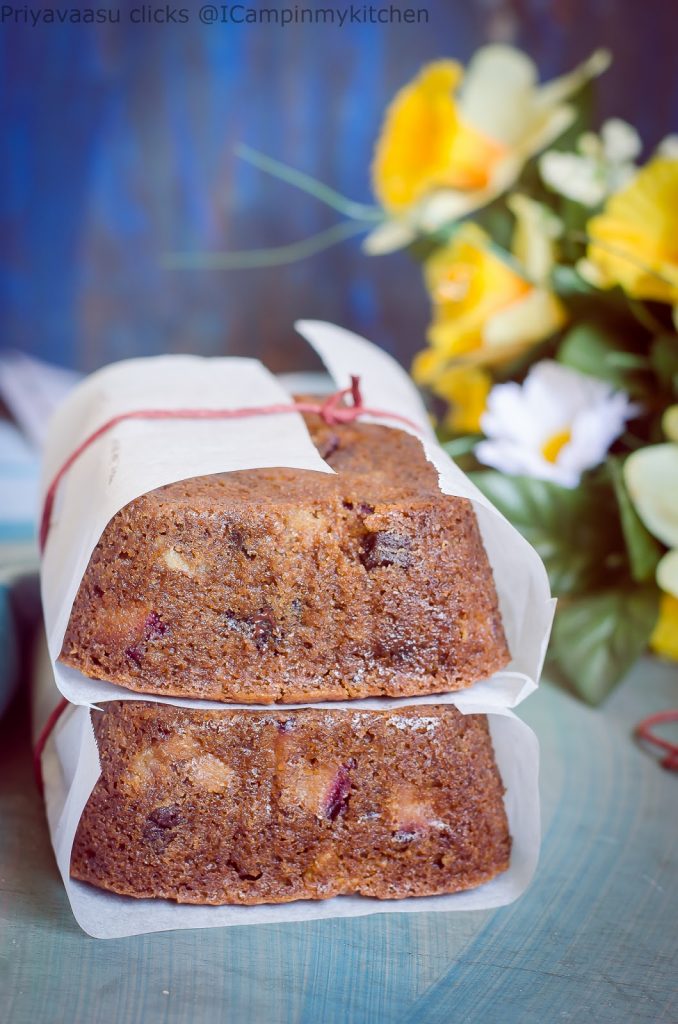 Method
Take together both flour, along with baking soda and whisk well to combine. To this flour mix add sugar, chopped plums, nuts, chopped dark chocolate, candied ginger, cinnamon powder. whisk well to combine.

Take buttermilk in a measuring jug,  add butter/oil to it and whisk to combine. Now slowly add this wet ingredient to the dry flour mix. Mix with a spatula to combine. 
I used two take away alufoil containers to bake the bread, you can use a loaf pan. Grease the container you are going to bake with. The bread doesn't rise much, so use a pan accordingly. 

Pour the prepared batter into the greased pan or take away containers. Preheat the oven to 180C and bake the bread for 30-40 minutes or a skewer inserted in the center of the bread, comes out clean.

Remove the bread from the oven, let it sit for 5 minutes in the pan, the slowly remove it on to a wire rack. Let it cool, Slice and serve warm along with tea/coffee and enjoy the sweet, tart combination of plums in the bread.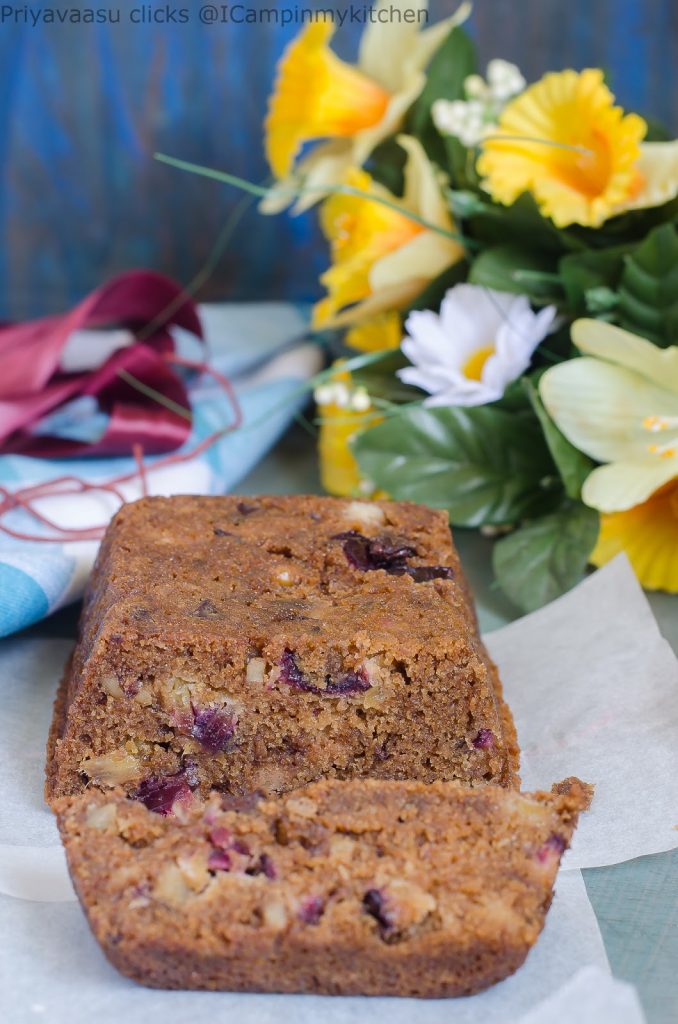 #
BreadBakers is a group of bread loving bakers who get together once a month to bake bread with a common ingredient or theme. Follow our Pinterest board right here. Links are also updated each month on this home page.
We take turns hosting each month and choosing the theme/ingredient.
#BreadBakers – Stone Fruit