Kootu (Tamil:கூட்டு) is a Tamil word means 'add' i.e. vegetable added with lentils which form the dish, made of vegetable and lentils and are semi-solid in consistency, i.e., less aqueous than sambhar, says Wiki!!!
With Modern times, Kootu also evolved into many healthy variations, but some standard recipes had to be made with that same combo to taste better. Poosanikai/Ashgourd kootu with Chana Dal/Kadalai Paruppu is one such famous recipe in Tamil Iyer festivities and sure menu in our marriages.
I already have Poosanikaai/Ashgourd kootu with Masoor Dal in my blog, but this is an Authentic Combo to try!!!!
Ingredients
2 Cups of Ashgourd/Poosanikai, Chopped
1 Green Chili, slited lengthwise
3 tablespoon of freshly grated coconut
Fresh coriander leaves for garnishing
1 teaspoon of freshly grated ginger
Tempering
1-2 teaspoon of Groundnut Oil
¼ teaspoon Cumin seeds/Jeeragam
2-3 red chilies (i used long variety)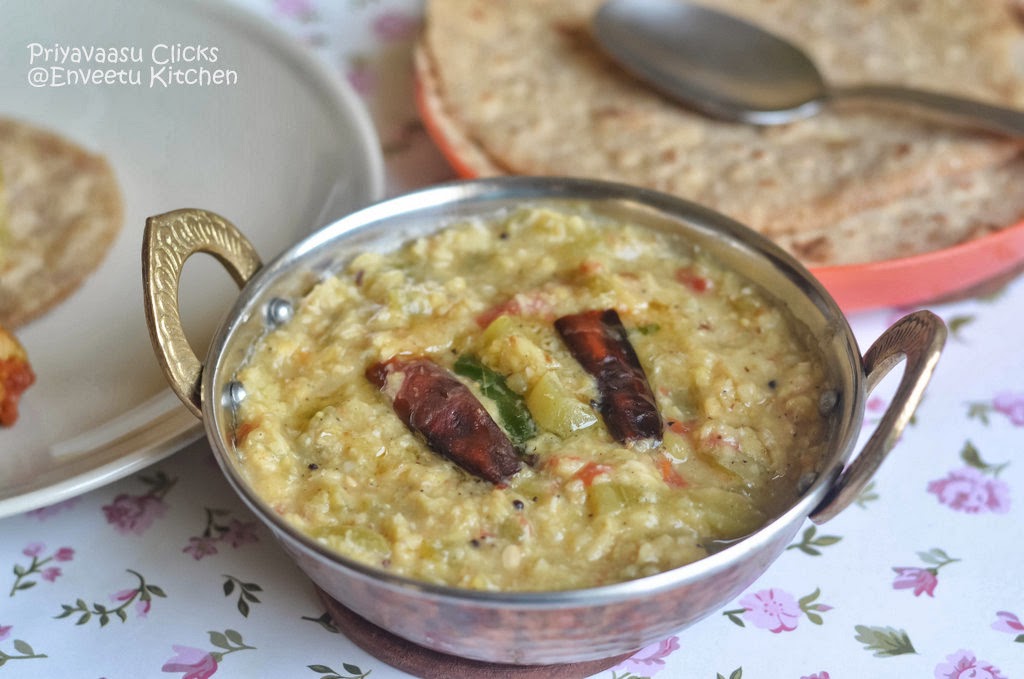 Method
Peel the hard skin, remove the seedy centre portion. Chop the flesh portion into cubes. Wash them under running water.
Making the Kootu
Soak Chana dal/Kadalai Paruppu in Warm water for 15 minutes, to ease the process of cooking. Some times chana dal won't cook even after 10 whistles. Soaking them in Warm Water, will make it a bit easy.

Drain the water from chana dal, reserve the water. Take the Soaked Chana Dal, Chopped ashgourd/Poosanikai, in a pressure pan. Add green chili, chopped tomatoes, Kootu Podi/Spice Mix for Kootu,, freshly grated coconut and salt. Mix well. Add Water just enough to immerse the vegetables-dal mix, approximately 2-3 cups, use the water in which the dal was soaked here.
Pressure Cook for 4-5 whistles. Once the pressure releases, heat a small kadai/tadka pan, add oil, crackle mustard seedsn cumin, add broken red chilies, curry leaves and urad dal. Let the dal turn brown, add this sizzling tadka to the kootu. Garnish with coriander leaves and freshly grated ginger.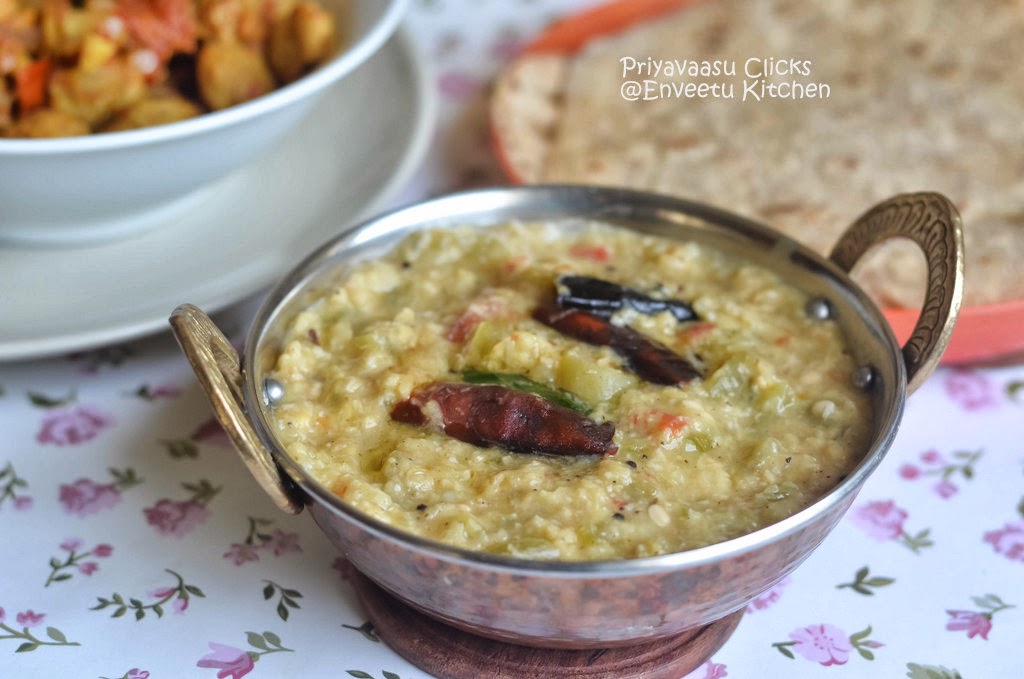 Serve it Warm with Rice or as an accompaniment to Roti's. I personally prefer to have it with Roti's.
Sending this to Tamizhar Samayal Tuesday