A Lonnnnggg Overdue Post. These Pictures were Clicked, Last year October!!!! Poor picture!!! Potato Okra and Delicious Combination and a Perfect Combo for Rice or if you don't mind Dry Curries for your Roti, this would be a great choice. Another Advantage of this Curry is the Veggies!!! yeah, chopping/cutting/cleaning of both the veggies are very easy and less time-consuming. I prefer less-job veggies these days. Infact, my dear hubby gets a good stare if he gets any two of these French Beans/Broad Beans/Yardlong beans together!!! Hope i will get over this block in another couple of months, when Bala starts something more attractive than me!!! 🙂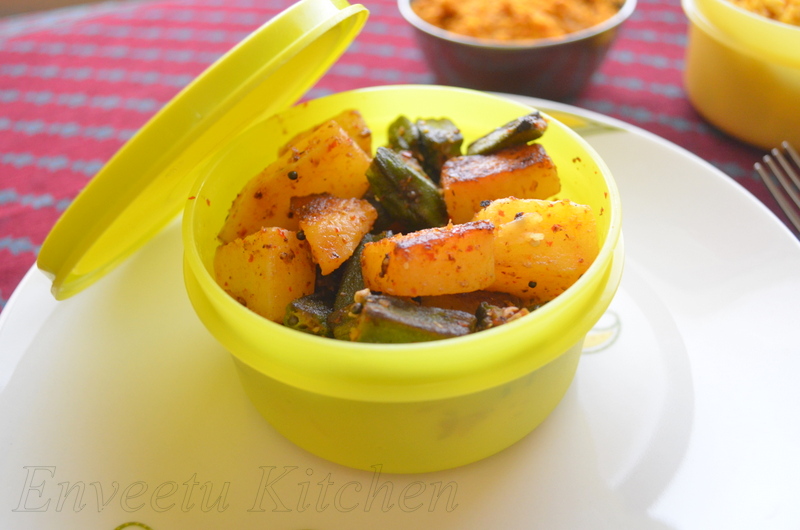 Ingredients
250gms Bhindi/Okra/Vendaikaai
1 teaspoon Red Chili Powder
½ teaspoon Coriander Powder
¼ teaspoon Turmeric Powder
Tempering
¼ teaspoon Chana dal (optional, i never use)
¼ teaspoon Urad dal (Optional, i never use)
few sprigs of Curry leaves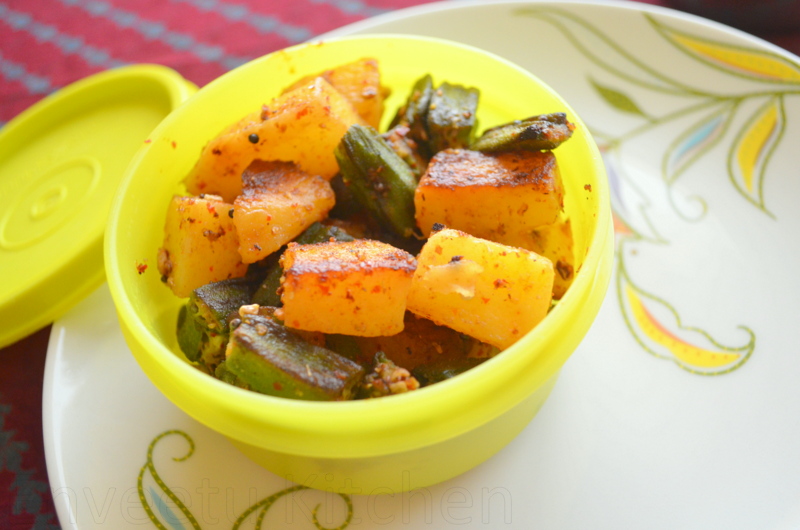 Method
Wash, Peel the Potatoes, Cut them into cubes and Keep aside, until use.

Wash the Bhindi/Okra/Vendaikaai. Drain well in a Colander and let it sit for 5 minutes for all the water to drain. Spread them on a Kitchen towel and Pat them dry.

Remove the Crown and tip of Okra/Bhindi/Vendaikaai and chop them into 1 inch pieces.

Heat Oil in a Non-stick Pan, Splutter mustard seeds, add hing, curry leaves and the dals if adding. Let the dal brown.

Add the Chopped Okra/Bhindi/Vendaikaai and Saute. Add the dry Powders and mix well. Sprinkle little water and Let it cook it Simmer flame. Toss frequently to avoid burning of Okra/Bhindi.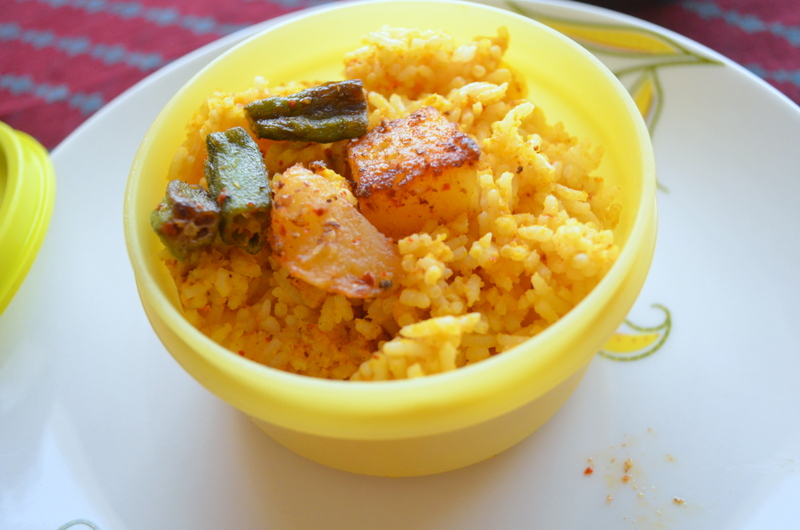 After 10-12 minutes, the Okra/Bhindi would be half-cooked. Now add the Potatoes and Salt Mix well.

Sprinkle little water, Cover and Cook for 10 minutes in a Simmer flame, tossing intermittently.

After 10 minutes. Take the lid off and Cook for another 4-5 minutes. This is to dry the water vapor drops in the curry that happens while covering and cooking.

The Potatoes would have turned to a golden brown by this time. Take care not to burn them. Take it off the Stove and Serve with Rice or Roti's.