Quinoa - Super Food, Nutritional evaluations of quinoa indicate that it is a source of complete protein. And Also, it is a good source of dietary fiber and phosphorus and is high in magnesium and iron. Quinoa is also a source of calcium, and thus is useful for vegans and those who are lactose intolerant.
Though it is super healthy, my kiddo, ran a mile at a look of it!!!! 🙂 Seriously, God could have given it a bit more Kid-friendly look!!!! With no other option, i had to steal this wholesome goodness into something for my kiddo. So, This is the Story behind this Quinoa Vegetable Cutlet.
A Healthy Combination Quinoa and Wholesome Veggies, these Cutlets/Tikki's a
re a Perfect Evening Snack and a sure Superhit with your kiddos and the Diet-Conscious Biggies.
Ingredients
½ teaspoon Ginger-Garlic Paste
½ teaspoon Red Chili Powder
½ teaspoon Coriander powder
¼ teaspoon Garam Masala Powder
2 tablespoon Besan/Gram Flour
Olive Oil for shallow Frying
Vegetables
1 Large Potato, peeled and chopped
1 Carrot, peeled and chopped
¼ Cup Green peas, i used frozen
¼ Cup Corn, i used Frozen
Method
In a Microwave Safe Bowl, take quinoa with water, immersing the quinoa. Rinse the Quinoa Once, then fill it up with water again and Cook @ Microwave High for 10 minutes or unitl quinoa is cooked. The Water will be fully absorbed by the quinoa and will look like shiny pearls with the germ coming outside the seed.

In another Microwave Safe Bowl, Take all the chopped vegetables and water immersing then veggies. Cook @ Microwave high for 10-12 minutes or until the veggies or cooked.

Drain the quinoa and veggies and take them together in a wide bowl. Add Ginger-garlic paste, Red Chili Powder, Coriander Powder, Garam Masala Powder, Besan/Gram Flour, Corn Flour Salt to taste and salt. Mix them well. No need to add water.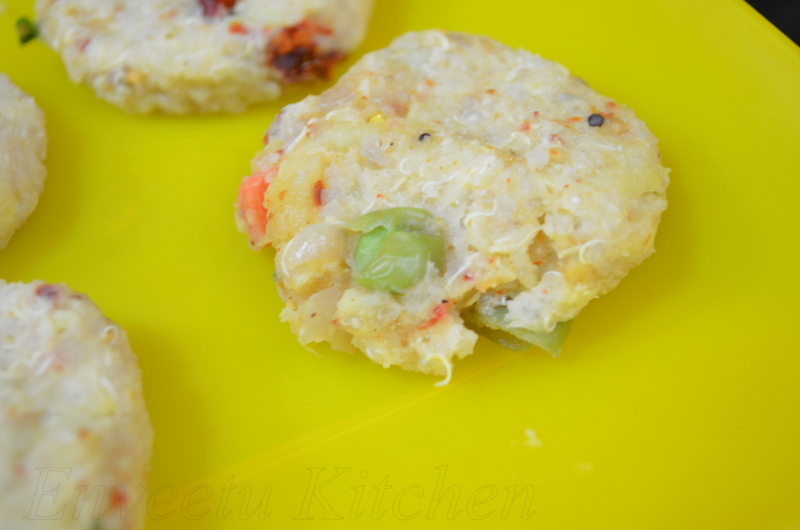 The Mixture will come together as a sticky dough.

Divide the dough into 15-18 Balls (approximate). Flatten the balls and make them as tikki/patty and refrigerate the patties for 10 minutes.

Heat a Non-Stick, Add 1-2 tablespoon of olive oil, when it is hot, slide 3-4 patties in the pan and shallow fry them on both sides until golden brown. Keep the flame simmer while frying.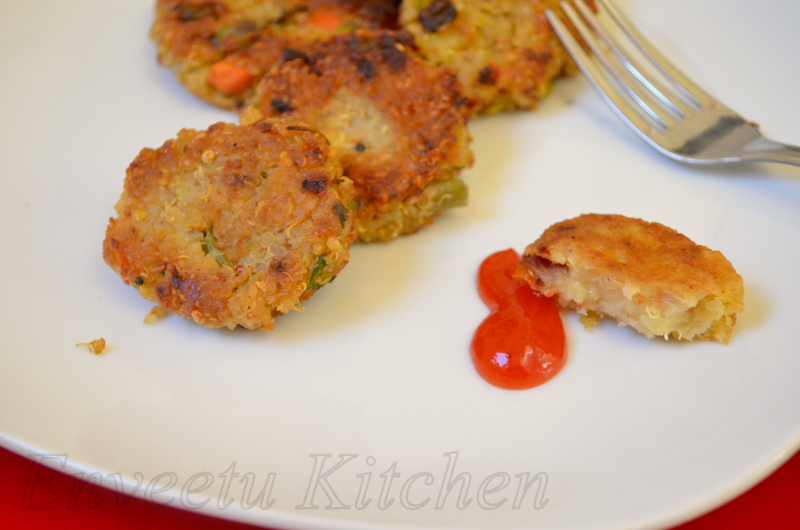 Serve Hot with some Tomato Ketchup.

I had some leftover Cutlets for the next day,which turned into Sandwiches with some Eggless Mayonnaise, Crunchy Lettuce and Cheese Slices!!!! Needless to say, they vanished!!!!