If you read my blog,regularly, then you know my love for ladoo/laddu. I can go ga-ga over them. Easy to make, versatile, portion-controlled, 'n' number of varieties can be made using different flours. I chose this delicious Gluten-free and vegan ladoo from Suma's palce. She has made it using Ragi hurri hittu, Hurri means Roast and hittu means flour, so it means roasted ragi flour. Imagine roasting whole ragi at home and making flour!!!
Suma says, some might even powder it with kopra(dried coconut) and nuts too, to make it more healthy and delicious. This Ragi hurri hittu is then mixed with jaggery,coconut and ghee to make ragi balls, which is not only delicious, but healthy too. Considering the amount of adulteration in store-bought snack bars these days, home-made goodies like these with healthy ingredients are a great choice and a tasty way to introduce kids to our age-old food practices and our own health bars/balls. The Ladoos were super hit at home, I made extra and gave it to my SIL who is in her family way. These energy balls were a super hit among kids too, my Lil one, gobbled 2 ladoos while i was still shaping them.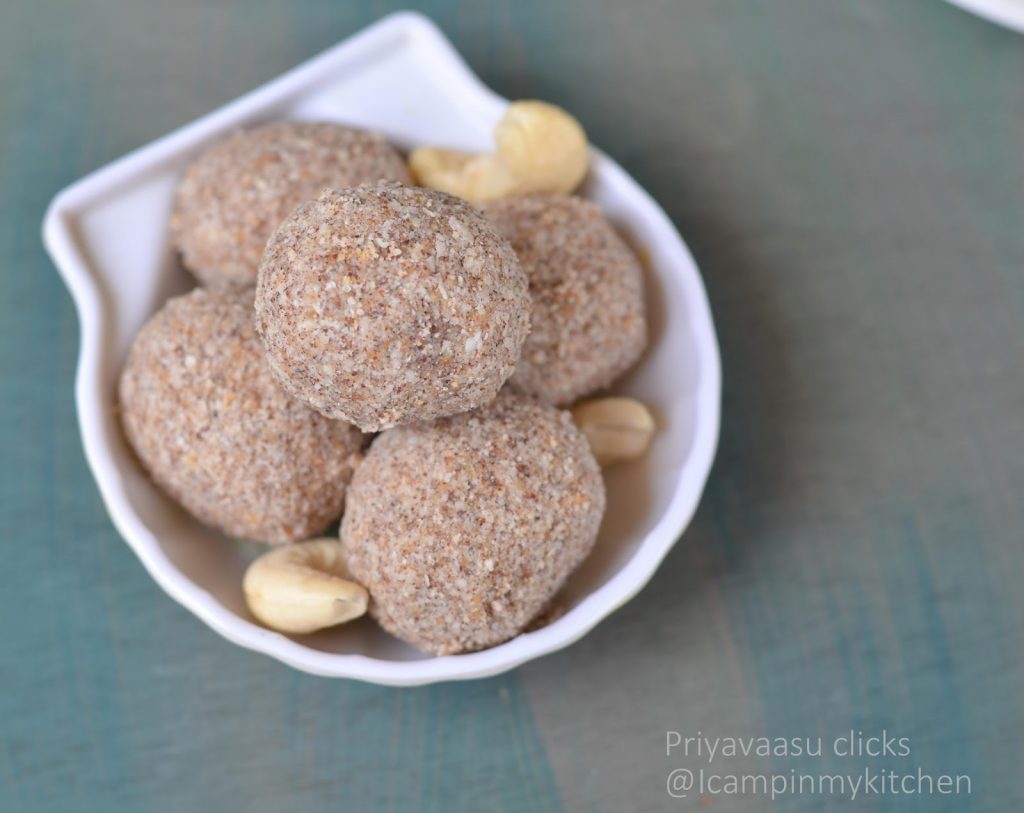 Coming to the recipe, i have used store-bought ragi flour. Wanted to try making hurri hittu at home, but since i m leaving in another week for my vacation, not making anything extra, that will lay around till i come back. In case you want to try, here is the link for suma's place and another link to make things easier.
Ingredients (Makes 45)
1 cup Cashewnuts/Skinned Peanuts
3-4 pods of cardamom, crushed
Method
Dry roast ragi flour, almonds, cashewnuts, sesame and dessicated coconut separately. I dry roasted in the microwave. In a Microwave safe plate, spread the flour and microwave high for 3 minutes, take it out every 1 minute and stir using a spatula. Repeat the same with the nuts, coconut and sesame seeds, but reduce the time to 2 minutes.

Let the ingredients cool well. Take cardamom and cloves in a small mixer, add tablespoon of jaggery and powder it. The jaggery is added to aid grinding of the cardamom well.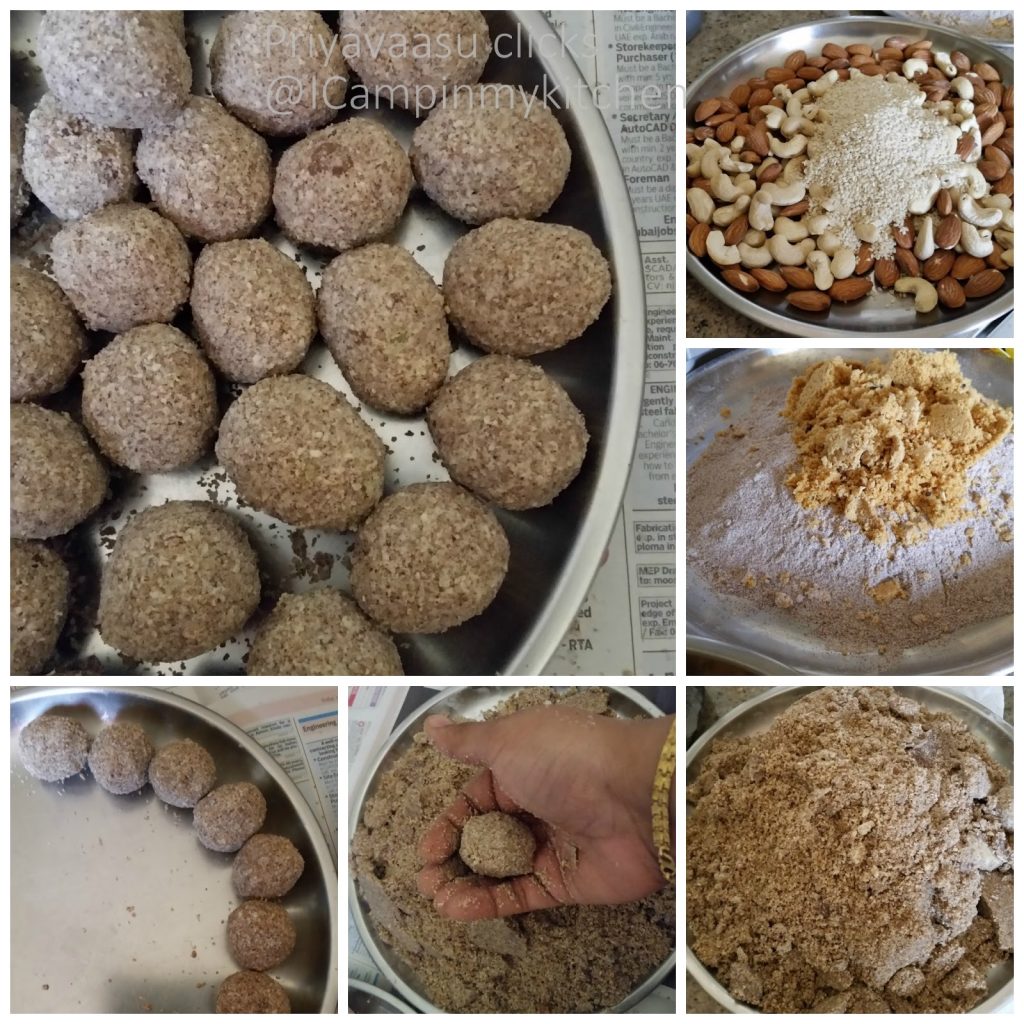 In a food processor or your mixer, take the nuts (almonds, cashewnuts and sesame seeds) and grind it to a powder. Do not grind continuously, we just need to powder the nuts first. So, grind in short pulse to powder them.

Once nuts are powdered, add ragi flour, coconut, jaggery powder and powdered cardamom-clove powder to this nuts powder and grind it together. Now you can grind continuously for a minute for the nuts and seeds to release oil/fat that will help in binding the laddoos.

Once the mixture is mixed well and clumps together, remove it to a flat plate and start making ladoos, Take a handful of this powder and press it in between your palms and shape it nicely into a ball (ping-pong ball size).

If you want to decorate it more, just dip the tip of the ladoo into oil/ghee and dip it again on a plate of crushed pistachios. Store it an air-tight container. This keeps well on the counter for 3-4 days. If storing for more days, then refrigerate it.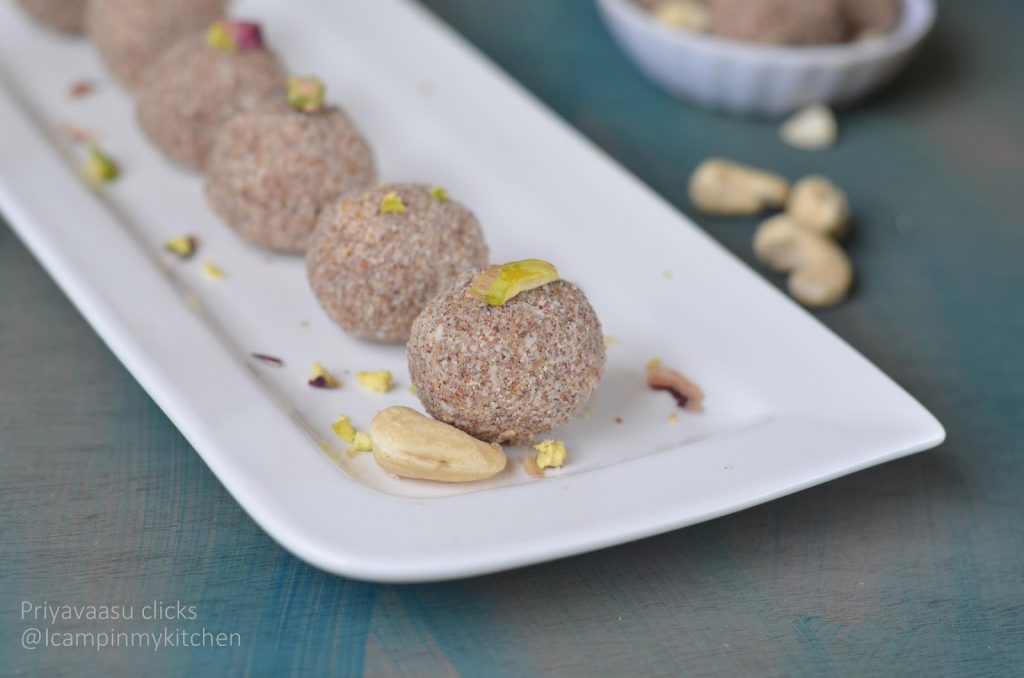 Notes
You can add a tablespoon of ghee, if you prefer while roasting the ragi flour, it will give a nice aroma and taste to the final ladoo.

While shaping the ladoos, if you feel, it is still dry, add some ghee and shape. Milk can also be added, but then it should stored in the refrigerator, as it might not stay good on the counter for long.

Though made using ragi flour, the recipe uses dried nuts too, so remember portion-control!!! 🙂