I have some 2 packets of Moong Dal flour, hidden in my freezer all these days.I remember pushing them inside, before going on vacation. Cleaning your freezer,might reveal so many unused groceries, hmmmm!!! So what to do with so much flour? 
Made some Ladoo's and also some Savory snack, which i will post later. These ladoo's are very quick to make, all you have to do is  add ghee and shape them into balls. 
Ingredients
½ cup Moong Dal Flour (Store-bought)
6 tablespoon Powdered Sugar
¼ Cup Melted Ghee + 2 tbsp 
3 tablespoon of Chopped Nuts(i used a combo of Pistachios and toasted coconut)
In a Pan, add 2  tbsp of ghee and roast the flour, until it changes to golden color and nice aroma emanates. Take care not to over-roast or burn it.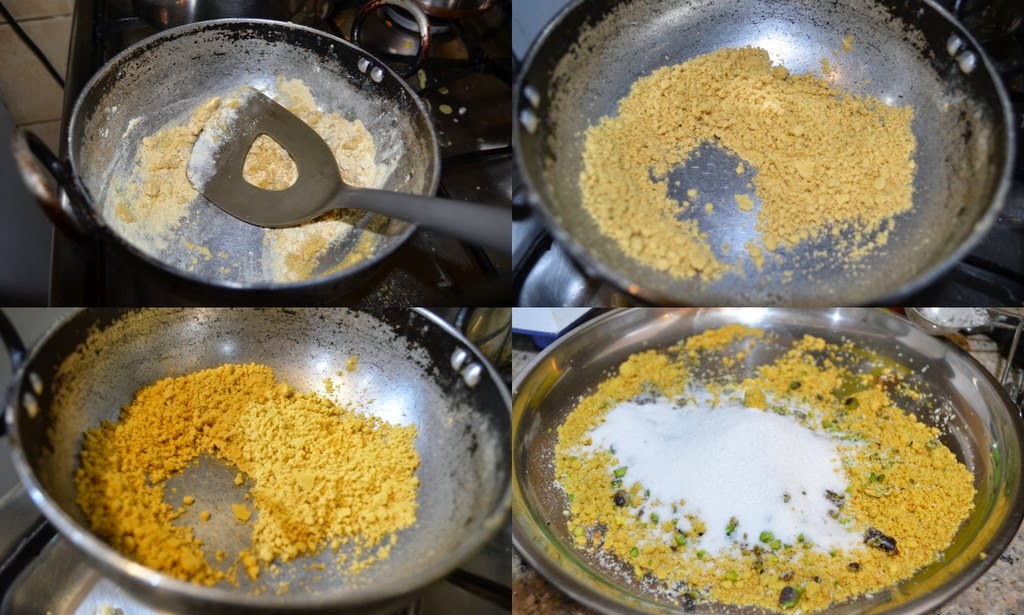 Transfer the flour to a flat plate. Let it cool down a bit. Add Sugar and chopped nuts to this and whisk to mix well.

Add a teaspoon of ghee at time to this mixture and gather it to form a ball/ladoo. Keep it on a flat plate. Repeat the same with the rest of the mixture. 
To the above measurements i got about 18 ladoos of the size of a ping-pong ball. If you make it slightly bigger, you might get about 12-15 ladoos.
Let it remain on the Flat plate for 15-20 minutes. Store it in an air-tight container.