We are visiting Romania for R.
It cuisine, has been greatly influenced by Ottoman cuisine, while it also includes influences from the cuisines of other neighbours, such as Germans, Serbs, Bulgarians and Hungarians.
Today we are tasting Placinta is a traditional romanian pastry resembling a thin, small round or square-shaped cake, usually filled with a soft cheese, apples or potatoes.
This quite resembles our hungarian krumplis langos. Though the later is a yeast bread and can be served with variety of toppings. But texture-wise, i felt both are same.
Ingredients
Filling
Prepare the filling
Peel and chop the potatoes, Cook them until soft. Once done, drain the excess water. Mash them well and keep aside until use.
Preparing the dough
Take flour, salt and baking soda in a large bowl. Whisk well to combine. Mix buttermilk and water together.

Now slowly add the liquid to the flour mix and start kneading. The dough will be pretty messy and all gooey to start with.

Do not add liquid all at once. You might need a little less. Once the dough is formed. Take it to a flat kneading surface, i used my kitchen counter for this. The dough will be all sticky to touch, but will not stick to the vessel. So dust the surface with generous flour and work on the dough.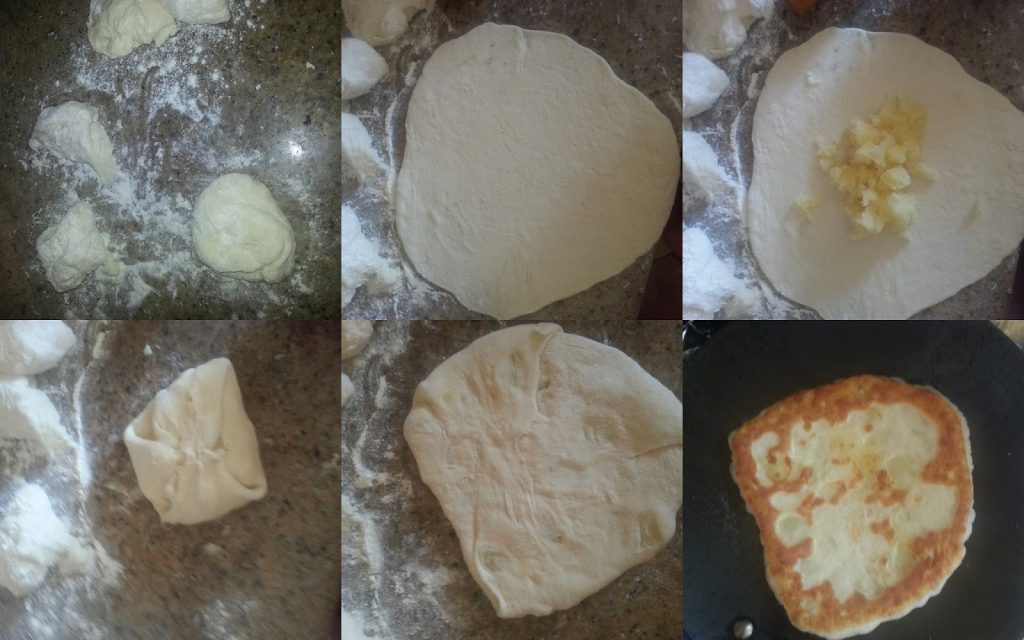 Knead the dough for a minute and keep aside until use. Let the dough rest for 30 minutes.

Flour the work surface generously, divide the dough into 5 portions. Take a portion of dough and roll it out into a circle of 5 - 6 inches.

Keep 1 -2 tablespoon of stuffing in the center of the rolled dough. bring the edges together and close and roll it again to form a circle or somewhat circle. Do not roll out thin, the stuffing might pop out.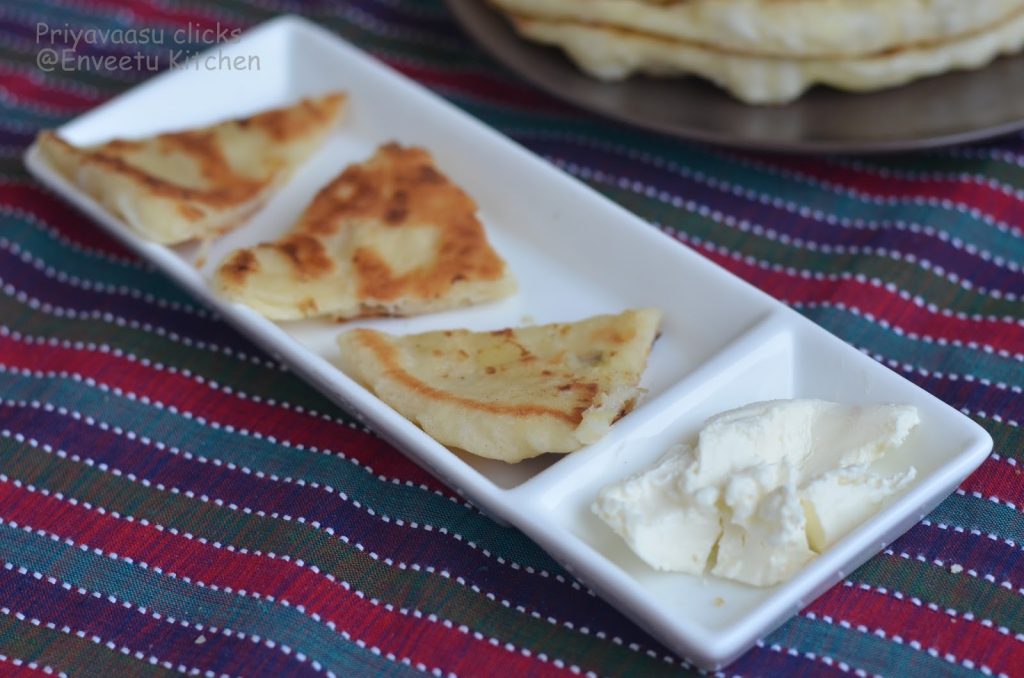 Heat a tava, place the stuffed placinta on the hot pan, drizzle a generous tablespoon of oil around and cook for a minute or until the sides are brown. Flip and cook the other side until brown.

Serve Hot with generous serving of cream cheese.