Lunchboxes, i know quite a few, who get nightmares, hearing these words! Let us not blame the poor kids, sometimes we tend to get into a routine, and sort of repeat the same dishes again and again. So it is natural for them to get bored to see the same idly/rice/pasta in their boxes.
So, here is a collection of 27 lunchbox recipes, to help you mommies! No repeat dishes for a month, that is a boon right.
Do visit the recipes, like their pages, follow them on Facebook, so you will regular updates on what new they post on their blog. Sharing is caring!!!
Share this post on your social media accounts, so other mommies like you will get some inspiration for their kiddo's lunch box!
Protein packed, colorful Vegetable Peanut Rice,
A Lip smacking Mint Chutney Sandwich
Cute little Onion Podi Uthappam



Srividhya of Vidhya's Vegetarian Kitchen has send 3 delectable entries
Colorful Carrot Coin dosa
Protein rich Mushroom Kuzhipaniyaram
A very different Ridgegourd rice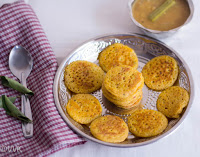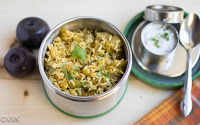 Sushma of My Kitchen to yours has packed
Crunchy, munchy Peanut Rice
Chatpata Masala Idly
Mini Uthappam


Srivalli has sent 6 delicious dishes she packs for her kids
A quickie jeera pulao
Flavorsome Ajwain & Kasurimethi Paratha
Filling Falafel Pav Burger




Scrumptious Paneer Pulao
Aromatic Corn Karuvepillai Saadam/rice
Flavorful Mint Rice
Sharmila of The Happie Friends has sent in these dishes for our lunch box
Colorful Beetroot Rice
Carrot Kuzhipaniyaram, which we fondly call bombs!
My favorite Kodo Millet Vegetable Biriyani




Preeti Garg of Simply Tadka has sent in
Tangy Green Mango Rice, must be lip-smacking good!!!
Cute lil finger food Mini Cucumber sandwiches,
Lip-smacking Tadka Idly
And Finally from me
Tangy and Mildly Spiced Tomato Pulao
Our favorite Jeera Pulao
Zesty Coriander and Mint Puloa