Today we are travelling to Finland. When i was in a dilemma to chose which country for F, kuttu helped me. He wanted me to cook something from Finland. 
Finnish cuisine is notable for generally combining traditional country fare and haute cuisine with contemporary continental style cooking. 
Finnish foods often use wholemeal products (rye, barley, oats) and berries (such as blueberries, lingonberries, cloudberries, and sea buckthorn).
I was so attracted to the variety of breads they make. yes, lots of variety in rye breads, Ruisleipaset(small rye bread), Hataleipa (emergency rye bread), näkkileipä (Crisp bread), Reikäleipä (hole bread), Limppu(Loaf).
Apart from these yeast breads, they have their popular Rieska's – unleavened bread made out of barley flour, sometimes rye flour. But these days many make it using All Purpose Flour also. 
Peruna Rieska (potato rieska), Ohrarieska (barley , ruisrieska(rye), Maitorieska (milk), Sweet potato rieska.
I m totally attracted to finnish breads and have bookmarked to bake many from this country in coming months. But, for today, here comes the simplest of all. Wonder of this bread is, it doesn't use even a drop of oil, not even to coat the bowl in which i kneaded the dough.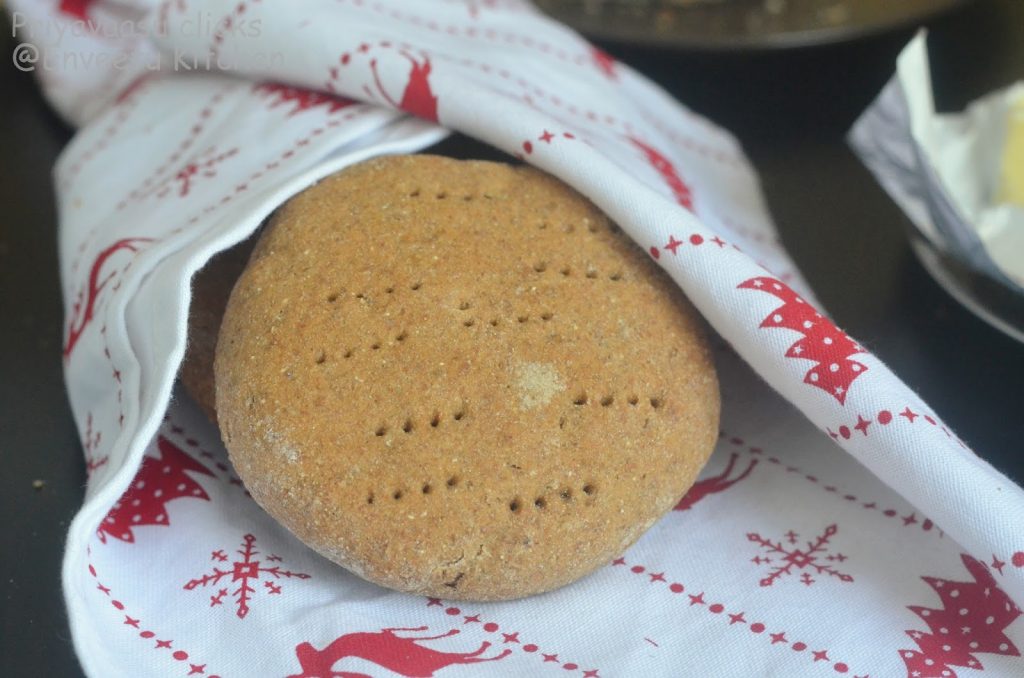 Source :Scandi Home
Ingredients
110g rye flour (approximately ¾Cup)
For the dough
½ tablespoon treacle (dark syrup)/Molasses (i used molasses)
80 rye flour (+50g) (approximtely ½ Cup)
80g wheat flour (approximately ½ Cup)
extra ½ cup wheat flour while kneading the dough.
Method
Mix the yeast with flour, then stir with water. Leave covered, for 45 minutes.

Now to the starter, add salt and treacle and add the flours, stirring continuously. Turn the dough to a floured surface and lightly knead to form a soft dough. You may need to incorporate an extra flour here. 
Divide the dough into 4 equal sized pieces and roll each piece into a ball. Transfer the portions to baking sheets lined with baking paper. Flatten each ball to a disk, about 2 cm thick, and prick with a fork. Cover the sheets with clean tea towels and leave to rise well. I left it around an hour.

 Preheat the oven to 200C. Sprinkle the bread with little water just before baking. Bake the breads for about 15-18 minutes or until the base has browned and sounds 'hollow' when tapped. Cool on a wire rack, covered with a tea towel, before serving.
While serving, serve it with a generous spread of butter or any cheese of your choice. We loved it slightly warm and a generous serving of butter.