Today we are visiting Manipur, one of the seven sister states of India. What comes to your mind, when you think about this state, for me it is their dance. Love that costume first, umbrella like skirt and awesome make-up and jewelry. Coming to their cuisine,
I m so obsessed with NE states, that i have determined to cook more from these cuisines often @ home. The reason being, they are very simple. No complex flavors, they use very simple spices to flavor their dishes. For example, this curry has only green chilies for spice and cumin and coriander for flavor. It tastes awesome. I had it as a meal for my lunch, just 2 bowls of this curry. I packed it for my hubby with roti's and he too loved it.
NE Cuisines, name might be very different and difficult for the rest of the India, but the flavors are simple and taste is good.
Source here
Ingredients
1 tablespoon cumin seeds.
1 teaspoon turmeric powder.
4 nos green chilis, chopped finely
1 cup milk (full cream preferred).
1 tablespoon mustard oil (or a cooking oil of your choice).
a few sprigs of coriander leaves for garnishing.
Slice the onions thin. Peel the potatoes and cut them into thin wedges.

Heat the oil in a pan and add in the cumin seeds. Make sure the flame is medium, the cumin should give out a mild aroma. Next add onion, saute them until translucent.

Next add the potato, fry them for around a minute.Now, add the green peas. Fry them till the peas shrivel a bit, add ½ cup of water. Cover and cook for 10-12 minutes or until the water is almost absorbed.

Next add the sana and fry them till they start turning golden brown. i missed this step, as i was in a hurry to pack lunch, i just added milk next without frying the paneer. Add in the turmeric powder and the salt.

Fry them for around 2 minutes. Cover the lid and let it boil till the potatoes are done. Now, add in the milk. I let the ingredients cook in water before adding the milk since it is easier to manage it that way. If the milk boils for too long, it curdles. So, it is best to add the milk in the end when the ingredients are well cooked.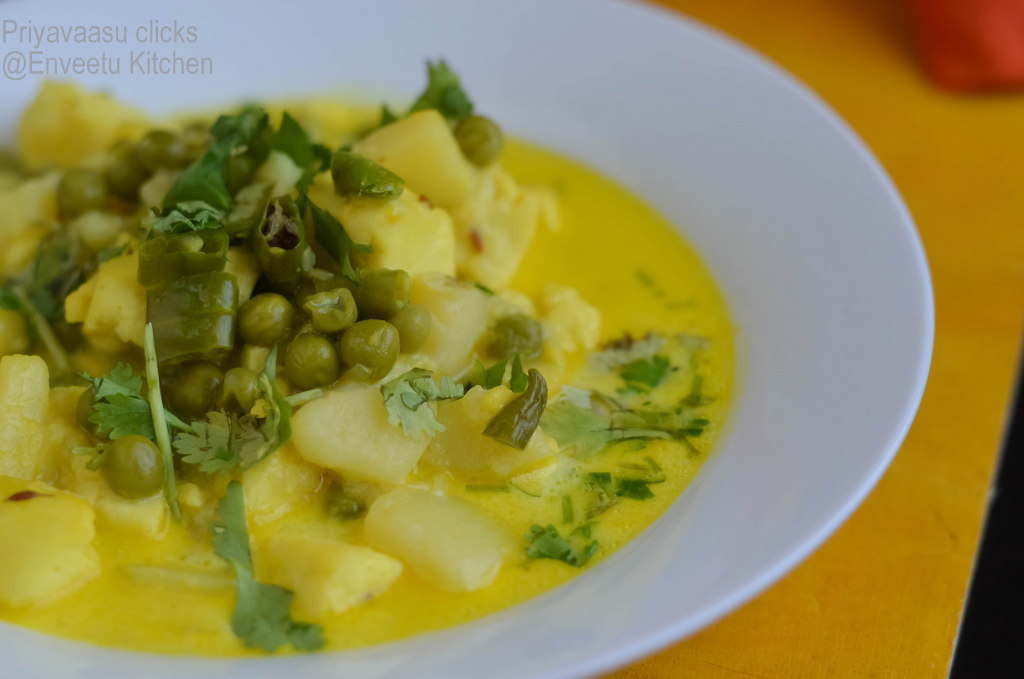 When the curry starts boiling, turn off the flame, add the chilis immediately after so that they are half cooked. Garnish it with the coriander leaves.Serve hot with hot steamed rice. I packed this for my hubby's lunch along with Roti's.