Aravanai payasam, those who have been to sabarimala or have friends or family visited the shrine, would know well about this yummilicious prasadam from the temple. I have always known it by the name aravanai payasam. So, while looking for today's alphabet S, i came to know its other name sharkara payasam/Nei payasam, made with rice and jaggery, flavored with cardamom, dry ginger and lots of ghee.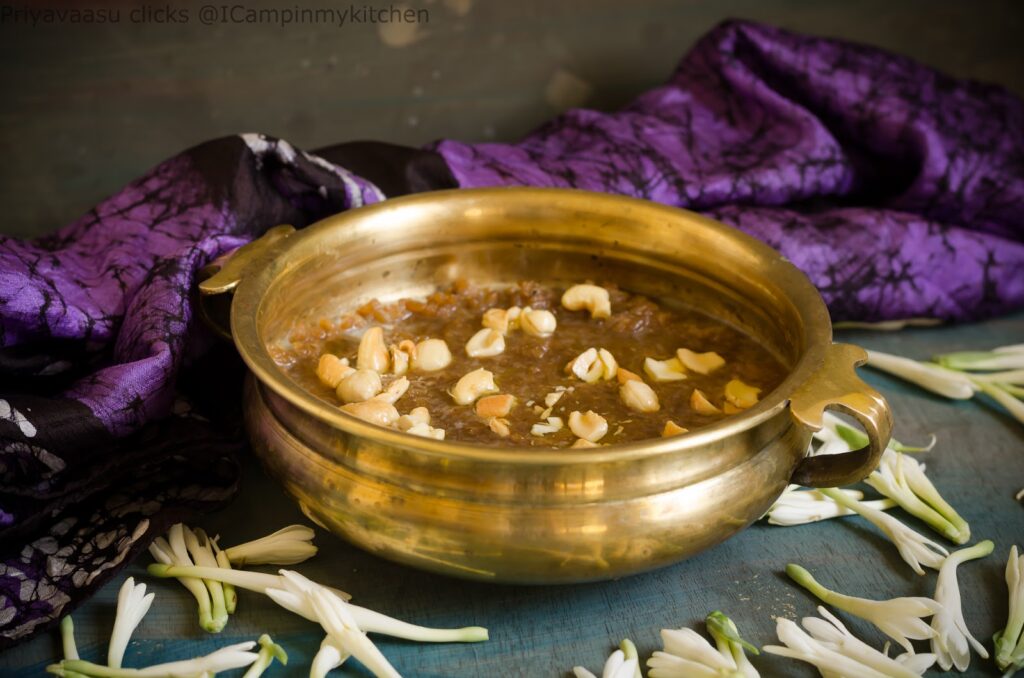 This payasam is served as prasadam across temples in kerala.It is also known as Kadu mathura payasam, meaning very sweet. And it stands for that name, made with the dark color jaggery and generous amounts of ghee, it literally slides from your mouth to tummy, leaving you asking for more.
I made this for our lunch yesterday, as we had our BIL's family with their princess Aadhya for lunch. She is 8 month's old and is coming to our home for the very first time, which is sort of special to me. So to celebrate the occasion i made this Sharkara/Nei payasam. Everyone enjoyed the payasam with a second serving, even the cute lil love bundle. This payasam is fit for a feast, not only for its richness, but also for its simplicity. It takes very less time to make, all you need is a pressure cooker and a uruli/thick bottom pan. Do try and let me know how you liked it.
Source here
Ingredients
1 cup Red maata rice/Unakkalari rice/broken red maata rice
2 cups jaggery - dark variety
1 teaspoon dry ginger powder
1 cup freshly grated coconut
3-4 nos cardamom powdered
⅓ cup of ghee
water as required ( I used 4 cups for cooking rice)
Wash the red rice 3 or 4 times or until it runs clear. Take rice in a pressure cooker and add enough water. i used 4 cups of water to this quantity and pressure cooked for 5 whistles. The rice should be cooked well, and fluffy. Do not cook it form a paste, it should soft and fluffy.

Let the pressure of the cooker fall on its own. While the rice is cooking, take jaggery in a pan, add ½ cup of water to it, heat it and let the jaggery dissolve completely. Strain for any impurities. Take it back to stove and cook until it becomes little thick. No no need to check any consistency, it has to be thick and syrupy.

Once the pressure releases, open the cooker,add this thick jaggery syrup to it, add grated coconut, crushed cardamom and ginger powder, mix well.

Let this sit on the stove in a simmer flame for the jaggery and rice to mix well. It will start to gel well and start thickening. add ghee, and take it off the stove when it is a bit saucy.
The payasam tends to thicken as it cools, so it shouldn't be completely dry on the stove. So, take it off the stove when it is saucy. Garnish it with roasted cashew-nuts. Serve it warm or cold, to enjoy its flavors.
Update on 26th April
Instead of adding coconut and cardamom later along with jaggery, I tried adding it along with rice and pressure cooked it. This method works well too

Also if you don't find dark jaggery, use dark color brown sugar. Use half jagge

ry and half dark color brown soft sugar

.