While searching for some traditional Naan bread recipe's, obviously wiki popped with varieties of naan bread across the Asian continent. Among-st the list, this Tajik Non/Naan grabbed my attention. First the name, it is called Non and next the details on it. I followed the link and read about it.
Tajikistan is a mountainous landlocked country in Central Asia. Tajik cuisine is a traditional cuisine of Tajikistan, and has much in common with its borders Russian, Iranian, Afghan, and Uzbek cuisines. 
Meals are almost always served with non, flat-bread found throughout Central Asia. If a Tajik has food but not non, he will say he is out of food. If non is dropped on the ground, people will put it up on a high ledge for beggars or birds. Legend holds that one is not supposed to put non upside down because this will bring bad luck. The same holds true if anything is put on top of the non, unless it is another piece of non.
I got curious with the shape of this bread. So, went on to search for the recipe, lucky me there was a fool-proof recipe, with a video from the author herself, who was attending a wedding in her home town and she filmed local women making this bread for the wedding.
Ingredients
1/4 cup whole wheat flour
2 cups all purpose flour, plus 1/4 Cup more for dusting 
Brushing the bread
1 tbsp oil mixed with 2 Tbsp milk (or Egg wash)
Method
Heat the water until very hot. I reheated the water for 1minute and 20 seconds in the microwave. Then mix with the cold yogurt. This should even out to a nice, warm mixture. Stir in the sugar, yeast, salt and whole wheat flour.

Let it sit around about an hour. I actually left it for 90 minutes, was busy with the lil fella. By this time, the mixture would have come all bubbly and smelly. I added this bubbly starter to the food processor and added the rest of the flour and kneaded the dough.

It needed about 1/4 Cup extra flour to make it soft. The Dough would be soft and sticky but will come off easily from the walls of the processor bowl.
Cover with a damp cloth and let rise until doubled in bulk, about 2 hours. I actually applied a tsp of oil to the bowl and left the dough in it. After the required time, transfer the dough onto a well-floured surface and punch out the extra air. I divided the dough into two equal parts. Depending upon the size of the non/naan you would require, divide accordingly. Keep the other part covered until use.

Preheat the oven to 220C. I used my pie pan, greased it with oil and took the dough inside and flattened it using my hands, roughly to 7-inch diameter circle. Now use a spoon/fork or if you have a bread stamp, use them to form a design on the bread. The center of the bread is always flat, so i first used my knuckles to flatten it first and then used back of the spoon to make some designs on top. Brush the top with milk-oil mix.

Tuck the bread into the Preheated Oven and bake for around 25 minutes or until the top is well browned. Take it out brush again with the mix and let it bake again for another 3 minutes, hoping for a shine on top, but was not that successful. So you can bake it straight for 28-30 minutes.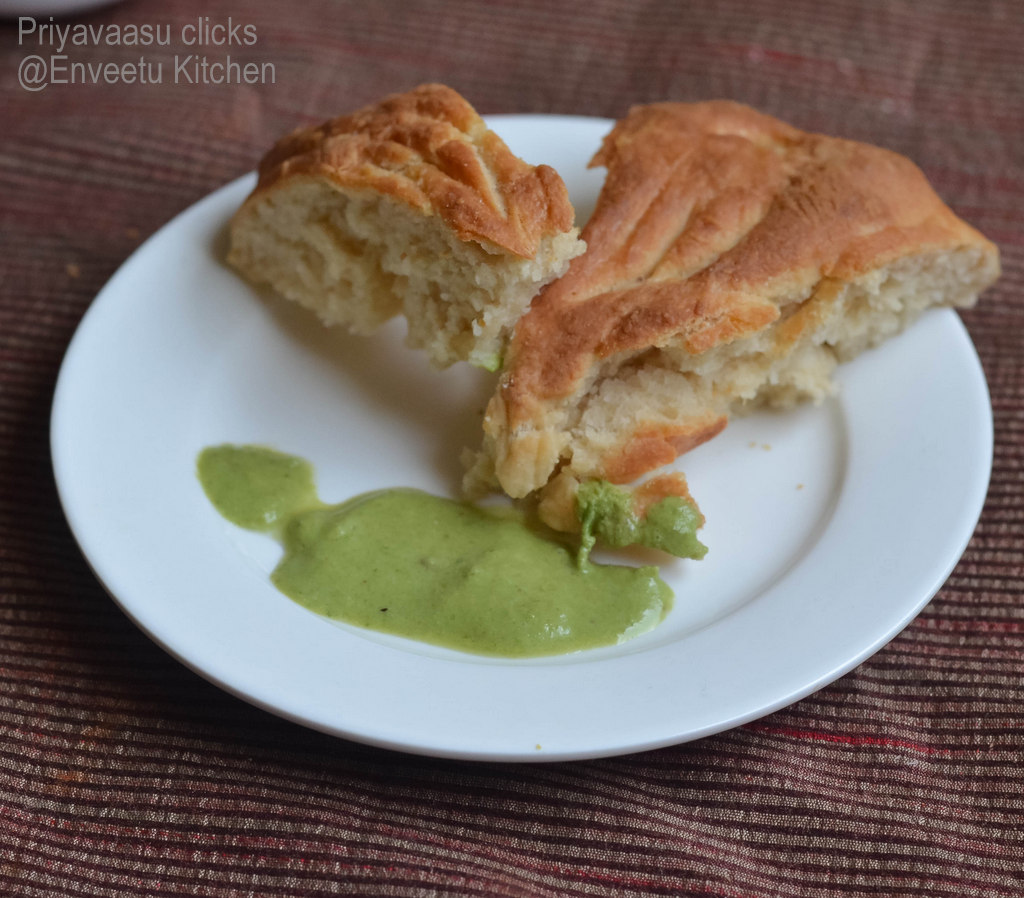 Transfer the bread to the wire-rack and let it cool completely. Serve with any spicy dip. I m planning to serve it for before dinner with some soup. 
Notes
Every Oven bakes at different temperature, so know your oven and bake accordingly. The original recipe, states to have the Oven @ 500F/260C, which takes only 12-15 minutes. The maximum temperature my oven can reach is 240C, so i kept it @ 220C. So, a higher temperature will bake fast and the bread also puffs up well.

If you are comfortable with using eggs, use it and you will get a good shine on top.
Check out the Blogging Marathon page for the other Blogging Marathoners doing BM#38