The second week of BM buffet begins today. The theme for this week is Dishes from Indian States. Since i have planned to do breakfast dishes in alphabetical order, I chose to continue the same and so today in that genre, I bring you a delicious breakfast recipe from the Gujarat.
Theplas are an inherent part of Gujarati meals, they are ideal for travelling and picnics. They can be eaten with curds and chunda, hot or cold. But you know my guys, they won't eat it with plain curd, so i made them, a lip-smacking raswale batanu shaak, they paired so well and it was a delicious meal!!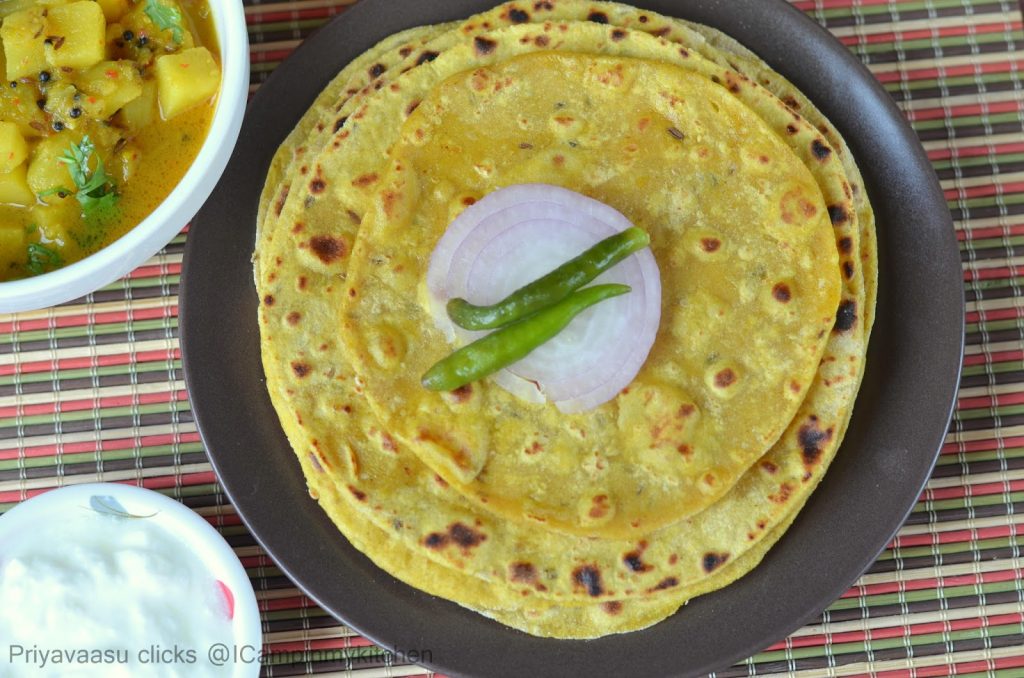 I know many Gujarati friends who pack 100's of Theplas when they travel back from India. I get my quota from them when they get back from vacation. They stay incredibly good for days, when stored properly. Though i have made plain thepla's often, i m so surprised i haven' posted it here all these days, maybe it waited all this long to be on the BM Buffet Table!! 🙂
Ingredients
¾ cup water or as needed
½ teaspoon Turmeric powder
1 teaspoon cumin seeds
1 teaspoon white sesame seeds
2 teaspoon oil
Salt to taste
I used my food processor to make the dough. The dough can also be kneaded by hand.
In a large bowl take the flour, add cumin and sesame seeds to it. Add salt and turmeric powder to it. Whisk well to combine.
Add curd to this mix, now slowly add water and make smooth and soft dough. Add oil in the end and knead the dough for 5 minutes to make it soft. Let it sit for 10 minutes.
Divide the dough into 12-14 portions. Dust the rolling surface with flour and toll each portion into thin discs.