We had a Wonderful Birthday party last Thursday with some of my Kiddo's Friends. It was a Happy Happy Mood, with kids running around everywhere. Played some games and pulled a Pinata and enjoyed a yummy cake with some snacks!!!
My Kiddo has started going to school after a brief break.Slowly settling down with his school routine. Since he is not fully settled, i m not settled with my routine yet. Not at all, touching my laptop!!!! Thats actually quite a surprise for all my friends, who know me well. Coz, i used to be like, always online!!!! Hopefully, i get back to own self soon!!!!!
Now quickly coming back to today's post. This Post, is there in my drafts for a longer time now!!!! i made this for some function (2 months back) and packed to hubby's office. Its an easy, breezy recipe and can be made Quick in a Wink!!!!
Ingredients
2 cups Dessicated Coconut
1 tin Condensed Milk
3tbsp Chopped, roasted Pistachios
4 pods of Cardamom, Powdered with a teaspoon of Sugar
3 tablespoon of Almond meal for coating the ladoos (or u can even use some dessicated coconut itself)


Method
In a Wide, Deep pan, Roast the dessicated coconut, until a nice aroma rises. Keep the flame low. Add condensed milk, pistachios and cardamom powder and mix well. The mixture will come together like a sticky ball. Switch off the flame. Let it cool for a minute or two. Pinch small balls out of the mixture and roll them inbetween your palms to make ladoo shape. Roll the ladoos in the almond meal to coat them for a crunchy texture.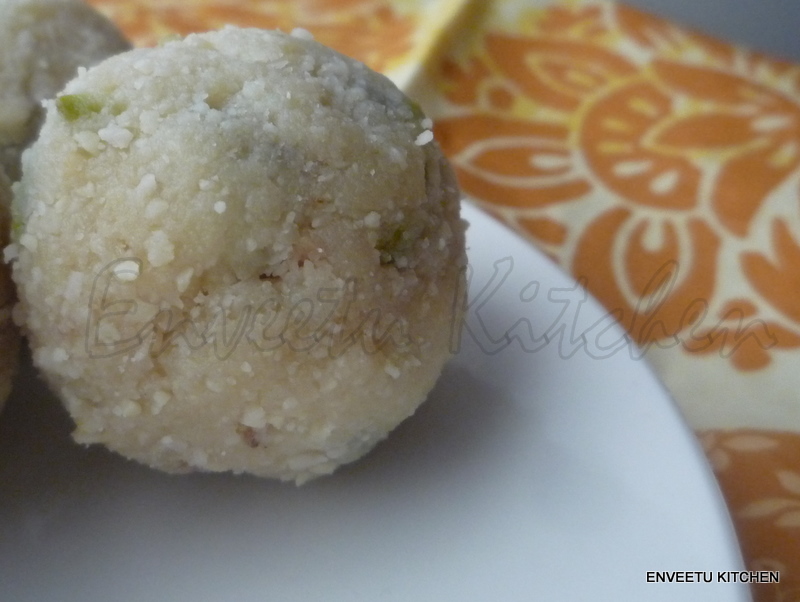 Easy to make Sweet and taste's divine. The Aroma of Dessicated Coconut with crushed cardamom, oooohh la la!!!! Try it and let me know!!!!!