Its a Piza-making Month!!! I have one more Pizza recipe coming this month, but its all together a different variety!!! For this month's Baking Partner's Challenge, Swathi asked me to suggest a recipe for Newyork Style Pizza with Sauce.
What is a New york Style Pizza?   This is what WIKI says…
New York-style pizza originated in New York City in the early 1900s, and in 1905, the first pizza establishment in the United States was opened in New York's Little Italy. It is known for its large, wide, thin, and foldable yet crispy shape.
So, it is basically a thin-crust pizza, i chose a

 Simple, no fuss recipe. Loved Baking it from Scratch, Pizza making is not all that tough anymore!!! 🙂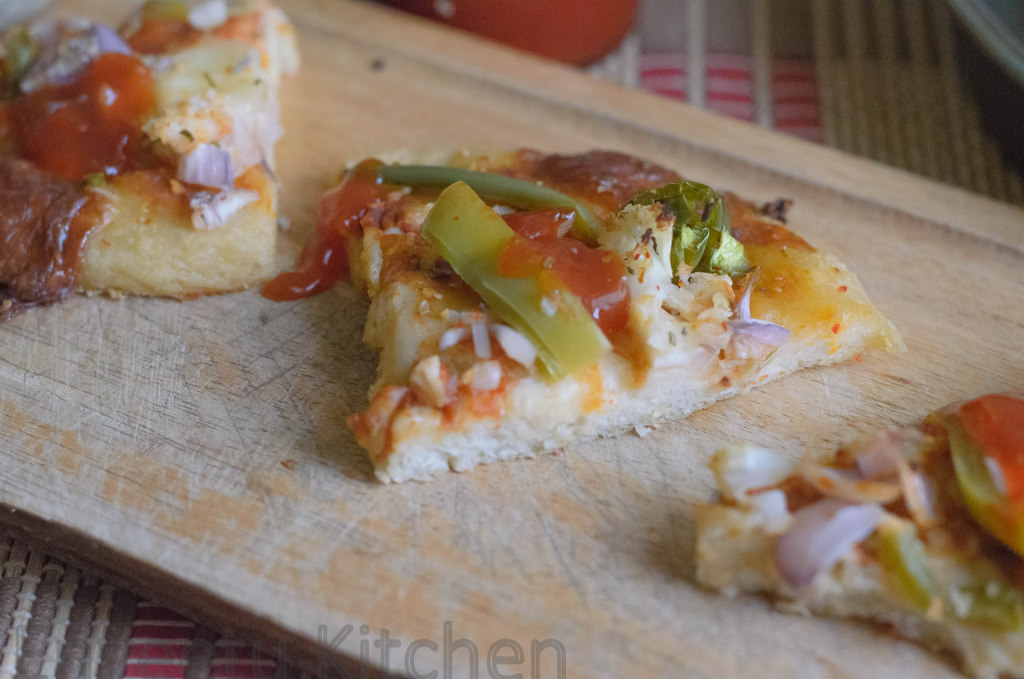 3½ cups All Purpose Flour/Multi-grain Flour
2 Cups All Purpose Flour & 1.5 Cups Wholemeal Flour
1 to 1-½ Cups of Warm Water (between 95F-110F)
Toppings
1 Capsicum, Cut into thin roundels
½ Cup Shredded Mozzarella Cheese
1 teaspoon of Mixed herbs(Oregano, Rosemary)
2 Cups of Store-bought Tomato Puree
1 teaspoon dried oregano flakes
Take them all together in a saucepan and simmer over low heat for 30 minutes. Take care not to boil.
In a Large Bowl, take Flour, instant yeast and salt together and mix well. Add Warm water little by little and Knead to make a dough. 

Do not add all the water at the same time. The Amount of water depends on the flour you are using, i tried both All Purpose Flour and Multigrain Flour. The Multi-grain flour needs more water than the All Purpose Flour.
All Purpose Flour Base
The temperature of water is more important while working with yeast. Hot water might kill the yeast and Cold water too does the same. How i determine whether it is in correct temperature? I pour a teaspoon of water on my wrist, it must be warm enough, but shouldn't scald the skin. The Temperature on the thermometer must read (95-110F).

The Dough has to be kneaded well for 10 minutes. After making the smooth dough, Keep the dough in a covered container in the refrigerator for 24 hours.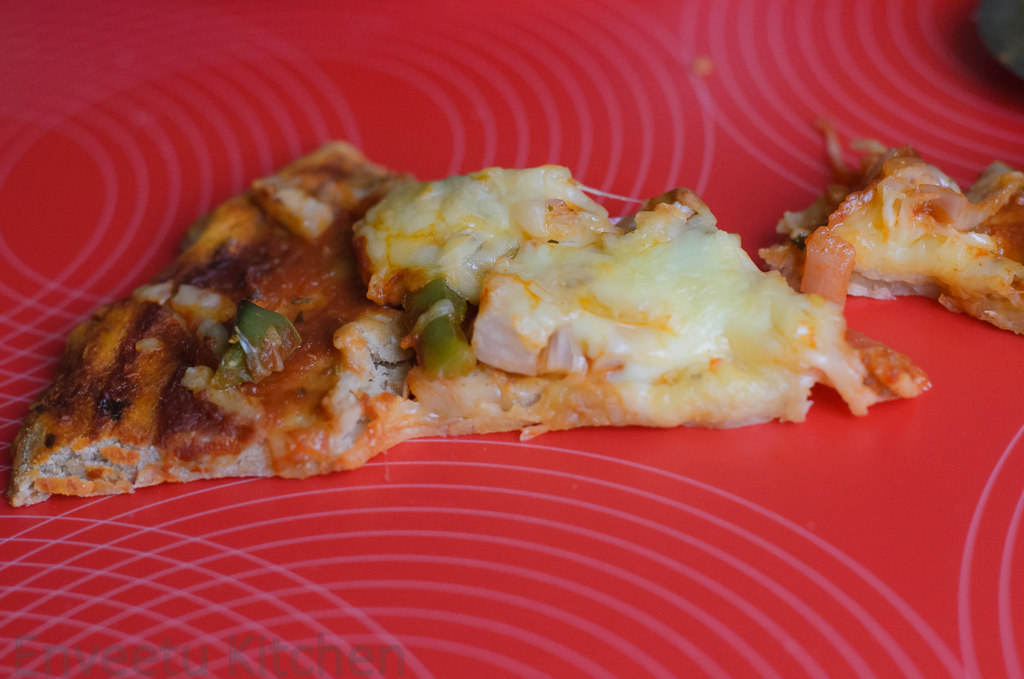 Multi-grain Base
When ready to make pizza, remove dough
from refrigerator and allow to warm to room temperature. Preheat your oven to 220C  one hour prior to making pizza.
Turn out the dough onto a floured work
surface. Press the dough into a flat, round disc. Divide the dough into 3 equal portions, i used my kitchen weighing machine to weigh the dough and divide it equally. 

I made 1 big Pizza with one portion and then divided the other 2 portions into half again and made 4 small pizza"s.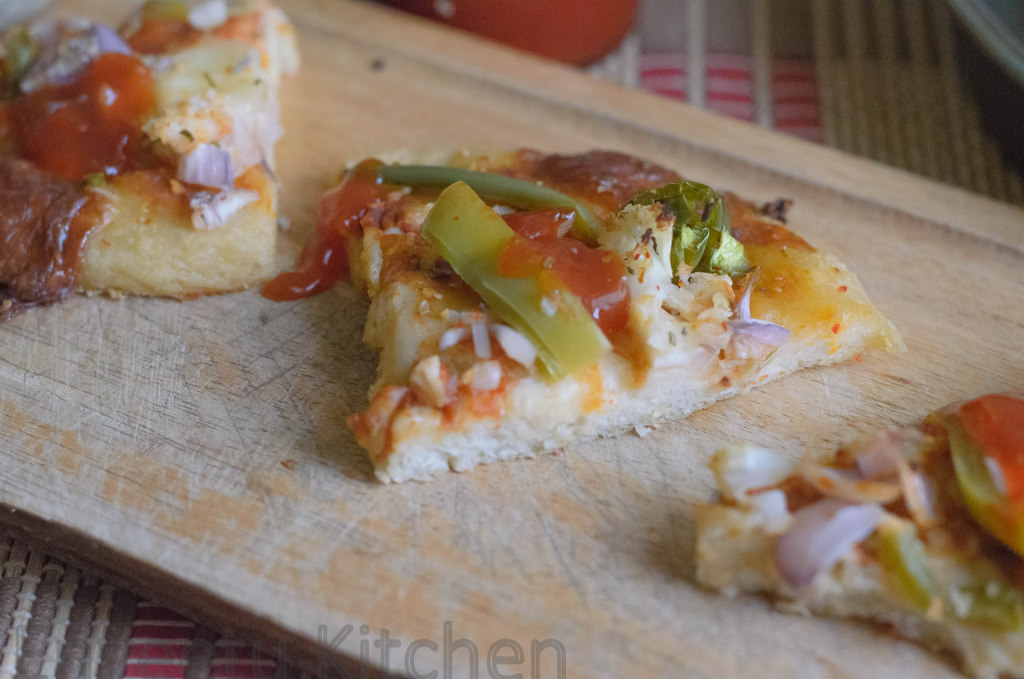 I used my Chapati roller and rolled the Dough into a thin Disc. Didn't get a proper disc, the edges were little rough. But didn't mind, since the sauce and toppings were great and made the pizza look appealing!!! 🙂

I used my Pie-pan, since i don't have a pizza stone. Grease the pie-pan with olive-oil and dust it with Cornmeal.

Transfer the Rolled out dough to the Prepared Tray, Top it with generous Pizza Sauce.

Add Some Chopped Capsicum, onions or any other veggies of your choice and Loads of Mozzarella Cheese. Sprinkle some herbs and chilli flakes on top.

Bake it in the Oven for 15-18 minutes, until the cheese on tops melts and base is Brown.