When i received a mail from Archana's kitchen, asking whether i can be part of recipe creation for the month of October, i was elated and i immediately said yes, and selected a pickle recipe. Now, there happened the comedy, they originally wanted me to do a Garlic and Tindli pickle, and i don't know what world i was, i somehow retained it as Carrot and tindli pickle!!! Now, please don't laugh! i have my justification, i was on anti-biotics, and tending to a family full of sick people, so naturally i brain switched itself off, when i was going through the mail.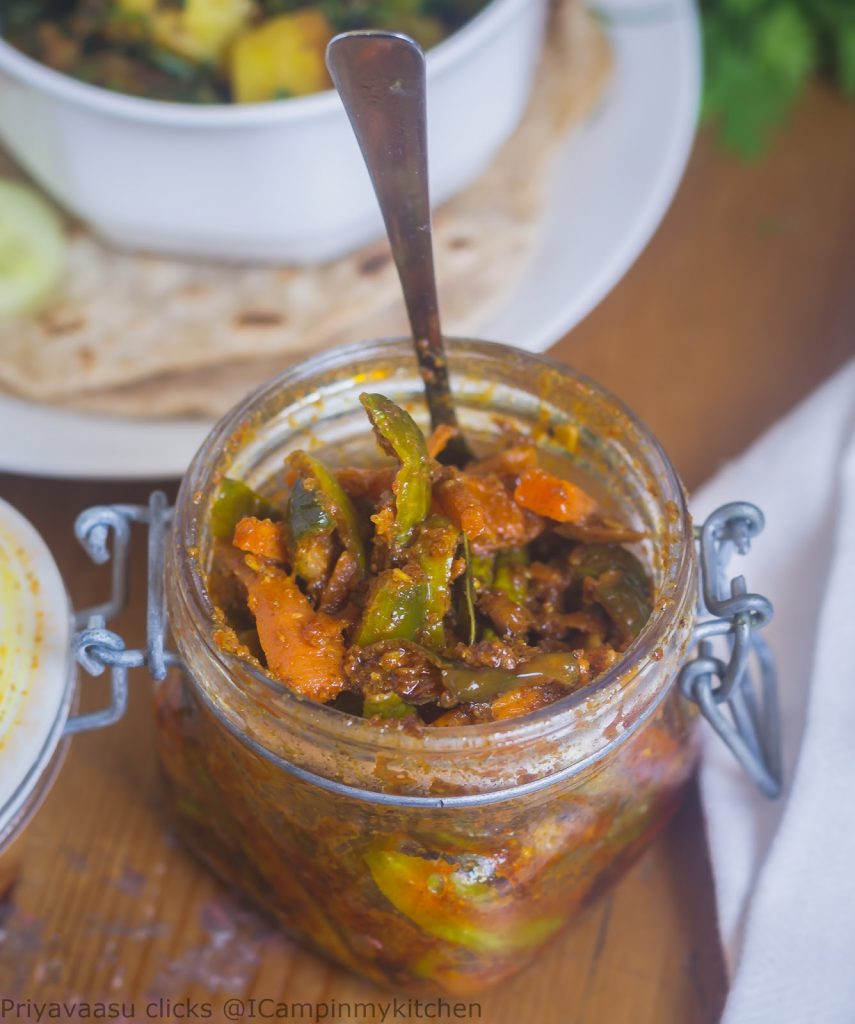 I happily made the pickle last week and we are enjoying it for the past 2-3 days. Now, just before hitting publish button for this post, i wanted to check the mail again, (light bulb moment, you may call) Dannnnggggg, there i got the recipe wrong!!!
But, i should thank my anti-biotic lull, i tried something new. I cannot taste pucca pickles, which are marinated in salt and spice, because of my health. So, i always prefer these instant varieites, i usually make Amla in brine, and Instant mango pickle1 & Onam sadya mango pickle, to this list i m now adding this carrot and tindli pickle too!!!
12-15 nos tindora/ivy gourd/tindli
1 large carrot
⅛ teaspoon turmeric powder
Tempering
2 cloves of garlic, finely minced
2 nos green chilies, slited lengthwise
To roast and grind
1 teaspoon coriander seeds
15 red chilies, i used long variety (reduce to 12 if you don't want it hot)
Wash and trim the edges of the tindora/tindli/ivy gourd. Slit them lengthwise, each into half first and each half into 3 slices. Chose fresh and firm tindora's, not the ripe ones. Wash and peel the carrot, and chop them into 1 inch pieces.

Let the veggies drain well on a strainer and pat dry them in a kitchen towel. I rested them for 15 minutes in a cotton towel and patted them dry.

While the veggies, are drying, dry roast the ingredients given under 'Roast and grind', separately. Take care not to burn them, keep the flame simmer and roast the ingredients. Let the roasted ingredients cool well. Take them in a mixer-grinder and grind to a fine powder.

Now let us make the pickle. Heat a kadai/pan, add gingely oil to the pan, add minced garlic to the hot oil, followed by lengthwise slited green chilies and curry leaves. Saute for a minute. Add hing to this and saute again for a minute.

To this now add dried tindli and carrot,along with turmeric powder and saute for a minute. Keep the flame in medium, and let the veggies sizzle for about 10-12 minutes. Keep stirring after every 2 minutes, so it doesn't stick to the pan and brown.

The veggies need to cook, but not soft, tindli should retain a mild crunch. It takes about 12 minutes for the skin of it to look little shriveled, now add the ground masala powder to the veggies and salt. Mix well. Let this simmer for another 5 minutes for the masala to mingle well with veggies.

Take it off the stove, let it sit for 2-3 hours for the flavors to settle well. Store it in an air-tight container, the pickle will stay good in the refrigerator for upto a week.
We are enjoying it with rice and roti's, love the crunch of the tindli and the soft carrots, mixed with the masala, gives an awesome flavor all together to the pickle.