Tomato Thokku/Preserve is my mom's trade-mark recipe. she makes it often at home and in particular when we get plump, fresh tomatoes in season. Even these days,  she makes it to pack for her Son-in-Law (read my hubby) when he travels back to dubai after vacation 🙂 !!! 
This thokku is a must when we travel by train. Amma packs it with idly/chapathi, interleaved with thokku, oh such a bliss it is, to open a pack of idly that wafts with mild aroma of roasted fenugreek in the thokku. 
While making it last week, i felt as if i was in my mom's place, such was the aroma, nostalgic!!! The day i made, i called amma to check the amount of red chilies, when i told her the amount of tomatoes, she immediately replied use 25 chilies, it will be enough and it was enough, such precision, comes with age i believe!!!
Enough of my banter, let's go to the recipe!! 🙂
Ingredients (Makes 2 X 200gms bottle full)
2 kgs ripened tomatoes (about 20 medium sized tomatoes)
Tempering
½ cup gingely oil
1 teaspoon mustard seeds
1 teaspoon turmeric powder
1 teaspoon hing/asafoetida

Roast n grind2 teaspoon coriander seeds
½ teaspoon methi/fenugreek seeds
25 nos red chillies (round variety)
a small goose-berry sized tamarind (optional, i didn't add, but amma does)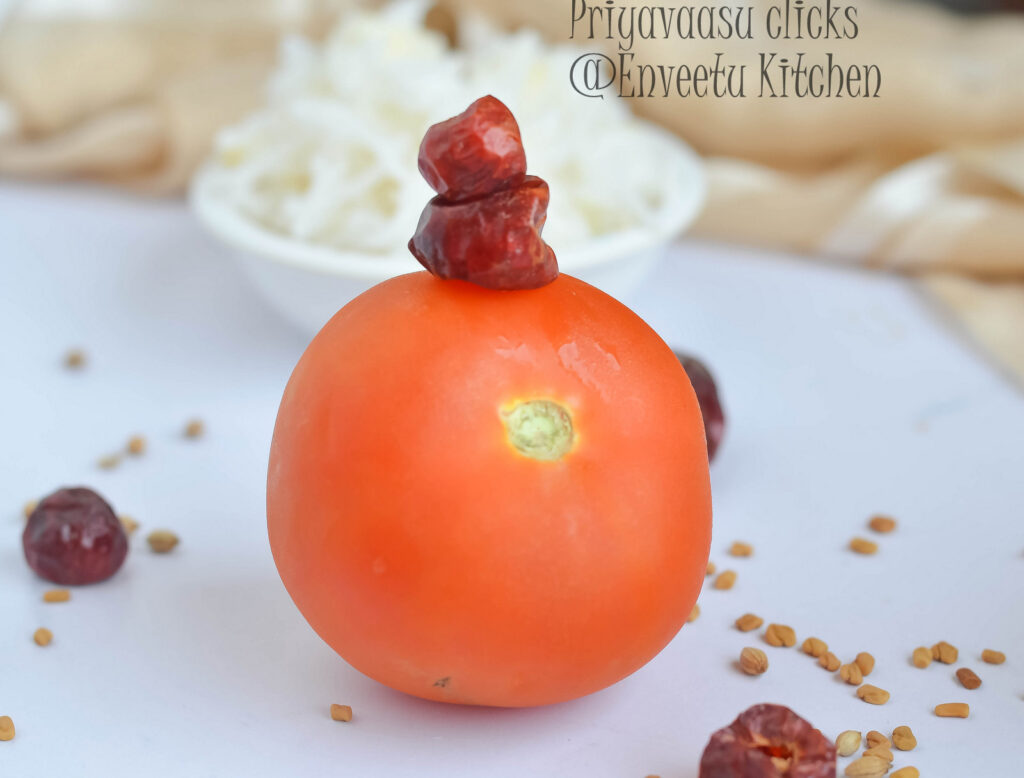 Method
Wash the tomatoes well with water. In a big pot, bring 8 -10 cups of water to a boil. Add the tomatoes to the water and take it off the stove. Keep it covered for 30 minutes. I used my 8 litres cooker vessel for this.  The water level should be well above tbe tomatoes.
 After the given time, using a laddle, scoop the tomtoes out of the hot water. Be careful, since the water would be very hot. Let the tomatoes rest for while, then peel the skin of the tomatoes.  Take the peeled tomatoes in a blender and blend until smooth. I used my hand blender and blended it straight in the vessel itself.
In a small tadka pan, dry roast the ingredients given under "roast n grind" and keep aside to cool. When it is cool enough to grind, take it in the small jar of your mixie and grind it to powder. Keep aside until use.
Heat a heavy bottom pan, add oil given under "Tempering", splutter mustard seeds, add hing, turmeric powder. Now slowly add the pureed tomatoes to this tadka. Be careful, the liquid might splutter out. 
Mix well. Reduce the flame to medium and let it cook. When it comes to a boil, add the ground powder and salt. Mix well. Let this cook until the liquid is absorbed completely and oil separates on top. Takes about 40-50 minutes for the above quantity. 
Once done, the thokku/preserve will come away from the sides of the pan and move along with the laddle as you mix it. Take it off the stove and let it cool completely. store in an air-tight container. 
An apt combination for idly/dosa/chapathi, that too while travelling this preseve stays good for a day or two in room temperature. But remember to use a clean and dry spoon always. Stays well for weeks, while refrigerated. 
Sending this to WTML hosted by +Rafeeda AR , an event by +Gayathri Kumar