Today was so hectic, i thought i might not be able to do the post in time. ufff!!!! Atlast here i am. This again is Kuttu's Favorite Recipe. His Weekend Breakfast, Noodles combined with veggies and made as a Cutlet. A Delicious Snack with Hot Cup of Coffee/Tea!!!!
Ingredients
75gms Hakka Noodles ( i used half of Ching's Veg Hakka Noodles)
3 tablespoon Gram Flour/Besan
½ teaspoon Coriander Powder
3-4tbsp of Olive oil for shallow frying
Method
Peel and Boil the potatoes. Peel the carrot and Grate. Blanch Cauliflower florets in Hot water for 8-10 minutes. Drain and Keep Aside.

Bring 5 cups of Water to boil, add the Noodles and Cook for 3-4 minutes or until al dente. Drain and add a teaspoon of oil, toss and keep aside.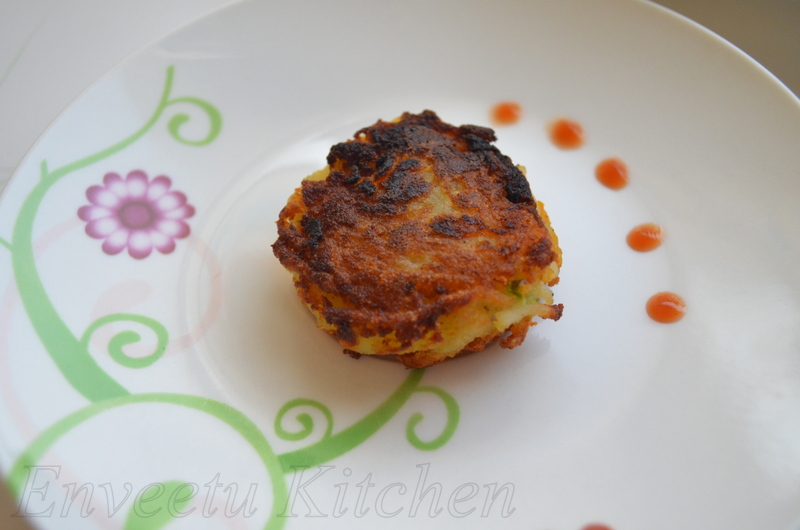 Take the ingredients given under "

To Mince"

in a mixer

and mince them.

In a Large Bowl, Take the noodles, add mashed potato, grated carrot, cauliflower florets Mix well. Add minced ingredients, coriander powder, Besan and Salt and Mix well.
Divide the dough into Portions and refrigerate for 10 minutes.

Heat a Non-Stick Pan, add a tablespoon of oil, Shallow fry the Cutlets in batches. Fry on both sides until brown.

Serve Hot with Tomato Ketchup or any Chutney.
Sending this to Kids Delight - Potluck Party, happening @ Srivalli's. What is with my Cuppa? happening @ UK Rasoi.