For V, we are visiting Vietnam. We are almost finishing this marathon, looks like days flew by. Though in the beginning, i was in a doubt, whether i will be able to do full 30 days, but as the days went, i felt though it isn't easy, but doable. I m trying my level best to give breads that are doable @ home and resemble our Indian flat-breads to some extent in taste and method.
Now today in vietnam, we are going to taste Banh Bao. 
Bánh mì is a Vietnamese term for all kinds of bread. Bánh bao (literally "enveloping cake") is a ball-shaped bun containing pork or chicken meat. It often has Chinese sausage and a portion of a hard-boiled egg. A vegetarian version of bánh bao also exists.
I give you a vegetarian version of Banh Bao. Steamed buns, stuffed with capsicum curry cooked with soy sauce. The buns were a total hit @ home. Both my kiddos loved it and the lil one skipped his regular lunch to have these buns. They make a good evening snack too. So, you don't need an oven to enjoy home made buns, all you need is a will to try new things out!!!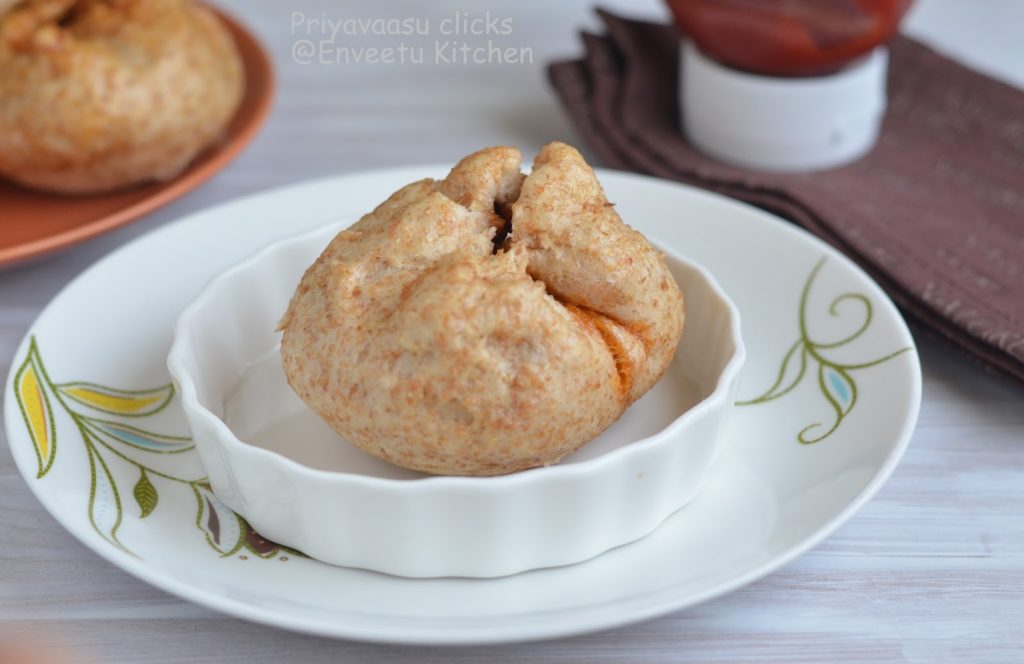 Ingredients
for the Dough
1.5 Cups Whole meal flour
1.5 Cups All purpose flour
1 tablespoon vegetable oil
Filling
2 nos capsicums, thinly sliced
2 cloves of garlic, chopped
1 onion, finely chopped
1 nos green chili,chopped fine
1 heaped teaspoon soy sauce
1 tablespoon tomato sacue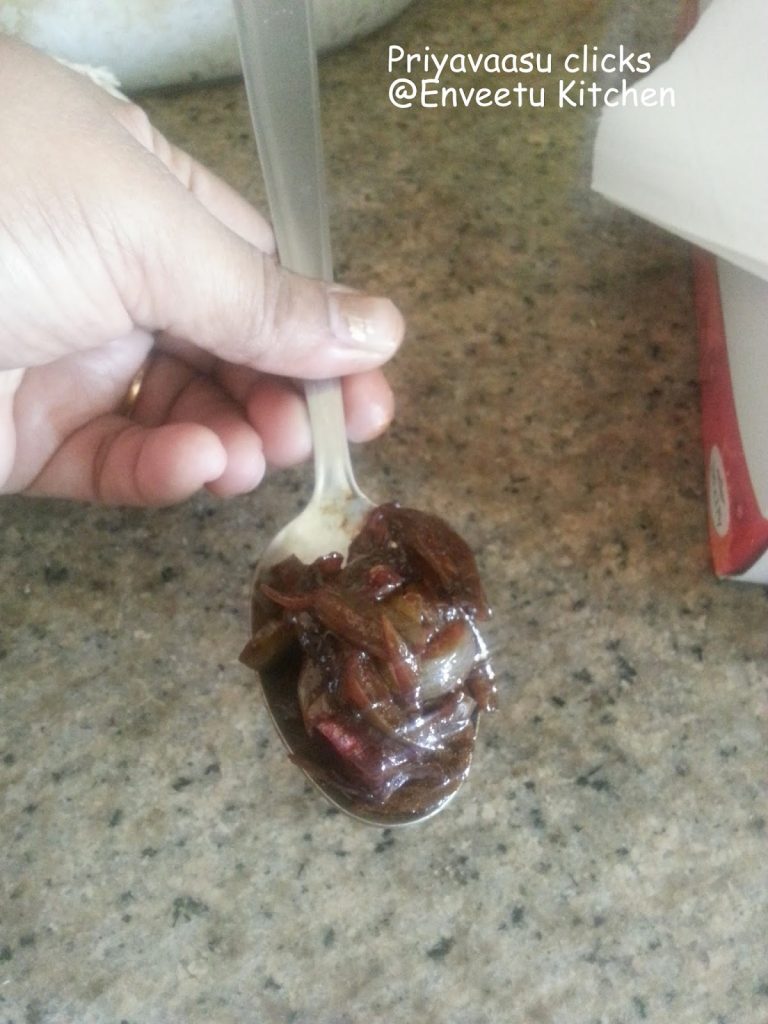 Method
Filling
Heat a pan with 1 tablespoon of oil. Add chopped onions, green chilies and garlic and saute till onions turn translucent. 

Now add chopped capsicums to this and saute for 2 minutes. Keeping the flame high, add soy sauce and tomato sauceto this. Mix well.

let this cook covered for 8 minutes or until capsicums are ¾th cooked and it is almost dry.

Take it off the flame and keep aside until use.
The Buns
Take both the flours together in a bowl, whisk well to combine. Take a tablespoon of flour in a small bowl and mix it with baking powder and keep aside. Now add yeast, salt, sugar to the flour-mix and whisk well to combine.

Now slowly add milk to the flour-mix and start kneading a dough. When it starts form a douh ball, add the baking powder and flour mix to this and knead to get a smooth dough.
Take the dough to a flat kneading surface, i used my kitchen counter for this. Knead the dough for 5-8 minutes to get a soft and smooth dough. Let the dough rest in a well-oiled bowl for an hour or until doubled.

Once the dough doubles, take it back to the kneading surface. Punch down the dough and divide it into 5 pieces. Work on one piece at a time, keep the rest covered.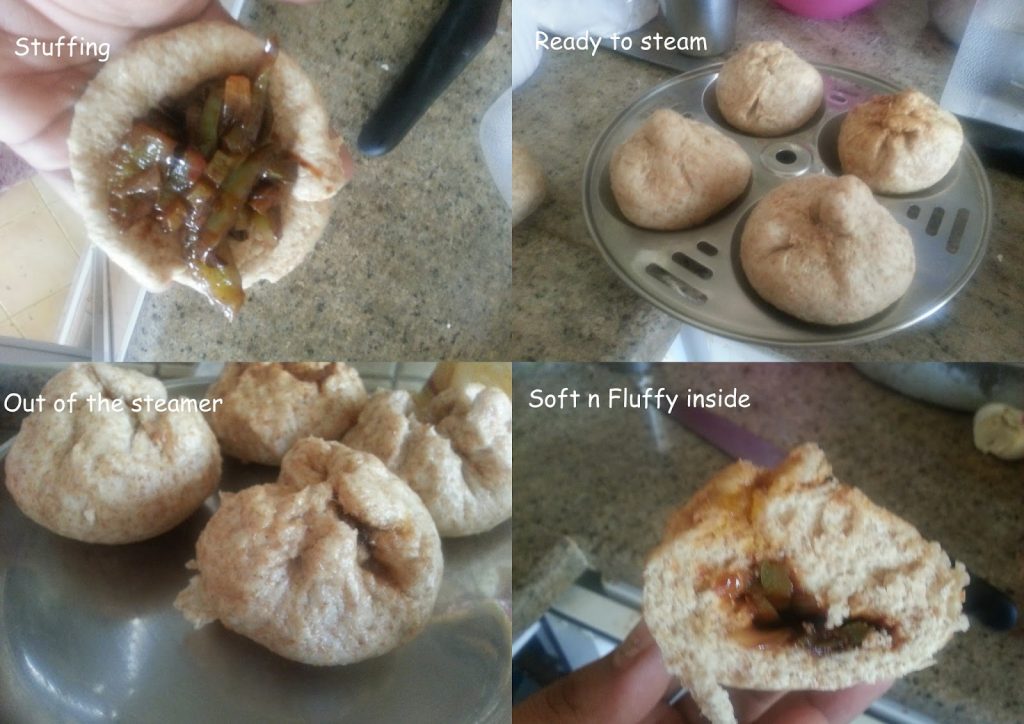 Dust the working surface with flour, flatten a ball with a rolling pin and roll it to a circle of 5-6 inches. Keep a 1-2 tablespoon of filling in the center and bring the edges together to make a potli/bag/modak. Pinch the edges together and twist it a bit to seal.

Keep a steamer ready, by boiling a ¼ Cup of water in it.i used by idly steamer for this. Grease the idly plate, place the stuffed buns as you make in the greased plate.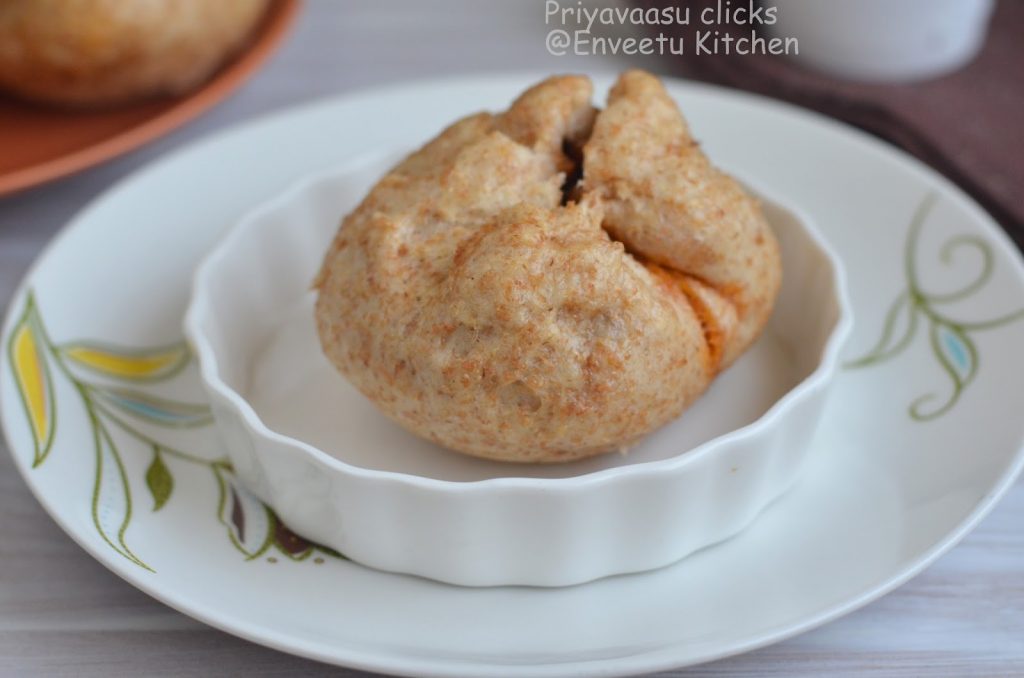 Place the idly plate into the steamer and steam cook the buns for 20 minutes.Take care not to spill water on the buns while keeping or removing the buns from the steamer.

Let the buns cool for 30 minutes. Serve warm with tomato sauce on the side.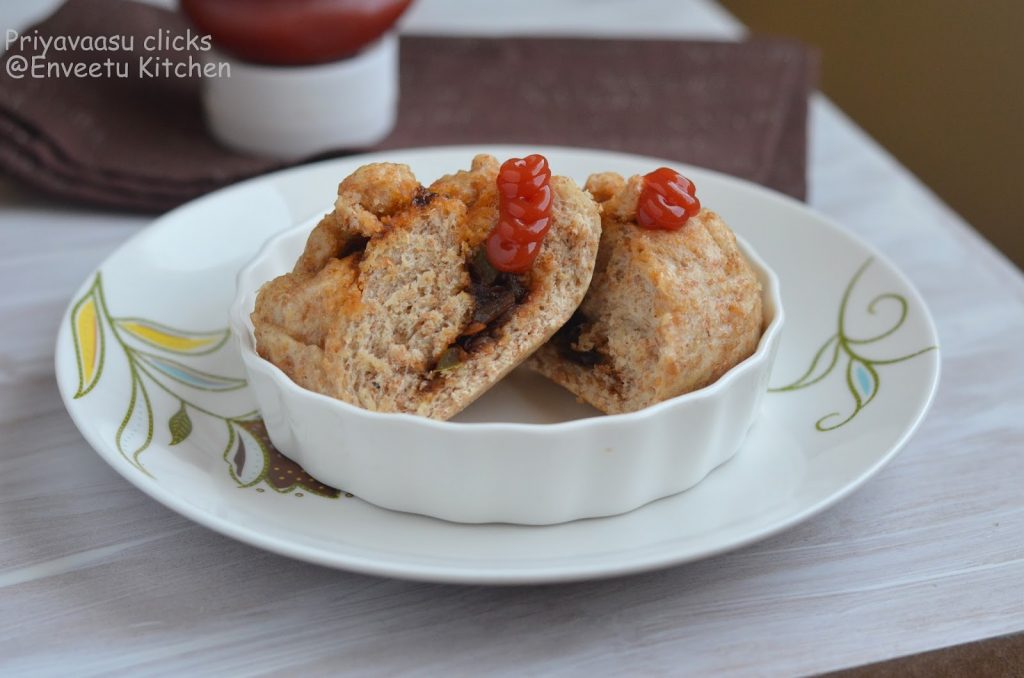 Notes
The buns can be made using full All purpose flour or with 50:50 ratio of APF and Whole Wheat.

Leftover buns can be stored in the refrigerator and can be stored up to a week.