This is one super easy bread and also a tasty one. Amazingly soft and fluffy even on the 3rd day. I have used my Kartoffelbrot bread recipe as the base, changed it to wheat flour and added yummy masala and baked it for our evening snack. The whole house smelled amazing, while the bun were baking. All the sharp noses at home started asking, what is cooking ma??? I kept the suspense, and served these buns with our evening tea. They just vanished, in a click.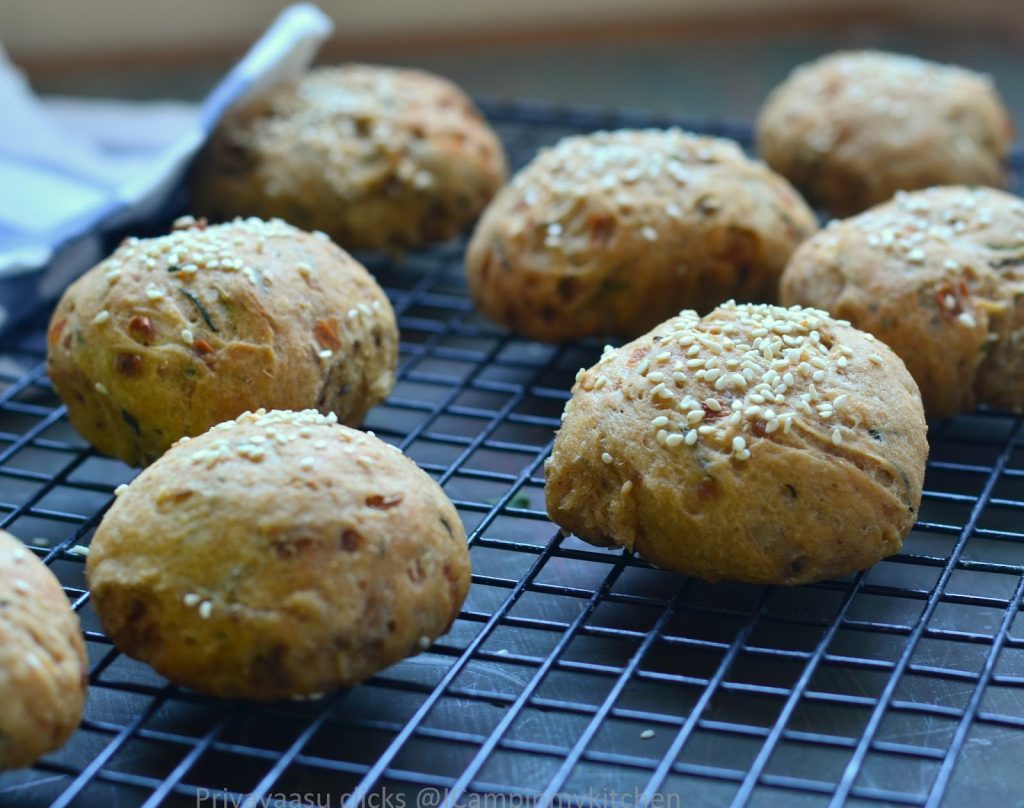 Thank God, I saved some for my hubby and served it yesterday for his dinner as side to warm soup. The buns remained deliciously soft and paired so well with the soup too. This is definitely a keeper recipe and is going to be a regular in our house. 
These buns need no extra skill to bake them soft, the secret behind the softness is the potato. So, now you know, to get a soft and fluffy wheat bread, just throw in some potatoes and see the magic work. Do try and let me know how you liked the recipe.
Ingredients
1 & ¼ cup Wheat flour (i used chapathi atta)
1 medium sized potato (about 8-10  1- inch cubes), cooked and mashed well.
2-3 tablespoon warm water
1 tablespoon olive oil to brush the buns
1 teaspoon water to brush the buns
2 tablespoon white sesame seeds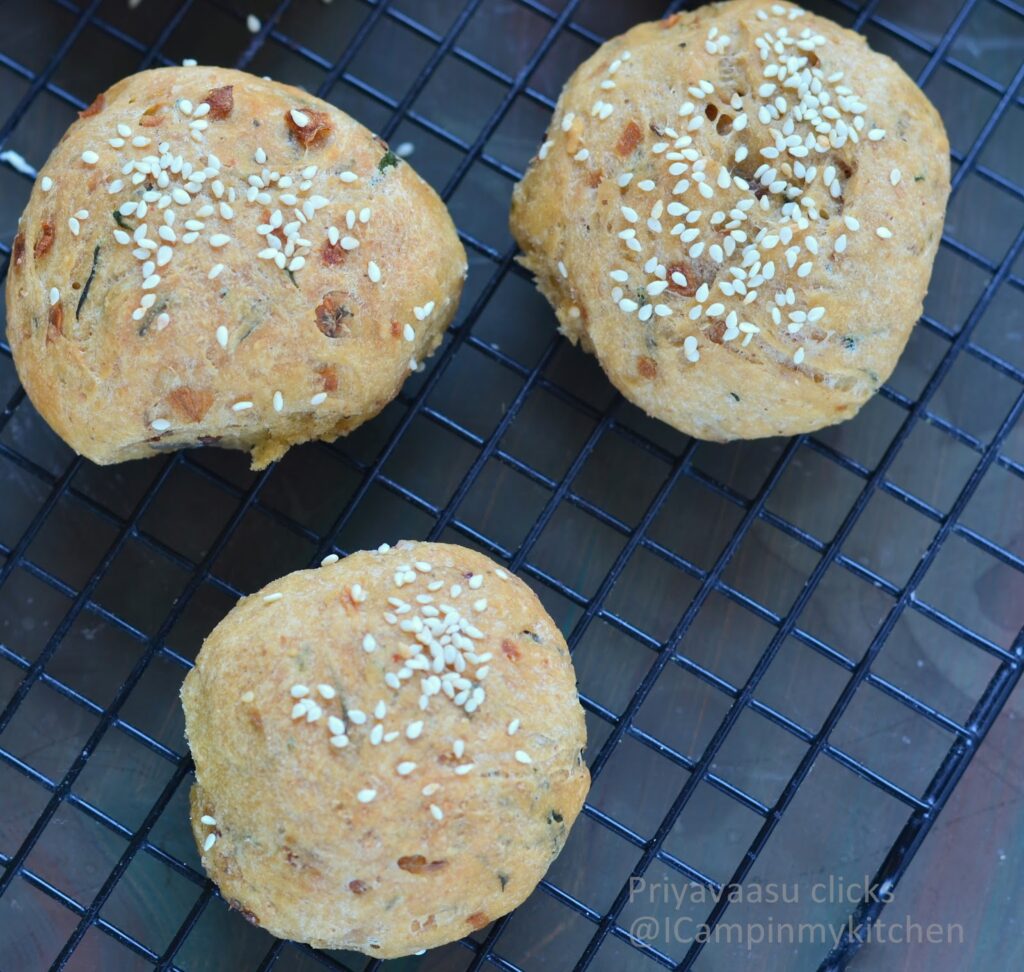 For the Masala
2 medium-sized onions, finely chopped
2 cloves of garlic, finely minced
2 nos green chilies, finely chopped
handful of fresh corinader leaves, finely chopped
2 tablespoon fresh mint leaves, chopped fine.
½ teaspoon coriander powder
¼ teaspoon red chili powder
Method
Prepare the masala first.  In a pan, add oil, crackle cumin. Add green chilies and saute till they sizzle. Add onions and garlic and saute until translucent.

Add coriander and chili powder and salt. Let this be on the stove for 2 more minutes. Add coriander and mint leaves, give it a good stir. Take it off the stove.

Let it cool completely before using it in the bread.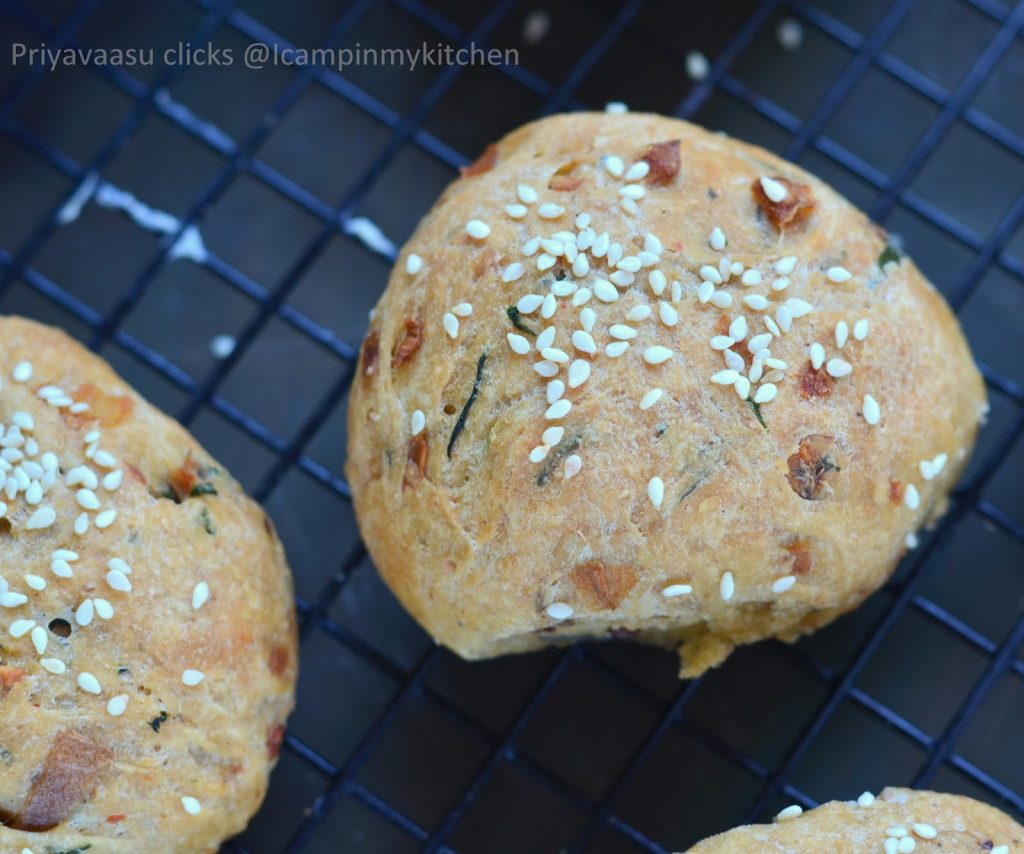 Prepare the dough
Take flour, yeast, salt together in a wide bowl.  To this add the mashed potato add warm water. Start kneading it to a soft dough.

It quickly comes to a soft dough. Add the masala to this dough and knead well into a smooth and soft dough.

Place the dough in a greased bowl, cover it well with a kitchen towel/cling wrap. Let it rest for an hour or until it doubles up in volume. 

Once the dough rises well, take it out of the bowl. Punch down the extra air. Knead the dough for a minute. Divide the dough into 8-10 portion. I divided it into 10 portions. 

Roll each portion of the dough into a ball, by cupping it in your palm and rolling it on the kneading surface.

Place the balls on a greased baking tray. Cover them and let it rise for another 45 minutes. Preheat the oven to 180C. Brush the buns with olive oil once. Again brush them with water/milk and sprinkle the sesame seeds on top.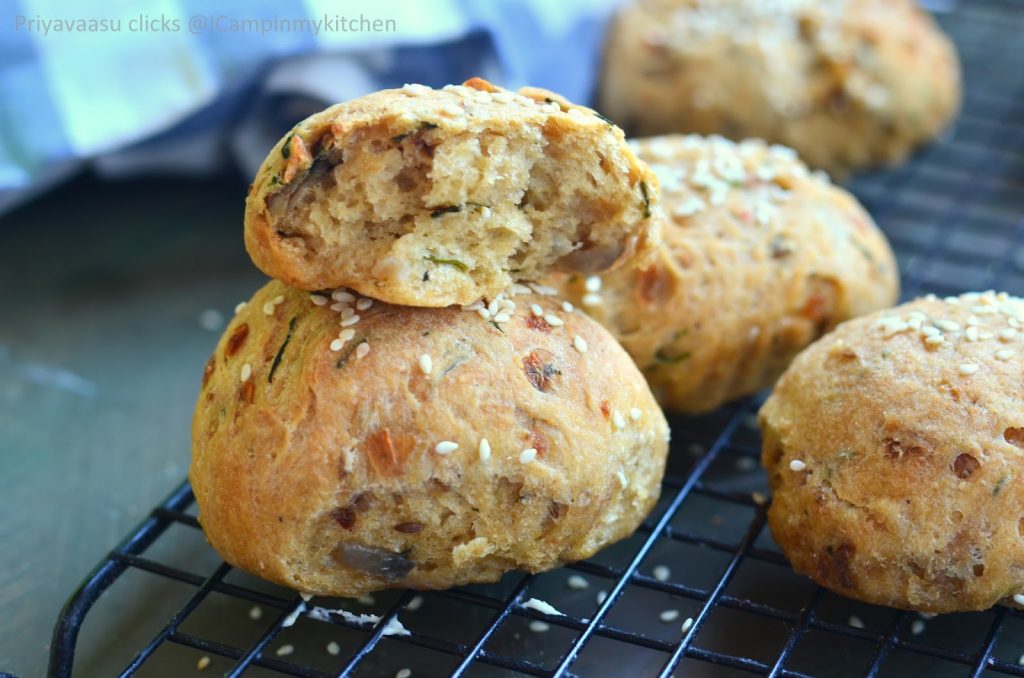 Bake the buns for 28-30 minutes or until they turn golden brown. Remove from the oven, let it cool for 10 minutes. Serve it warm along with a bowl of soup for dinner or as such for a evening snack with your favorite cuppa.

Refrigerate the leftovers tightly wrapped in a plastic wrap or aluminium foil. Just before serving, reheat them in a microwave for 30 seconds and serve warm. The buns will stay good for 2-3 days in the fridge. 
This is part of the Bake-a-thon 2015