I love baking bread, this month i actually have 4 more breads to post.This Month for Baking Partners Challenge, Swathi Iyer, suggested baking bread using this amazing tecgnique called Tangzhong- water roux. What is this method? 
Tangzhong bread making was developed by the Chinese for a softer and fluffy bread. TangZhong method was originated from Japan. The most amazing part is, the bread made with this method stays soft and fluffy even after a few days. Simply reheat the slice of bread/bun in the microwave for 10 to 15 seconds, you'll have a warm, soft and fluffy bun on hand, just like it's fresh out of the oven. 
Basically, the TangZhong method is to mix 1 part of bread flour with 5 parts of water (by weight) at 65°C (149 °F) to form a paste/wet dough. At 65°C, the gluten in the bread flour and water mixture would absorb the moisture and become leavened. Thus, when the TangZhong is added into other ingredients of a bread dough, it will be heightened and produce fluffier bread.
I have modified the recipe a bit and made it using wholemeal flour.
Ingredients of tangzhong
Ingredients of bread:
1 tablespoon Custard Powder
120gm tangzhong (use half of the tangzhong you make from above)
5 to 6gm/2 teaspoon instant yeast
3tbsp butter (cut into small pieces, softened at room temperature)
Method
Method of making tangzhong
Mix flour in water and milk mixture well without any lumps. Cook over medium-low heat, stirring consistently with a wooden spoon, whisk or spatula to prevent burning and sticking while you cook along the way.

The mixture becomes thicker and thicker. Once you notice some "lines" appear in the mixture for every stir you make with the spoon. It's done. If you want to check the temperature of tangzhong it is 65 C/149 F.Remove from heat.
Transfer into a clean bowl. Cover with a cling wrap sticking onto the surface of tangzhong to prevent from drying up. Let cool. The tangzhong can be used straight away once it cools down to room temperature. Just measure out the amount you need. 

The leftover tangzhong can be stored in fridge up to a few days as long as it doesn't turn grey. If so, you need to discard and cook some more. The chilled tangzhong should return to room temperature before adding into other ingredients. 
Making the bread
Combine all dry ingredients: flour, salt, sugar, Custard powder and instant yeast in a bowl. Make a well in the center. Whisk and combine milk and tangzhong, then add into the well of the dry ingredients. Knead until you get a dough shape and gluten has developed, then knead in the butter. Mind you, it'd be quite messy at this stage Keep kneading until the dough is smooth, not sticky and elastic. 

To test if the dough is ready, you might stretch the dough. If it forms a thin "membrane"/ window pan test, it's done. The time of kneading all depends on how hard and fast you knead. Since i have used Wholemeal Flour, when i stretch to test the dough, though it stretches, i get a hole in the dough, i checked with Christine's recipe, she has also mentioned it.
While kneading the dough, stretch the dough lengthwise, roll it up/roll it away from you. Strech n roll, Knead this way. This stretches the dough and works the Gluten.

Knead the dough into a ball shape. Place in a greased bowl and cover with a wet towel or cling wrap. Let it proof till it's doubled in size, about an hour. The proofing time depends on the weather in your place, if the dough doesn't double in an hour, give it some more time. 60-90 minutes should do the trick, unless you have messed with the yeast villain!!! 🙂
On a floured surface, deflate and divide the dough into three equal parts and form into balls. Take each piece and, using a rolling pin, roll out into an long oval shape. Fold the shorter sides of each oval over like an envelope, into sort of a square. Flip the squares over, and roll out into an oval again. Flip them back over, and roll each oval into a roll/cylinder, from one end to the other.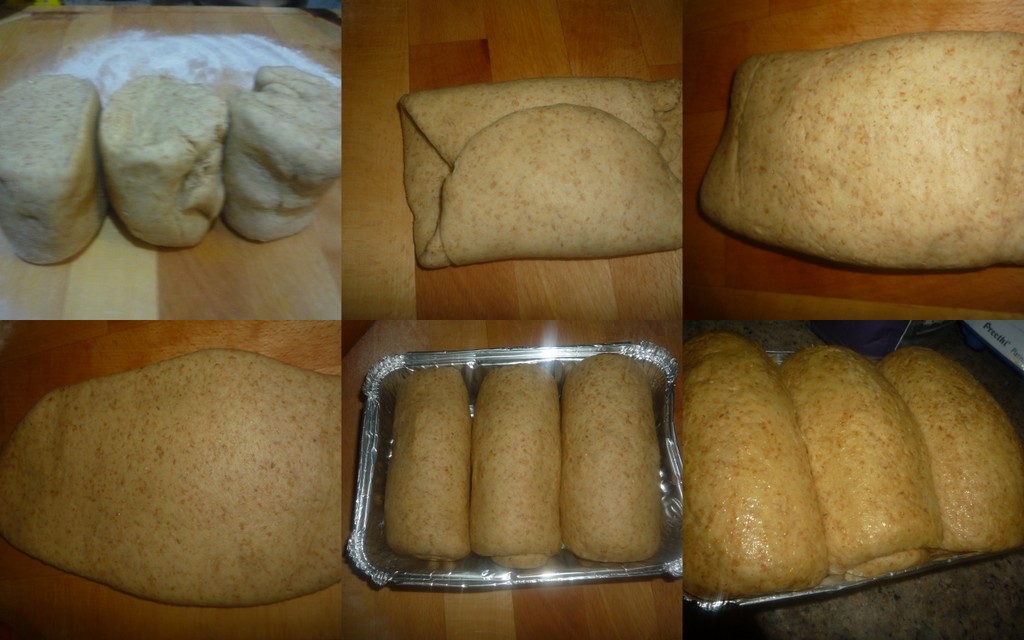 Arrange the rolls in an oiled bread pan, cover with plastic wrap, and allow to rise to about ¾ of the height of the bread pan. It took about 40 minutes.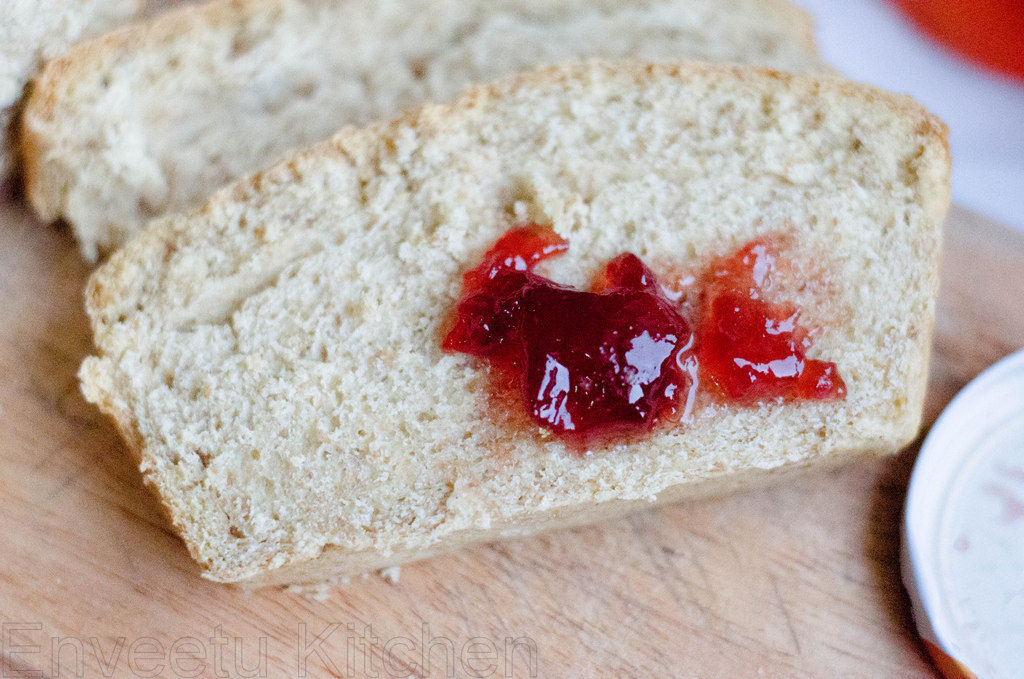 Prior to second rise, Brush the loaf with the Milk-oil mixture and bake in a pre-heated oven at 350 degrees/180C for 50-60 minutes. If the top gets too brown, tent the loaf with foil while baking.

Remove the loaf from the pan and cool on a wire rack. Let it cool completely. Store it in an airtight plastic bag or container once it's thoroughly cooled.