I wanted to name the post ABCD Ladoo, but couldn't include peanuts in that so the big title. Ladoos are my favorite, anybody who follows my blog regularly knows that well. I have a good collection of ladoos which can be found here.
Ladoos are sphere shaped treats from the Indian sub-continent, we actually make ladoos with everything, seeds, nuts, flour, you name it we might have ladoo recipe with that ingredient.
Ladoos are basically a versatile dessert or snack that can be made in minutes. We have ghee laden ladoos made during winter to give that warmth, and ladoos which can be made vegan for the health-conscious.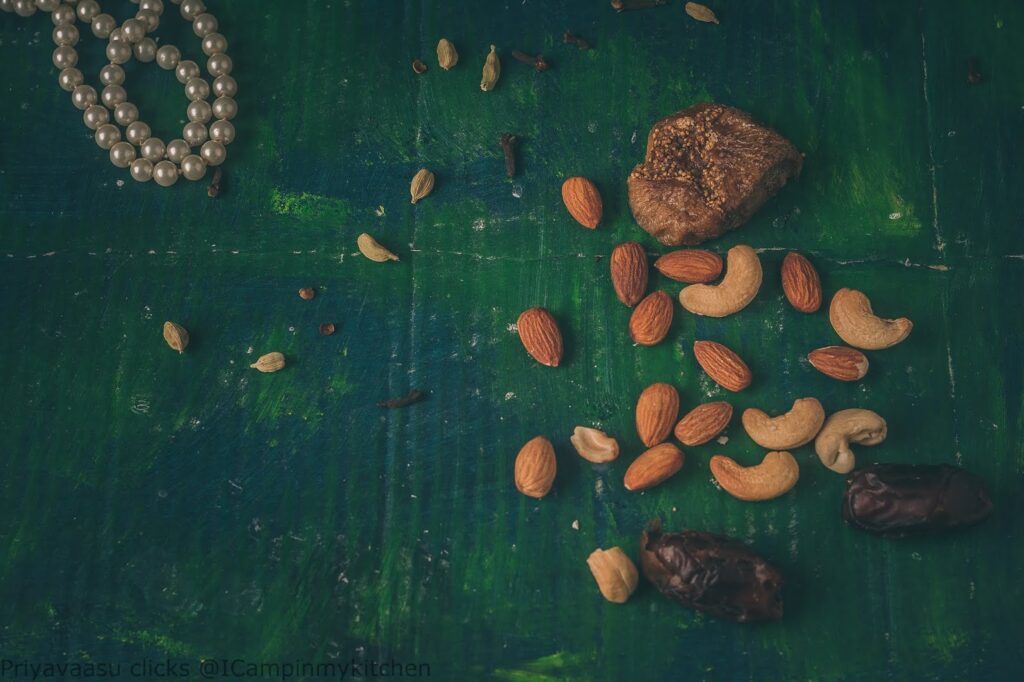 Today's ladoos are made with 3 kinds of nuts and sweetened with dates and figs. A combination of almonds, cashews and peanuts, provide the right amount of nutrients and energy required and instead of sugar i have sweetened with figs and dates. Though both figs and dates are high in natural sugar and high calorific value, i feel they are way better than processed sugar.
These ladoos can be a great post-workout meal or a delicious after-school snack for your kids. These ladoos make a perfect offering for chaitra/vasanta navratri(choti navratri) happening this month. Do try this simple and delicious ladoo, whatever maybe the occassion, these quick bites would definitely be satisfying your palate.
Ingredients
4 pods of cardamom, seeds removed
Take all the nuts in a pan and dry roast then until crunchy. This can be done in the oven too.

Spread the nuts in an oven-proof tray, preheat the oven to 200c and roast the nuts for 12 minutes. Once done, remove the tray and let it cool completely.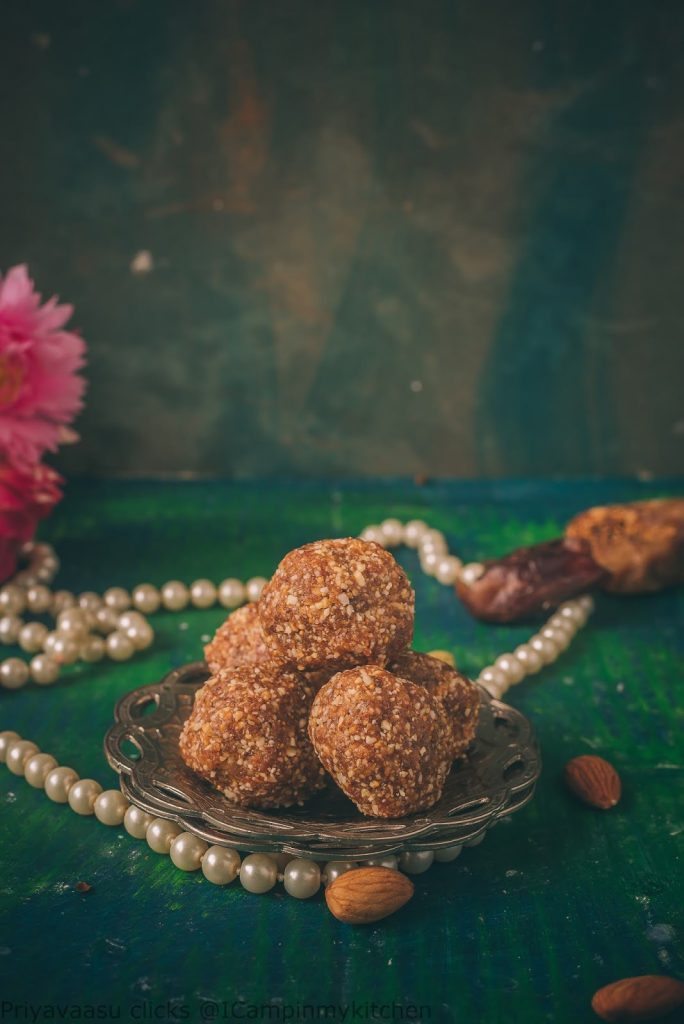 If the figs are too dry, soak them in hot water for 15 minutes, drain then completely. Wipe well and chop them into small pieces. Pit the dates and chop them roughly. Pound the cardamom and clove to fine powder.

Take your food processor or your mixer out. I used my Bosch mini chopper.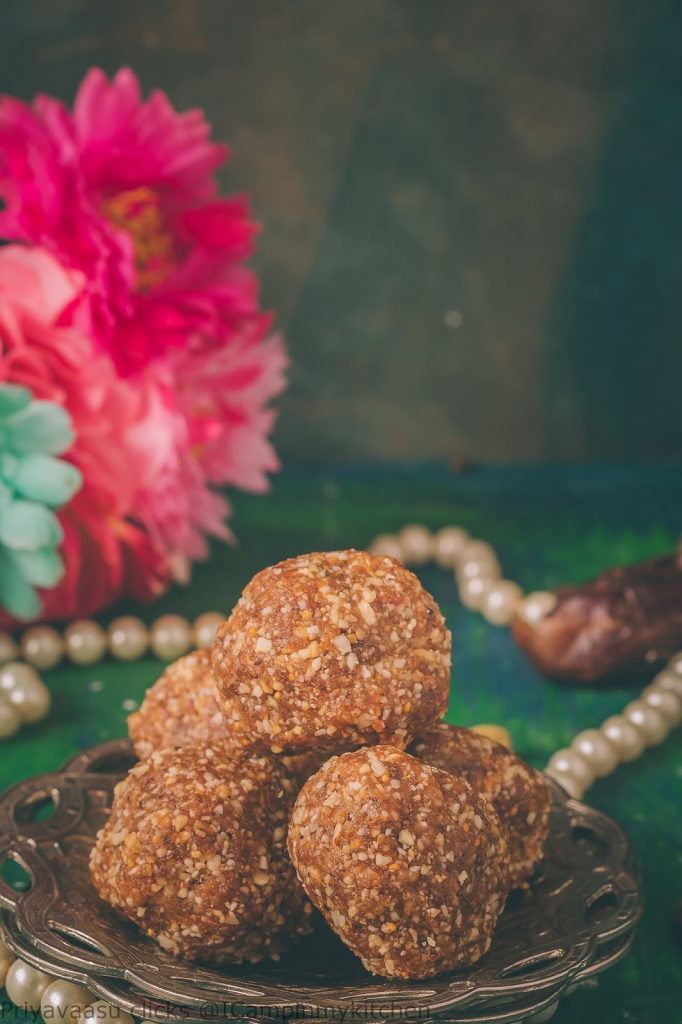 Take the roasted and completely cooled nuts in the processor and pulse them into a coarse powder. Remove this nuts grits into a separate plate.

Take the chopped figs and dates in your food processor and blend to smooth.

Now to this add the nuts grits, clove and cardamom powder and process. The nuts and dates -figs paste will come together into a clumpy mix, which when pressed together forms a ball.

Remove it on to a plate and shape them into small balls.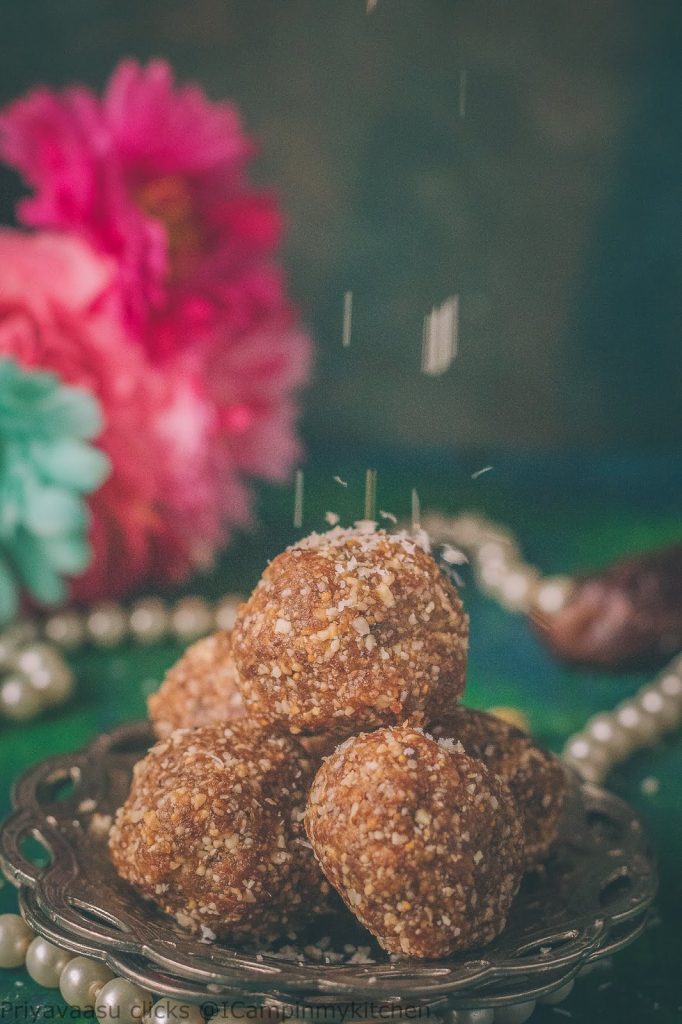 I got around 13 ladoos out of this measurement, again this depends on the size you shape them.

You can also roll the ladoos with dessicated coconut, but i have just sprinkled some on top a garnish.

Store these ladoos in an air-tight container and enjoy them as you like.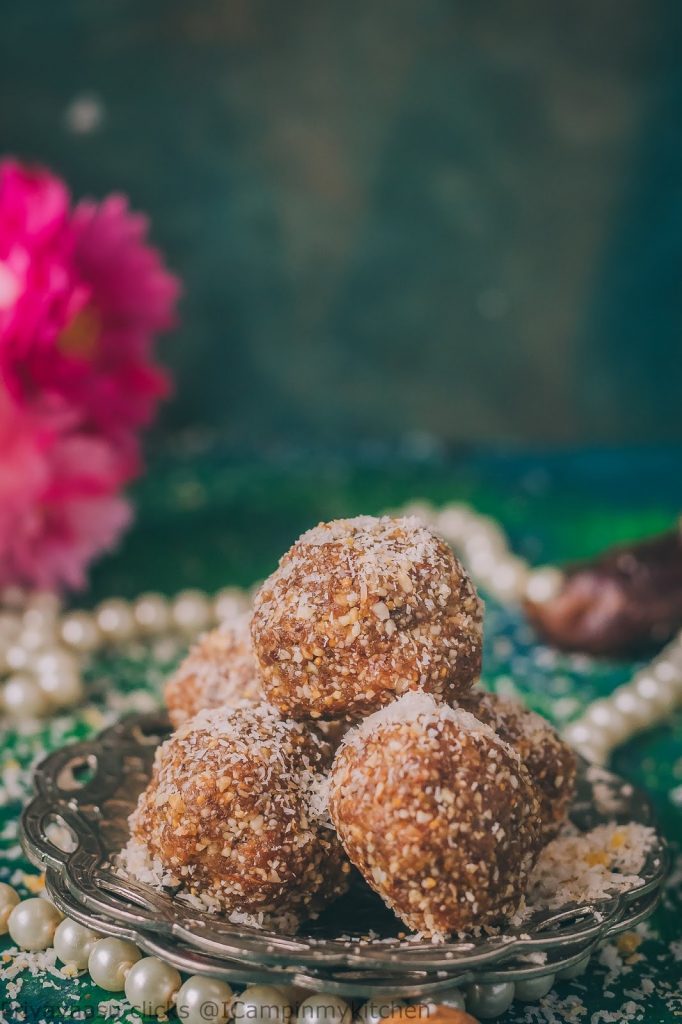 If you like this recipe, do share it with your friends and family. If you make these ladoos, dont forget to click a picture and share it with me, do tag me in your social media post #icampinmykitchen. Let us spread some joy by sharing, sharing is caring!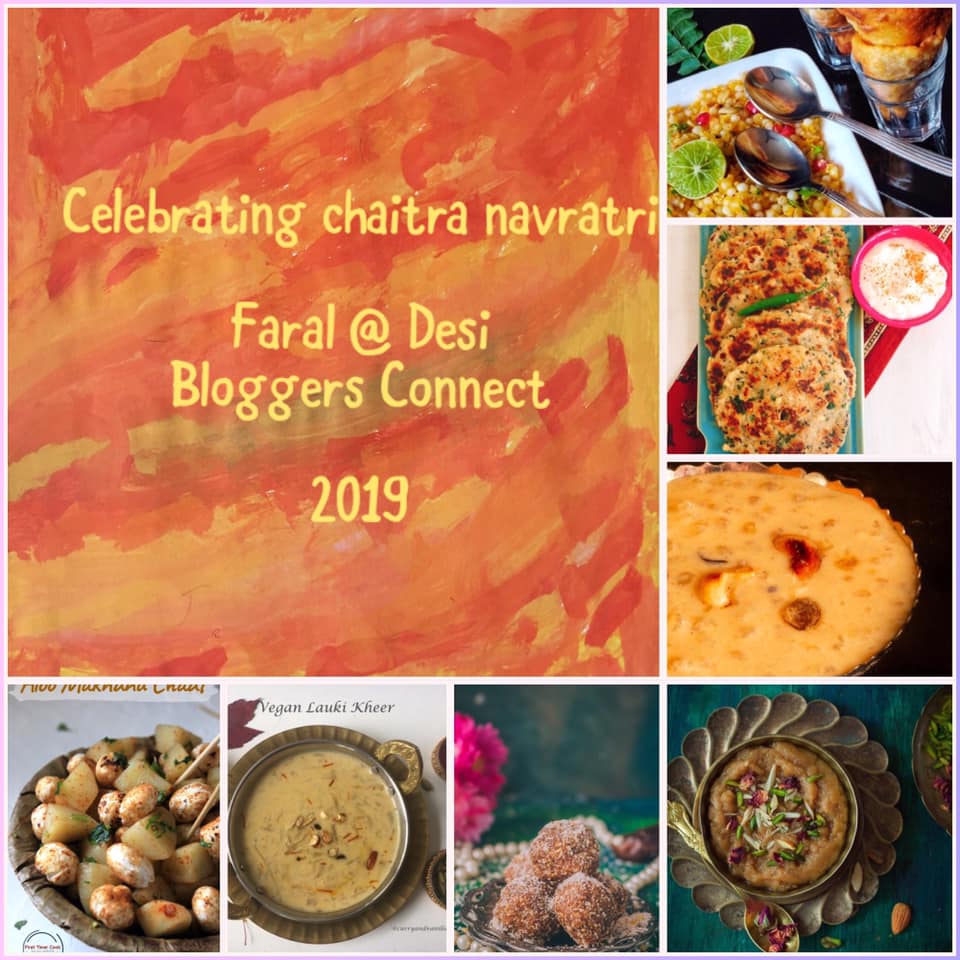 This recipe is created for event #faralatdesibloggersconnect, a Facebook group Desi Bloggers Connect. Have a look at other members recipes below.