Kodo millet/Varagu arisi adai, thick pancake, made with varagu millet and lentils. A no-ferment, grind and pour dosai recipe. A gluten-free, vegan and a wholesome meal.
Millet adai recipe | Varagu arisi adai | Easy millet recipes | Gluten-free recipe | Indian style pancake | No Ferment dosai | South-Indian Adai | Adai recipe | How to make adai with millets | Adai dosai | Grind and pour dosai | Sirudhaniyam Recipe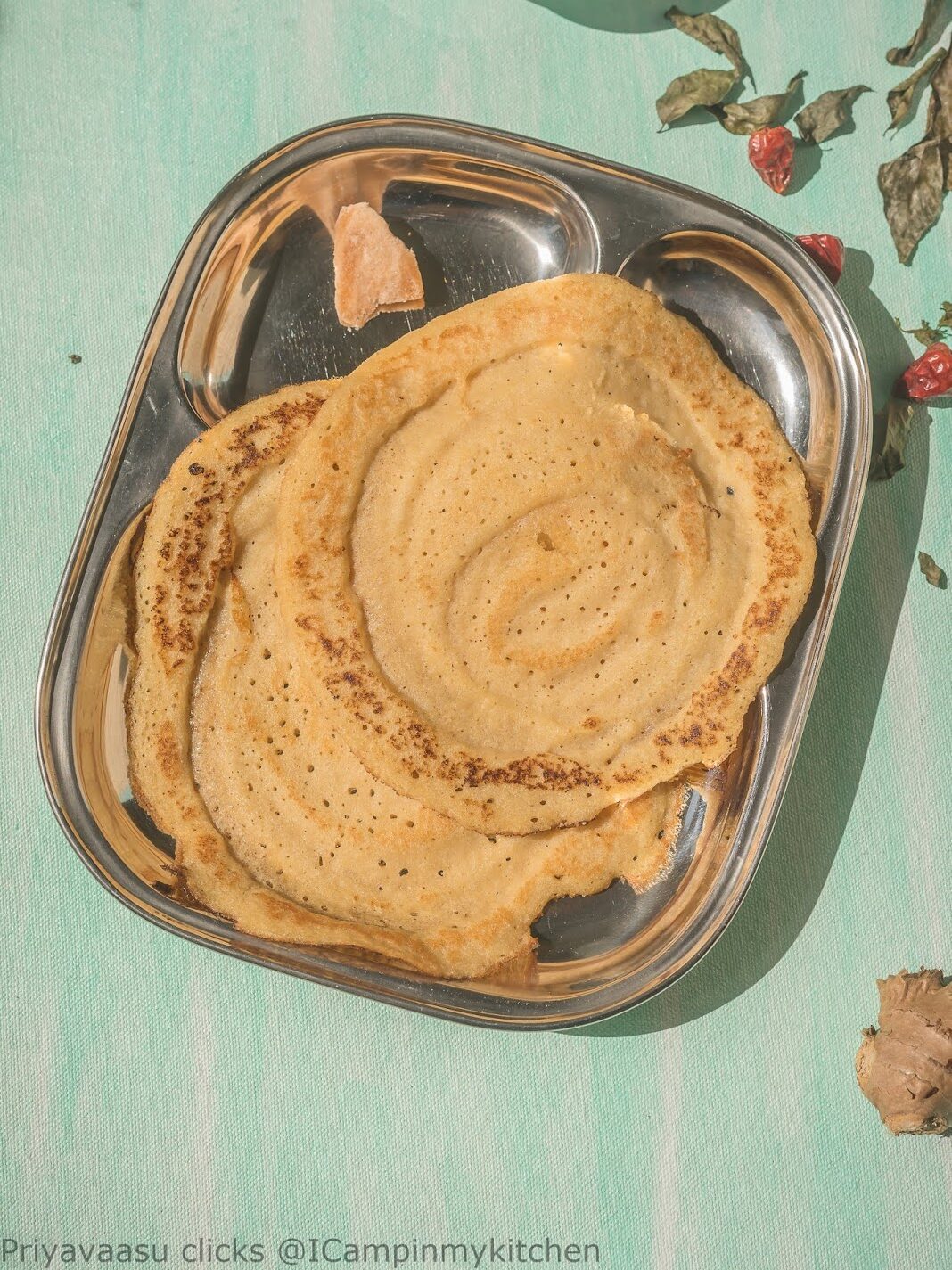 Jump to:
Adai Dosai | No Ferment South-Indian Crepe
Adai is a versatile recipe, that can be made with a variety of grains, like quinoa, oats, barley, white/red/black rice. At home we are big fans of whole grains. I try to include whole grains in my regular cooking as much as possible.
As a south-indian we are basically rice eaters at home. But due to my personal choices, i either cook millets or quinoa for myself. Though i like the taste of millets with my regular sambar and rasam, my hubby cannot think of anything other than rice with south indian food.
What are Millets?
A group of cereals which are mostly tiny in size, round in shape. There are about 6,000 varieties of millet throughout the world in different colors too. Millets are gluten-free and rich in B vitamins, calcium, iron, potassium, magnesium, and zinc. The bran layers of millets are good sources of B-complex vitamins. Varagu or Kodo millet is a millet variety.
Since the millets are small grains, they are called as Sirudhaniyam, in tamil,literally meaning small grains.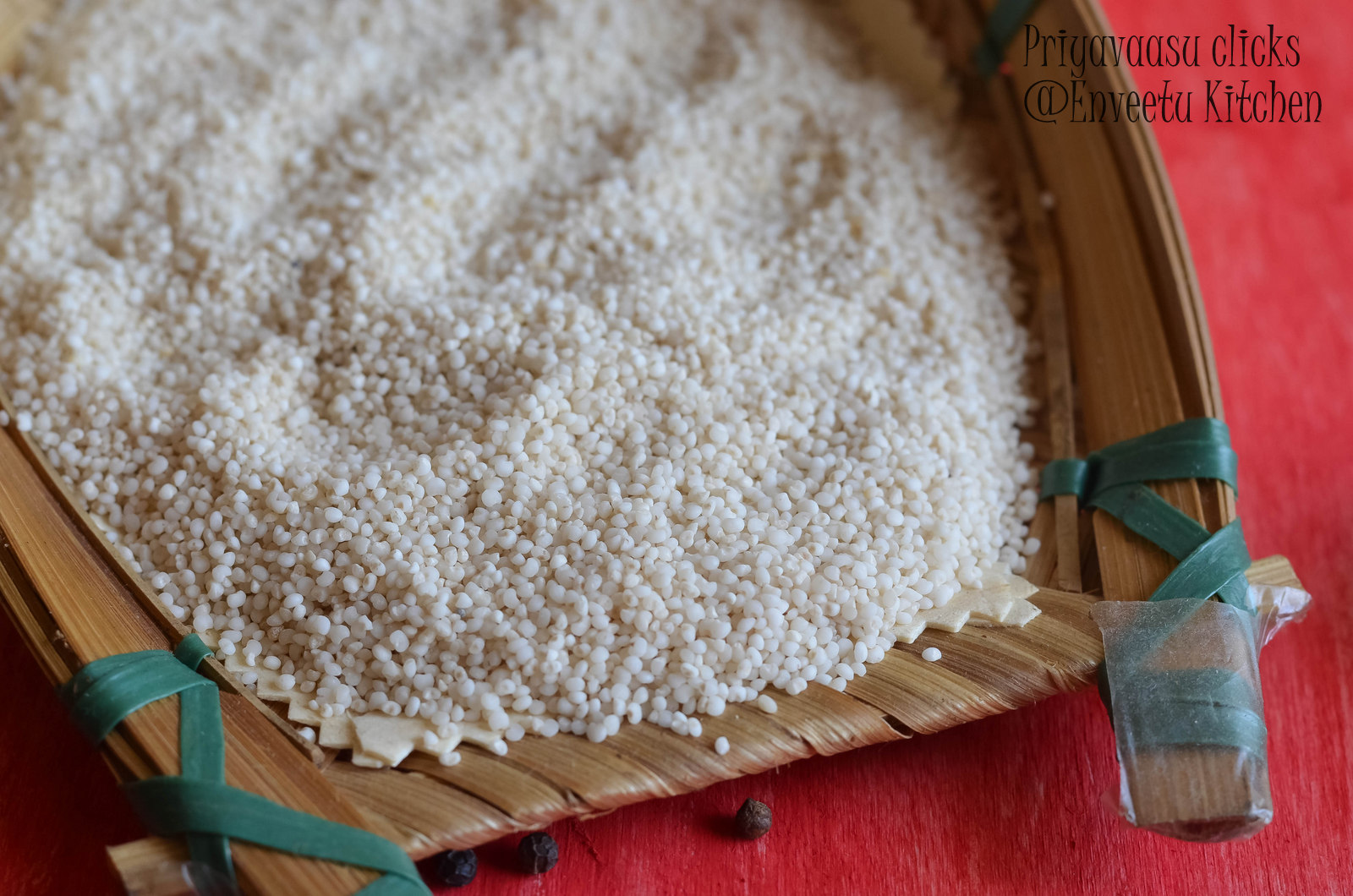 Why Millets?
Many people have to restrict their white rice intake due to many health factors. Millets are great alternate to rice. Millets helps to lower blood glucose levels and improves insulin response. They have a low Glycemic index, which increase the satiety by decreasing hunger and slows the rate of digestion. You can read more about its health benefits here .
There are many rice dishes that can be made with millets, when cooked properly, you won't notice any change in taste or texture
How to Include Millets in your Diet
If you have someone like my hubby at home then introducing whole grains in to their diet is a bit tough. I first started using millets in my regular tiffin menu like this varagu arisi idy. Idly made with millets doesn't have any difference in taste or texture. Check this Jowar | Cholam Dosai. or Jowar | Cholam Adai, another no ferment batter.
Upma is another delicious dish to make with millets. As the texture of millets and rava/sooji are almost similar, the texture and taste of the upma doesn't change much.
If you are sweet lover like my husband then you can try this Sarkarai pongal with foxtail millet or Ladoos with foxtail millets.
Why Millet Adai?
Coming to today's recipe, Adai batter doesn't require any fermentation like dosai batter, which actually is an advantage. Soak ingredients for 4 hours minimum, grind it and use it immediately to make fresh adai/pancakes. You can make it thin and serve it for breakfast, make it thick and serve it for lunch/dinner.
I usually soak ingredients overnight, grind and use it for breakfast immediately. An easy recipe to solve the breakfast tension.
Ingredients
Kodo millet, varagu arisi is the main ingredient in the recipe. You can replace kodo millet with any other millets
Dal, I have used combination of all four dals in the recipe chana, masoor moong and toor dal.
Spices, i have used red chilies, curry leaves and ginger to spice the batter. As a result, the adai/pancake usually doesn't need any side dish.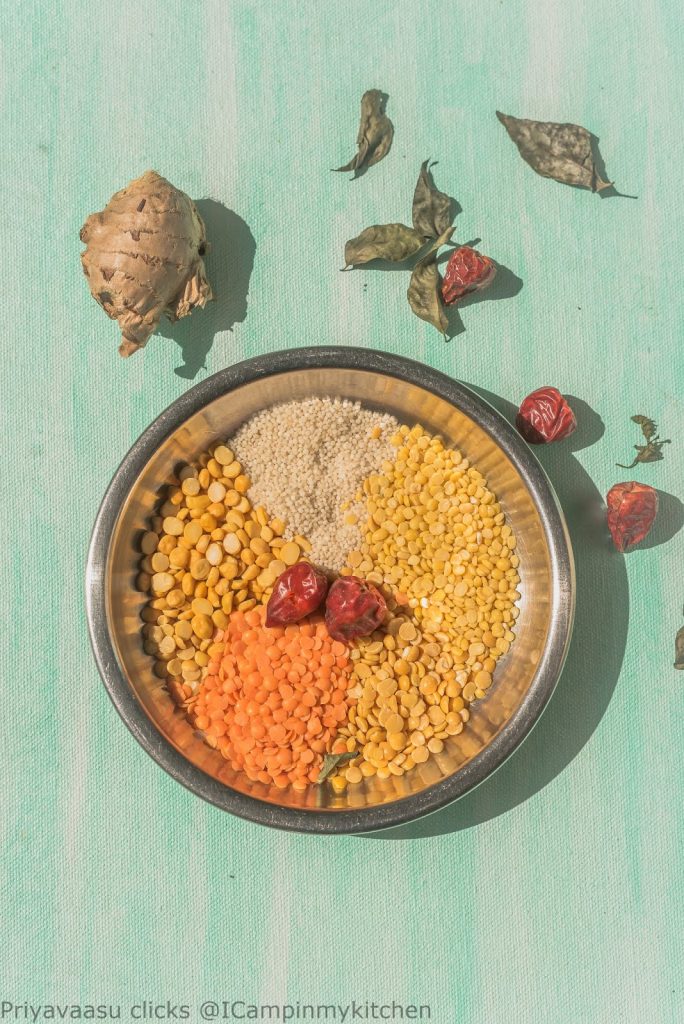 More Millet Recipes
Toor Dal Khichdi | Millet Khichdi | Samo Khichdi
Toor dal khichdi, quick and easy pressure cooker one-pot meal made with millets and lentils. Samo millet khichdi with tuvar dal, makes a healthy and a hearty meal.
Check out this recipe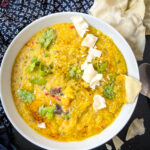 Kuthiravali Kali | Sweet dish made using millet
Kuthiravaali kali, a sweet made of barnyard millet and moong dal, on the auspicious occassion of Thiruvathira Festival.
Check out this recipe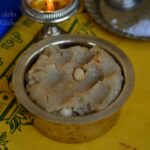 Ragi Kanji | Ragi Savory Porridge - Summer Food
Ragi Porridge, a delicious savory porridge made of finger millet flour, spices and yogurt. A nutritious and body cooling summer food.
Check out this recipe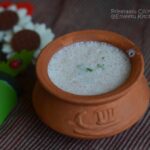 Mixed millets kanji/porridge
Mixed millets kanji/porridge is a healthy and hearty breakfast porridge. Homemade kanji mix, cooked with milk to make a delicious breakfast fit for both kids and adults.
Check out this recipe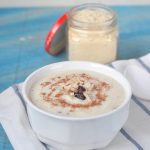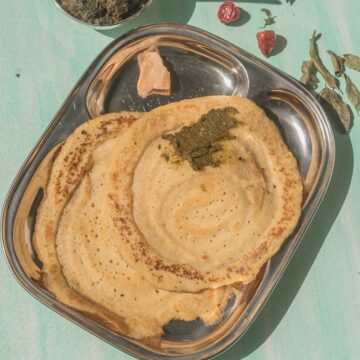 Varagu Arisi Adai | Kodo Millet adai
Kodo millet/Varagu arisi adai, thick pancake, made with kodo millet and lentils. Adai, traditionally made with rice and lentils.
Print
Pin
Rate
Equipment
Indian style mixie/heavy blender
Ingredients
1

cup

varagu arisi

kodo millet

¼

cup

chana dal

¼

cup

moong dal

¼

cup

masoor dal

¼

cup

toor dal

½

teaspoon

salt

or to taste
Spices
4-5

nos

red chilies

¼

cup

freshly grated coconut

optional

½

teaspoon

shredded ginger

handful fully of curry leaves and coriander leaves
Instructions
Wash and soak the millet and the lentils together for 4 hours minimum. I usually soak them around lunch 2 pm for 8pm dinnner. I grind it around 7 pm and rest it for 30 minutes before making it for dinner.

After the minimum 4 hours of soaking time, drain the excess water, take the contents into a mixer jar along with red chilies, curry and coriander leaves, coconut, ginger and grind it to a batter.  It usually needs around ½ - ¾ cup of water to grind well.

Addition of coconut though is optional, it adds a great flavor to the adai,

Remove the batter to another vessel, add salt and mix well. Check the consistency, it should be little thick like idly batter.

Some might prefer the adai batter to dosa batter consistency. If yes, then add aother ¼ cup of water to it and mix well.

Let the batter rest for 30 minutes for the spices to mingle well.
Making the adai
Heat a dosa pan, i use my cast iron tava for my dosa/adai.

Keep the flame medium, add a teaspoon of gingely oil to the tava, spread it well and wipe it off with a tissue or a cloth.

Pour a ladle of batter in the center of the tava and spread it using the back of the ladle in circular motion. We usually prefer my adai thin that its usual thickness.

Make a hole in the center of the adai, this ensures even cooking of the adai, dot the edges with gingely oil, once the edges turn brown, flip the adai to the other side and cook for another  minute.

Serve hot with jaggery/aviyal, i served mine with jaggery and coriander thokku.
Disclaimer
I m not a Doctor or a Nutritionist The Nutrition information provided above comes from the plugin and is only an estimate.