Aratikaya/Raw plantain chutney, a delicious chutney to go with your idly/dosa. If you are south-indian and used to idly/dosa for breakfast, then definitely you will agree with the tension of thinking about new sides that go with them.
We get easily bored with the regular chutney's. I always keep looking for different sides and try experimenting with spices at home. So,while deciding dishes for Journey through the Cuisines, i made sure that i make some different chutney's with vegetables to make our morning breakfast bit more interesting and also to sneak some vegetable goodness in our food.
In that series, here is a yumm chutney with raw banana, they not only make crispy chips and spicy curry, they also make finger-licking condiment.
Ingredients
2 nos medium raw plantains/green plantain
½ diluted buttermilk for soaking the chopped plantains
a marble sized tamarind, without seeds or strings
1 teaspoon salt or to taste
Tempering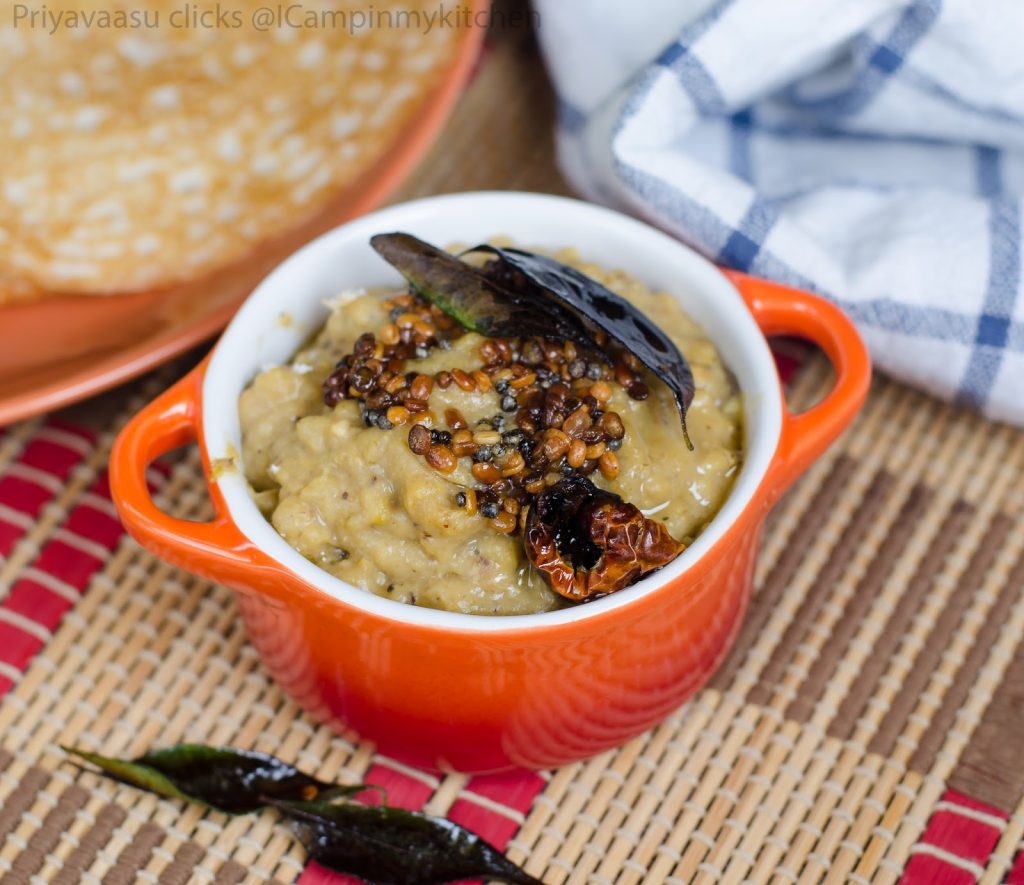 Method
Peel and chop the plantains into thin roundels and soak them in buttermilk water until use.

Heat a pan, dry roast urad dal and chana dal. Remove it on to a separate plate. To the same pan, add a teaspoon of oil, add red chilies, drain the plantains from the buttermilk water and add it to the pan.

Saute in a simmer flame until all plantains look a bit soggy and half cooked.

Take it off the flame. Let it cool completely. Take cooked plantains, along with roasted dal, red chilies, tamarind and salt in a mixer and grind to a smooth chutney with ¼ cup of water.

Remove the chutney onto a clean bowl. Heat a small tadka pan with oil given under "Tempering", splutter mustard seeds, add hing, curry leaves, chili and urad dal. Once the dal turns golden brown, remove it from heat and pour the sizzling tadka over the chutney. Serve it along with idly/dosa.