Baid Alqata or Salouq is an Arabic dessert. They are small pieces of bread, stuffed with delicious Walnut or Date-Walnut Filling. This Recipe is adapted from Arabic Bites. I have experimented with the Filling here. Instead of the traditional Walnut/Date-Walnut Filling, i have used Dark Chocolate and Coconut Flakes along with Walnuts. The Taste was amazing, the freshness of Cardamom in every bite makes it even more mesmerizing.
Ingredient
½ teaspoon baking powder.
¼ teaspoon ground cardamom.
Filling
3 tablespoon Walnuts, chopped.
3 tablespoon Sweetened Coconut Flakes
4 squares of Lindt Dark Chocolate (85% cocoa)
⅛ teaspoon ground cardamom.
Method
Preheat the Oven to 180C. Keep a baking tray ready with Parchment Paper lined.

Take all the ingredients for the dough in a bowl. Knead for 3-5 minutes. Let the Dough rest for 10 minutes.

Meanwhile in another bowl, mix all the ingredients given under filling.
Divide the dough into 10 portions. Roll and Flatten them  inbetween your palms to a disc, Place a teaspoon of Filling inside and Roll it again to form a ball. Repeat the same with the rest of the dough.

The original recipe calls for making/Poking small holes on top of the bread with a special tool, since i didn't have one, i made pinched the bread using Fork.
Place prepared balls on the baking tray and bake for 25-30 minutes or until the top browns.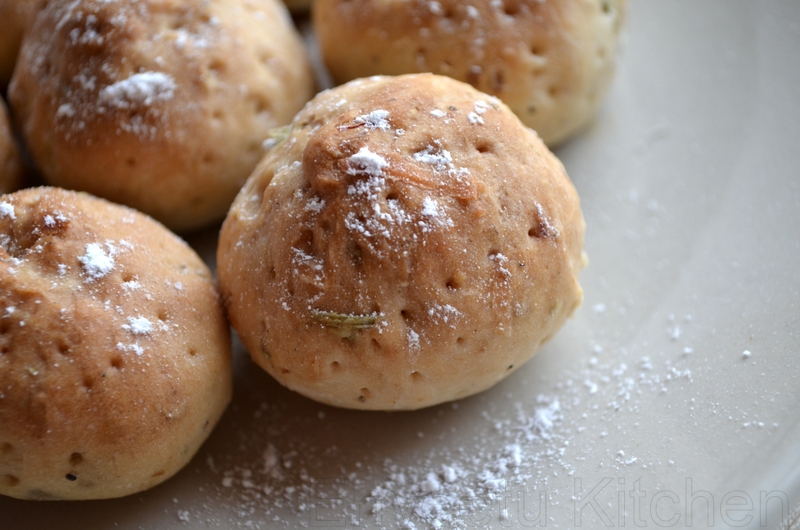 Take it out of the Oven, let it cool for 10 minutes.

Dust it with Castor Sugar and Serve Warm.
Since i felt the bread is Sweet enough, we enjoyed it Warm, as such.
Though My kiddo preferred with Litle Chocolate-Peanut Sauce Drizzled on top!!!! tempting isn't???
Sending this to Kids Delight – What kids Love for Summer hosted by Smitha, an Event by Srivalli