Baked potatoes were in my bucket list and it was fired more when i tasted it at our bloggers meet here at Anamika's house.
She had made it so beautifully, picture perfect, delicious balance of flavors and served it with a garlic yogurt dip(hope I m correct ).
When we asked for the recipe she said that potatoes were parboiled and baked. Parboiled potatoes when baked gives a perfect crisp outer and a soft inside.
When mixed with spices, they create amazing flavors !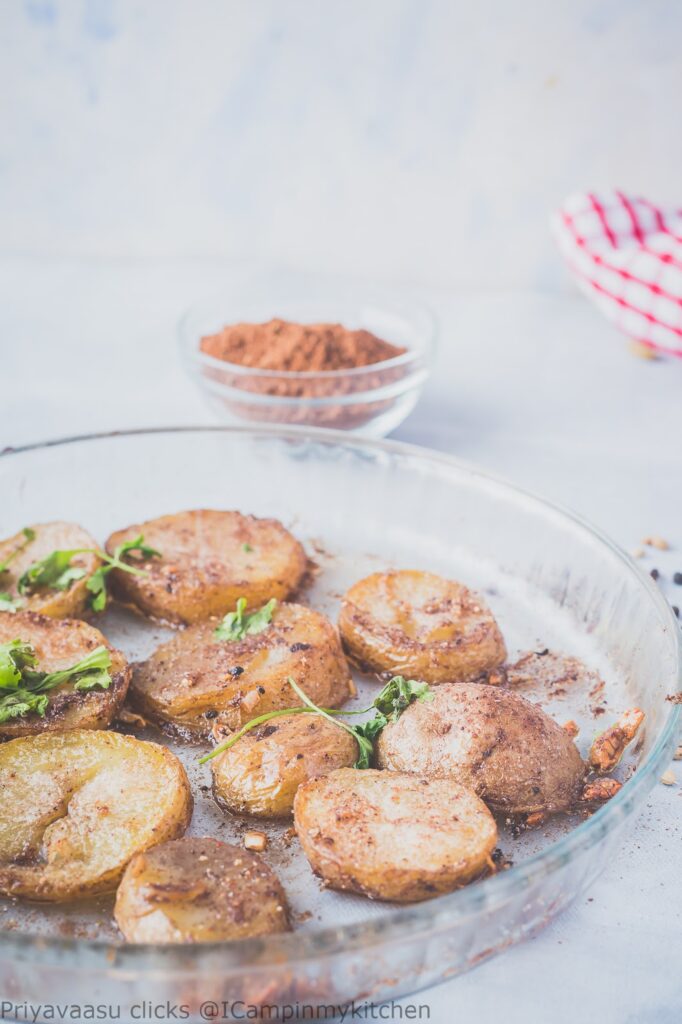 When I made ras el hanout, the first recipe I wanted to make was this baked potatoes! Oh man, what a dish! The flavor of the spice amplifies the taste and it makes a great side on your party table.
I m not exaggerating about the taste, m
y hubby has asked me to make this again so he can relish it better.
Want to make an impression in your next party, try these yumm potatoes!
½ teaspoon freshly pounded black pepper or paprika
Preheat the oven to 200C

Wash and scrub the potatoes well. Cut them into thick rounders. Keep the skin on.

Take them in a Sauce pan, pour water until they submerge. Let it boil for a

Minute, take it off the stove. Let this sit for 5 minutes and drain.

While the potatoes are parboiling,

Take oil in a small bowl, add minced garlic, ras al hanout, pepper/paprika, Mix well. Let this sit for 15 minutes for the flavors to infuse well.

In a baking pan,Add The parboiled potatoes, pour the spice oil on top and rub it well with your hands to coat the potatoes well.

Bake the potatoes in a preheated oven at 200c for 30 - 40 minutes. Turning it once after 20 minutes.

Once done, Remove the potatoes from t

he oven, serve it warm, with a dip of your choice .