Cheesy bread rings, a delicious appetizer, bread topped with cheese and vegetables. A great party pleaser recipe, super hit with teens and toddlers.
Jump to Recipe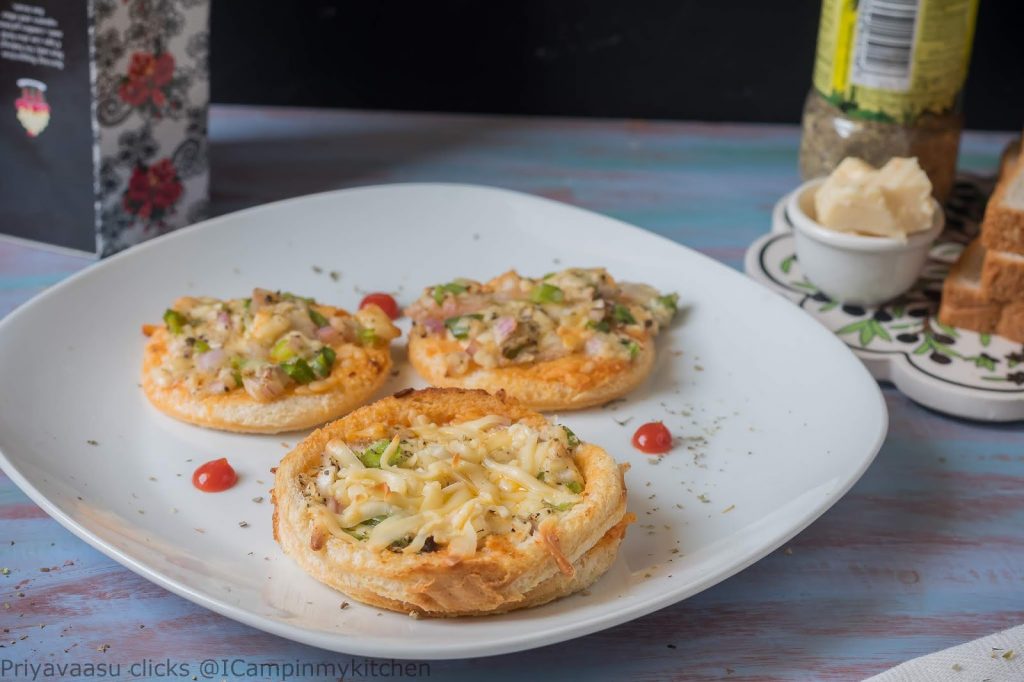 When my elder one turned 12 this June, we had a small party at home with his school friends. I made an Avengers themed cake and some party food. These cheese discs along with few home made simple food made it to the menu. The roohafza drink was a hit and so was this Watermelon Iced tea. For dessert it was gulkand gulab jamuns and ice-cream.
Cheesy Bread Rings - Why you must try?
The hero dish of the party were these cheesy bread rings, which i named as stark toasts. There were around 12-15 boys, so i made around 20 of these. The moment i placed them on the table, it vanished. They wanted more, I went ahead and made another 10. That too vanished, i made another 15.
Kids loved the cheese and veggie on this baked bread. Next day morning, my phone was flooded with messages from mommies asking for the recipe as their kids were going on and on about this cheese disc. It is a simple to make appetizer, all you need is 20 minutes for the prep and just bake them for the next 20 minutes.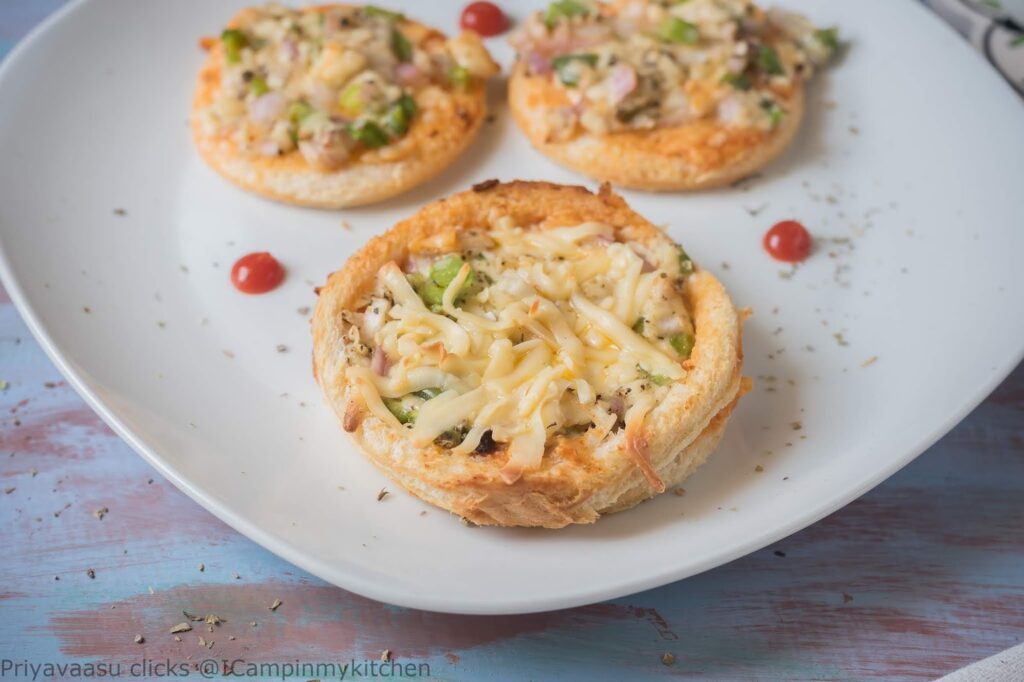 Such a hit recipe, has to make to the blog and recorded, what say? I made these again for my boys lunch today. The usual 1 hour lunch time for my lil one was just 15 minutes today. The plate was clean and he came for second helping too. These cheese discs are inspired from a you-tube video which my yoga mate shared with me when i was planning the birthday party menu.
The Ingredients
Bread, i have used store-bought plain white bread for the cheese discs. You can go ahead and use brown bread or even multi-grain bread to make it more nutrient rich.
Butter & cheese, i have used white butter and cheddar cheese in the recipe, you never go wrong with them. I have never tried a vegan replacement for this recipe. You can also add some mozzarella to get that wonderful cheese pull.
Vegetables, i have kept it simple, as i was making it for a group of teenage boys, just onions and capsicums. If making for adults go ahead and be creative with your toppings
Spices, i have used mixed herbs and freshly pounded pepper, tomato sauce for the cheese discs.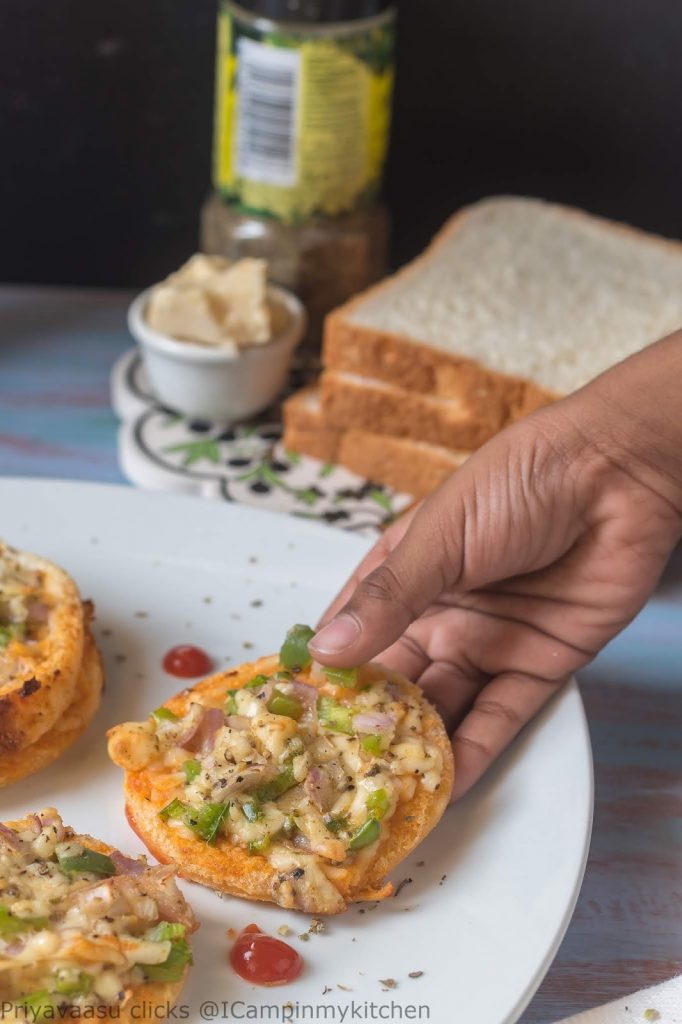 How to make the Cheesy Bread Disc
Please check recipe card below for exact measurements of each ingredient used and also for the detailed instructions.
First make the toppings, wash and chop the veggies, take them in a big bowl, add the spices, cheese and mix well. Next make the spread by mixing the ingredients given under spread.
You can the cut the bread into circle shape or keep the square shape of the bread and proceed. I have done both ways, they taste delicious
If cutting into shape, use 2 cookie cutters and cut the outer ring for bread and using the next small size cut the base for the bread disc. So there will be a base ring and another ring that sits on it creating a well inside for the filling.
Add spread, toppings and bake them in a preheated oven for 10-12 minutes. Baking time varies from oven to oven, so bake accordingly. Serve warm.
If you have tried this recipe and like it, give it a star rating or let me know in the comments below. You can share it with me on Instagram using #icampinmmykitchen and tagging me @priyasrinivasan.
You could follow me and my recipes on  Facebook |  Instagram  | Pinterest  | twitter
Some Interesting Appetizers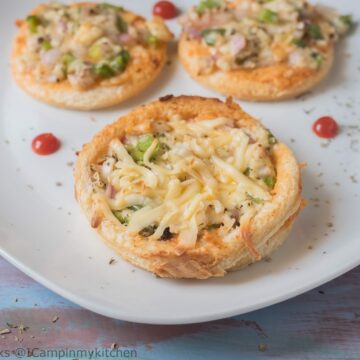 Cheesy Bread Rings | Appetizer | Bread & Cheese
Cheesy bread rings, a delicious appetizer, with bread topped with cheese and vegetables. A great party pleaser recipe, super hit with teens and toddlers.
Print
Pin
Rate
Equipment
Bowls for mixing

Measuring cups and spoons

Convection oven
Ingredients
For the rings
10

nos

White bread slices

you can use brown/multigrain

1

no

green capsicum

finely sliced

1

no

onion

finely sliced

100

grams

cheddar cheese

grated

½

teaspoon

mixed herbs

½

teaspoon

freshly pounded black pepper

salt to taste
For the Spread
5

tablespoon

butter

softened

3-4

tablespoon

tomato ketchup

¼

cup

grated cheddar cheese
Instructions
Let us prepare the stuffing first, chop the veggies finely, take them together in a wide bowl, add cheese , salt, pepper and mixed herbs. Give it a good stir. Let it sit.

Next the spread, take butter, grated cheese and tomato sauce, mix it well together

Now get to the bread. Using a big cookie cutter cut a round slice of the bread. Using a smaller size cookie cutter cut a ring shape to act like a border for our cheese disc. 
Assembling the disc
Take a bread disc, smear the butter-ketchup spread, place the ring on top. Place 2-3 tablespoon of filling in the center. Repeat the same with other discs.

Arrange the bread discs in a parchment lined baking tray. As they don't spread while baking, you can pack them little close.

Preheat  the oven to 200c and bake the discs for about 15-18 minutes.

I baked these cheese discs in my microwave convection oven, which took around 18 minutes. When i baked them in my gas oven it too just 12 minutes. So keep an eye on your bread disc from around 10 minutes.

Remove the discs from the oven let it sit on the wire rack for 5-8 minutes.

Serve it warm, with some tomato ketchup on the side.
Notes
Cutting the bread to shapes is totally your choice. if making it for kids party i would keep the shapes.
I have used only cheddar you can also use a mix of cheese for this fun bake
Baking time varies from oven to oven, so bake accordingly. 
Disclaimer
I m not a Doctor or a Nutritionist The Nutrition information provided above comes from the plugin and is only an estimate.
These cheese discs are a absolute party favorite recipe. They are a super hit amongst teens who love such finger food and fast food.
Do you like the recipe? PIN IT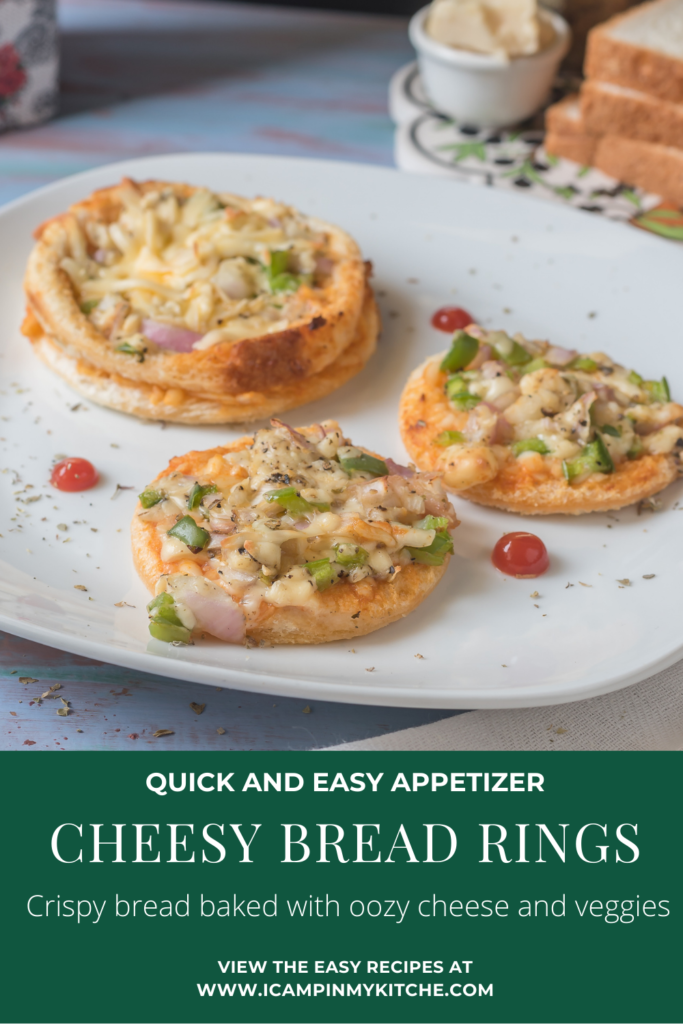 FAQ
Can i use any other bread for this cheesy bread rings?
Yes you can use brown bread, multi-grain bread, even home made bread for this bread rings
Is it necessary to cut the bread to shapes?
No, you can keep the square shape of the bread, go ahead with the spread and toppings and bake
Can i use a different cheese in the toppings?
Yes, you can go ahead and use a combination of mozzarella and cheddar in the topping for that magical cheese pull
Can i store this cheesy bread rings?
No, these cheese rings taste best when served hot.
Can i add or omit the vegetables in the topping?
Yes you can add more like corn, olives, jalapenos to the toppings. Or leave out the veggies entirely. I have baked them just with cheese also.