Actually i made some Spiced date bars for today's post, but wasn't able to get a good picture of that. i don't know for the past ⅔ weeks, i m taking proper pictures. I m not able to create the scene needed for the click in my mind, so nothing comes in action!!!!
So, these bread rolls too are not so great, but have managed something. Hopefully i get my creative juice back again!!!
Coming to the recipe, last week saw a post on Creative food hacks in FB, these cheese rolls recipe was one among them, tried immediately and it was a hit. If your kiddo loves cheese, then go ahead and make him/her these quick cheese rolls and sure you will be awarded with extra hugs and kisses that day!!!!
Ingredients
4 Cheese slices or ¼ Cup Shredded cheese
1-2 teaspoon of Pepper powder/Red Chili powder
1 tablespoon butter for toasting
Method
I have used Wholemeal bread here, you can use white/brown bread too. Cut the corners of the bread.
Using a roller, roll the bread into thin slices,if using cheese slice, just place the slice on the bread, sprinkle little pepper powder/red chili powder, roll it tight and seal the edges using little water. I didn't have cheese slices @ hand so , i used 2 teaspoon of shredded cheese instead.

Heat a pan, add a blob of butter and place the rolls with the sealed side down. Turn and cook until brown and crisp on the sides. Serve it Warm.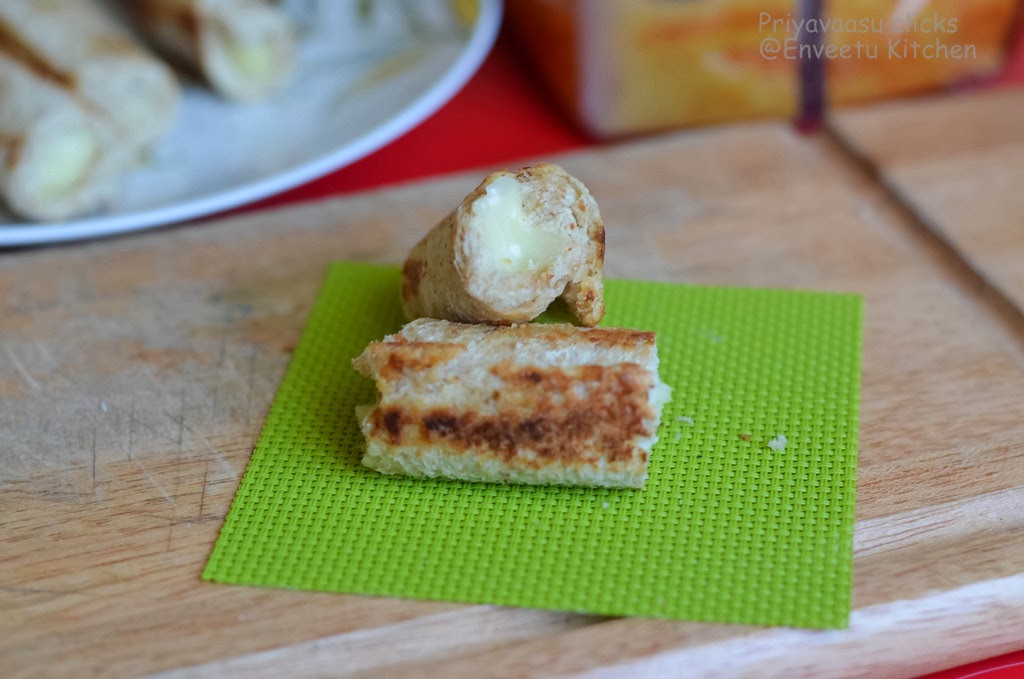 I have used very little fat and toasted the rolls, if you are not that calorie conscious, you can even shallow fry these rolls for an extra taste and crisp!!!