The Last week of Blogging Marathon #47 starts today. I have chosen the theme : North Indian Party Starters. Since i m doing the Bake-a-thon along with this BM, i chose to make Baked Party Starters to please the crowd. These Samosa Pinwheels were the first i chose for this week BM. A perfect party pleaser i would say. Kuttu, My EO who normally avoids savory bakes, was happily gorging on these pinwheels and gave me a thumbs up when he took a bite.
An advantage with this bake is, you can freeze them and bake whenever necessary. I actually made half of them yesterday and froze the other half. Today Morning i baked the frozen half. They go very well with Tomato ketchup, i made some mint chutney to compliment them.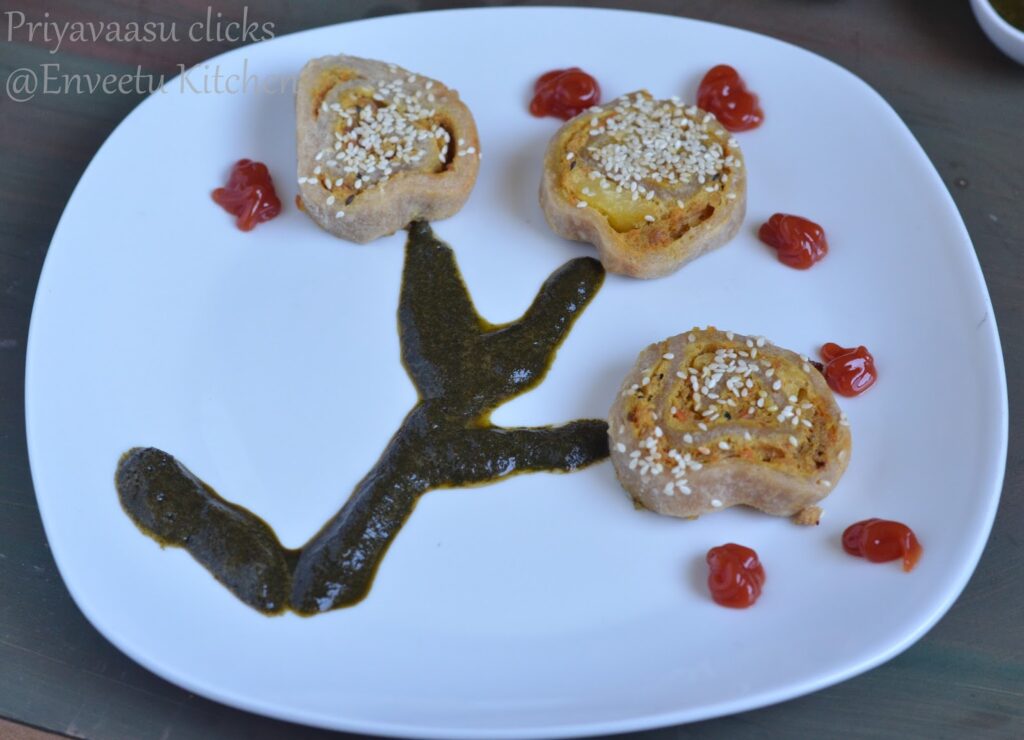 Ingredients
2 tablespoon white sesame seeds
Filling
½ teaspoon red chili powder
½ teaspoon coriander powder
¼ teaspoon garam masala powder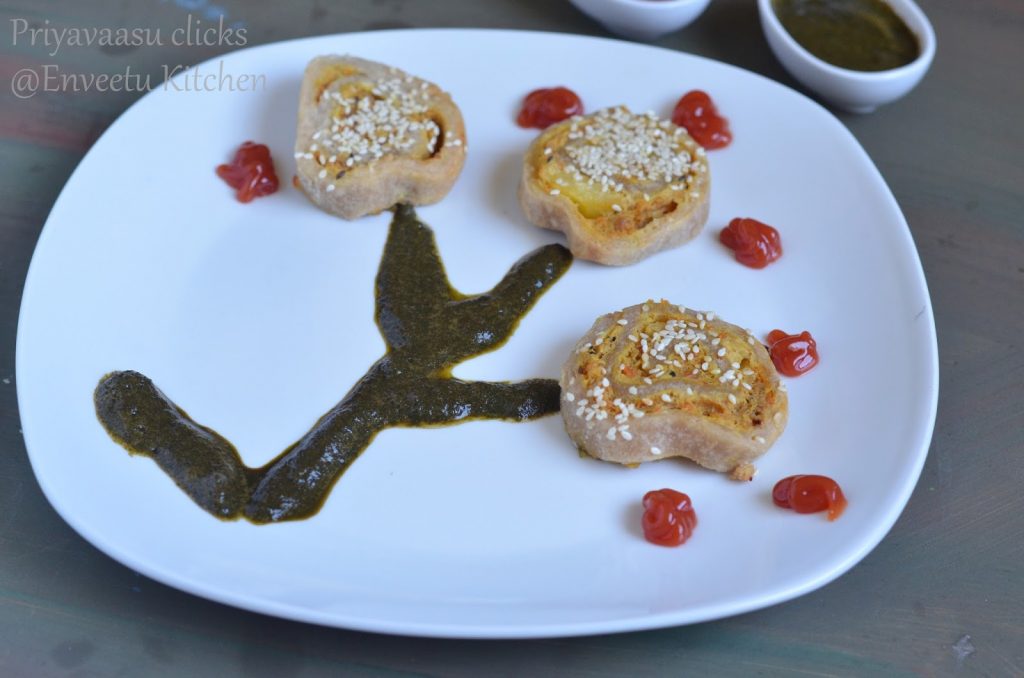 Method
First prepare the filling, while it is cooking, make the dough. So, while the filling is cooking, the dough can rest.

Wash, peel and cook potato until soft, mash and keep aside. Keep the carrot grated and onions chopped. Heat oil in a pan, add cumin seeds, add onions and saute until translucent, next add grated carrot and saute for 2 minutes.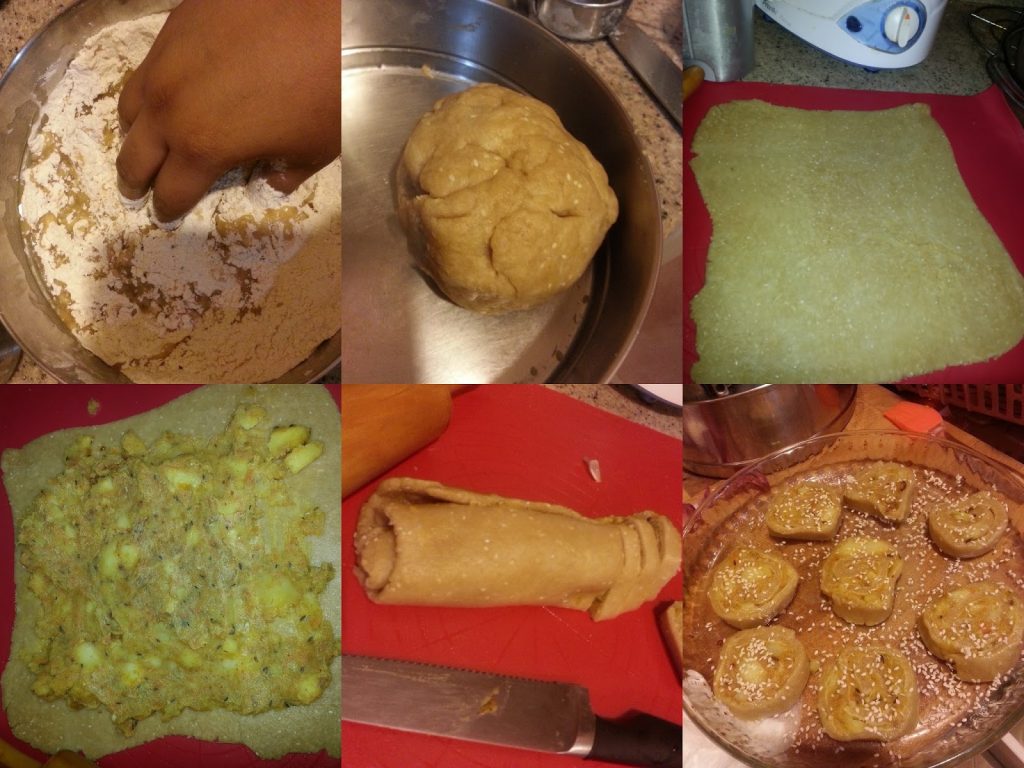 Next add the mashed potaotes and dry masala powder to the curry. Adjust salt. Take care while adding salt, coz the dough also has salt. Let this cook until the rawness of the masala's fade. Take it off the stove and Let it cool. While it is resting, prepare the dough for the pinwheels.

Take both the flour together, add salt and sesame seeds, mix well. Add oil to the flour, and rub well into the flour. Now slowly add warm water to this flour and start kneading a soft dough. Let the dough rest for 10 minutes.

When the filling is coll enough, start rolling the dough out. Roll the dough out to a rectangle that measures 12 X 12 inches. Spread the filling on the rolled dough leaving about an inch gap around the corners.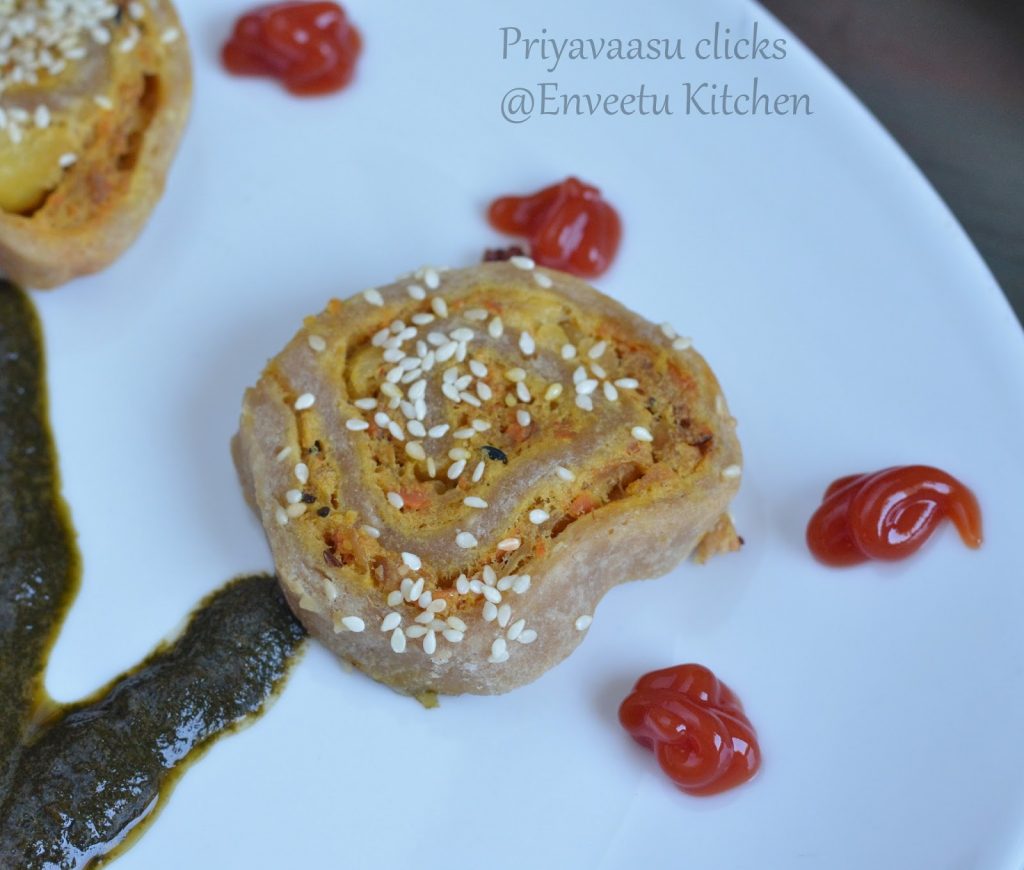 Grease a baking tray with oil and keep it ready by the side. Roll the dough tighty like a jelly roll. Using a bread knife, cut the dough into ½ inch roundels. I got about 18 roundels.

Place the cut roundels on the baking tray. Brush with milk and oil mix. sprinkle sesame seeds on top. Preheat the oven to 180C. Bake the pinwheels for about 40 minutes or until the sides turn brown.
Take it off the oven and let it cool on the wire rack. Serve warm with tomato ketchup and some mint chutney.