Beetroot is my favorite vegetable, i would say a versatile vegetable. A sweet veggie, that can be cooked into a spicy curry, savory smoothie, spongy cake and a lip-smacking dessert. But i know quite a few, who hate this veggie for it sweet and earthy taste.
For those who think the veggie is too sweet, must try this beets lassi or Beets raita they would definitely be surprised by the striking savory taste of the drink. Trust me when i say this, as i have experimented with my friends. Even my little one loves the raita, and doesn't mind that pink color.
If you like a spicy condiment then
Beets thogayal/chutney
is your best bet. There are innumerable ways to sneak in nutritious beets in your daily diet. This kesari/semolina pudding/sooji ka halwa is another delicious treat that is regular in our home.
I have made it (almost)vegan and used the beets cooked water for making the kesari, you can also use milk and make it more rich. The ratio to Sooji, sugar and liquid for making the kesari is 1:2:3. But since beets are bit sweet, i have reduced the sugar to ¾ cup here. It was a perfect taste for us.
A quick to make dessert for pooja days or for as a dessert for a party, serve it warm with some cream on top to make it look more classy and rich.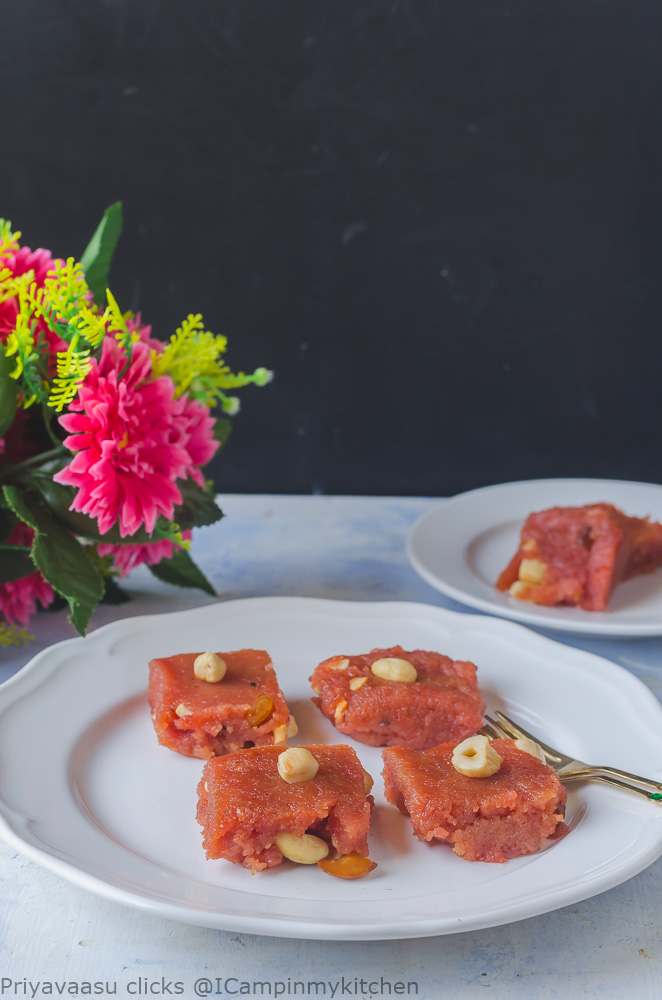 Ingredients
½ cup sooji/semolina
½ a beetroot (100 grams), cut into big chunks
¾ cup of sugar
3 nos cardamom pods
1.5 cups of water
2 tablespoon ghee/vegan alternative
3 tablespoon broken cashewnuts, roasted
1 tablespoon raisin, roasted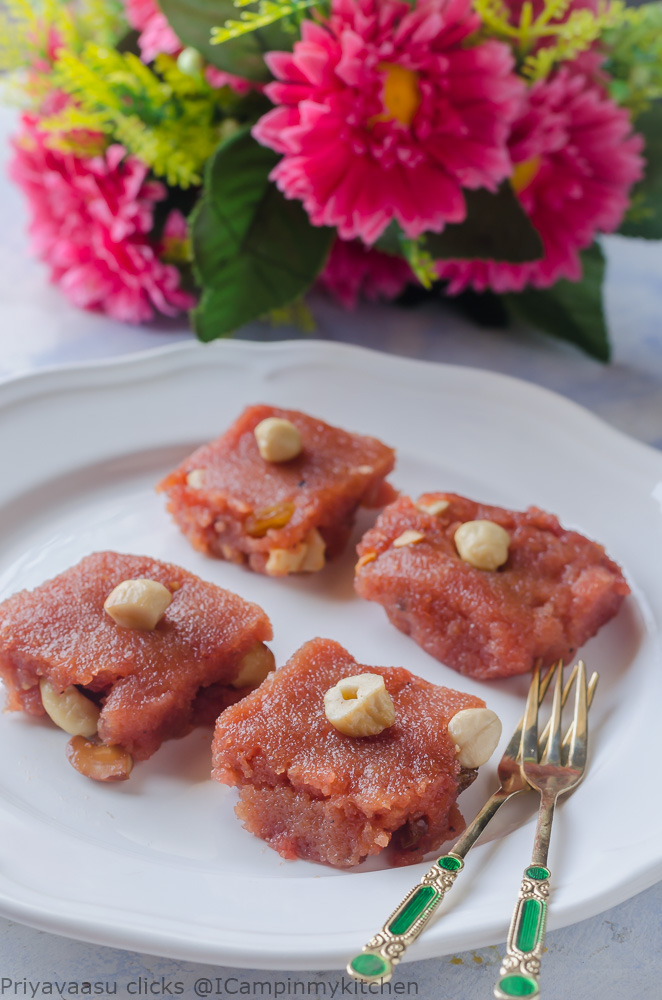 Method
Peel the beetroot, wash and add 1 cup of water to it. Take it in a microwave-safe bowl and cook it at high for 8 minutes. Take it out of the microwave, drain the excess water, do not throwaway the water, we will make kesari using that water.
Let the cooked beets cool completely. Take them in a mixer, add cardamom pods and 2 tablespoon beets cooked water and grind it to a fine paste. Keep aside until use.

In a wide pan, dry roast the semolina/sooji for a minute or until it turns golden brown. Even if you are using roasted semolina, do not miss this step.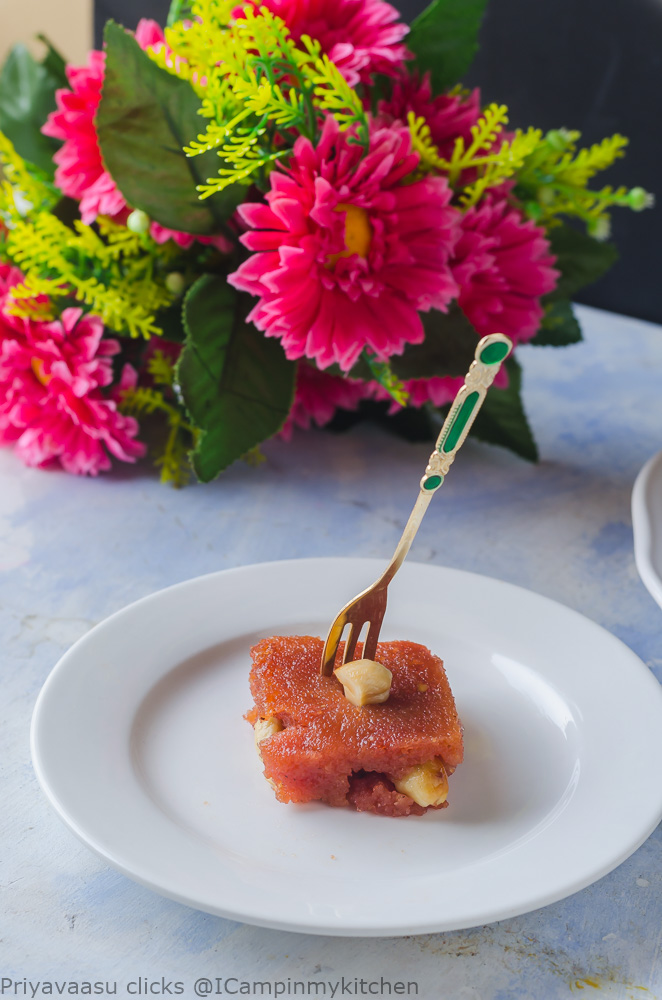 Remove the roasted semolina/sooji onto a separate plate. Heat the same pan, add a tablespoon of ghee or any other vegan alternative.

When it melts, add the beets puree to it and saute it for a minute in a simmer flame. Now add 1.5 cups of water to this. Use the beets cooked water and add extra , if you need.

I got ¾ cup of beets cooked water, so added another ¾ cup of plain water. Let this beets and water mixture start to boil.

When it begins to boil, add the roasted semolina to it and using a whisk combine well. You need to whisk well, or else you might get lumps. So use some muscle power and whisk well.

As you whisk, sooji will absorb all the water and cook well. Keep the flame simmer, while it cooks.

Next add sugar to this. When you add sugar, the mixture might liquefy, do not panic, it will be absorbed into to kesari.

Once the sugar gets absorbed, add another 1 tablespoon of ghee to the kesari, let it be on the stove for another 2-3 minutes, stir frequently and keep the flame simmer.
Once done, remove from heat, In anoteher small pan, add oil/ghee and roast cashew-nuts and raisins, add them to the kesari. you can press the kesari on to a square pan, slice them into squares and serve warm.