A Very Happy Diwali to all my readers. Here is yet another easy to make Ladoo recipe. Missing Diwali back home!!!! Diwali here, is a very calm festival. At the most, we meet friends and exchange sweets. This year i made quite a lot of sweets and snacks. Half of them have already vanished. Kuttu and bala are enjoying the murukku. Particularly bala, he keeps pointing to the murukku container and says "ithuthu,ithuthu"!!!! The Figs & Dates Ladoo were a super-hit.I have already distributed some to my Friends here in the apartment along with some Ragi Murukku (will post the recipe soon).
With friends coming home and me going out to meet some, i cannot go empty-handed. So made these Besan Ladoo yesterday.As i said, they are very quick to make. Roasting the flour is very important here to get rid of the rawness. Once that is achieved, it takes just 10 minutes to make the ladoos.
1 Cup Besan/Kadalai Maavu/Gram Flour
3-4 nos Cardamom Pods, Powdered/crushed
3 tablespoon Powdered Nuts (1 tablespoon each Almonds, Cashews and pistachios) (optional)
3 tablespoon of almond silvers (Optional)
¼ cup Chopped Pistachios for Garnish.
¼ Cup Melted Ghee + 3 tablespoon extra for roasting flour
In a Wide pan, add 3 tablespoon of ghee and add almond silvers and roast for a minute, next add the gram flour and roast until nice aroma emanates. Take care not to burn the flour. It changes to a nice golden yellow and gives out mesmerizing aroma of ghee roasted flour.

Take the flour in a wide plate. Let it cool. When it is warm enough to touch, add powdered sugar, powdered nuts, powdered cardamom, and whisk well to mix.
Keep the Melted ghee cup next to the wide plate. Add a teaspoon of ghee to the flour-sugar mixture, mix well with your hands, gather together and make ping-pong sized balls out of it.

Repeat the same with rest of the flour-sugar mixture. A teaspoon of ghee is a must to retain the flavor of the ladoo, so do not reduce the amount.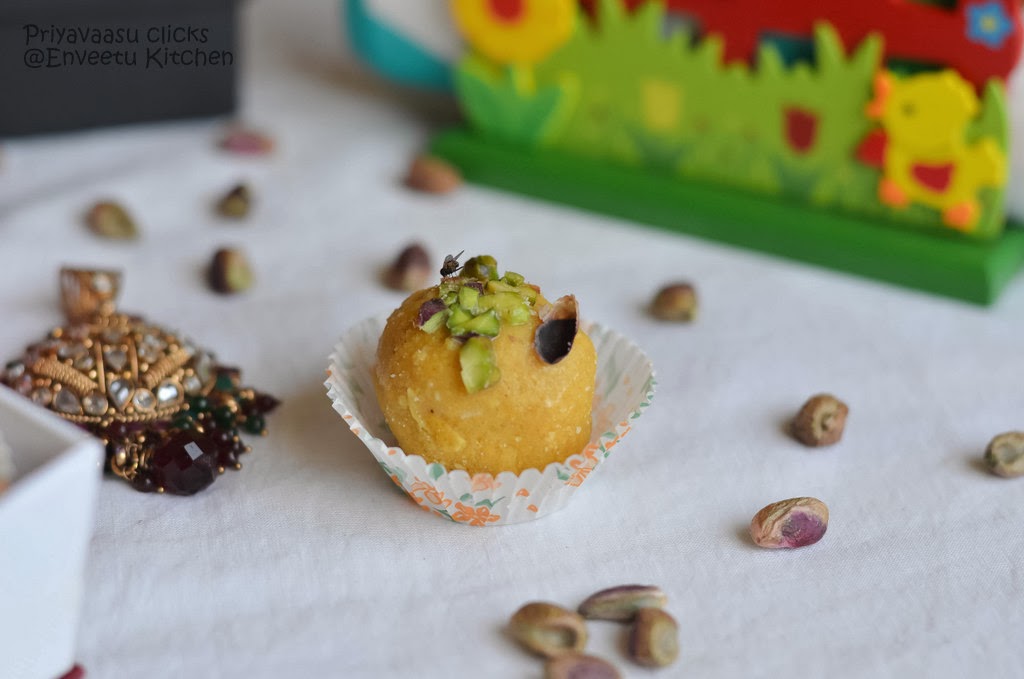 Uninvited Guest on the Ladoo!!!!
After making the ladoos, Dip one side of laddo in ghee and touch the ghee-side over chopped pistachios to decorate the top of the laddoo. Place the pistachio side up on the plate.
Let it sit on the counter for 30 minutes. Store them in an Air-tight container. A perfect treat to gift your friends this Diwali.