Usually after Navrathri, we use up the coconut kept in the kalasam by making any sweet out of it. I had 4 coconuts lying around in the kitchen, i still have 3 out of them. So, with the kalasam coconut, it was 5. So, i made this Kesar Pista Coconut Burfi using 2 of them. It is a pretty easy sweet to make, you got to put everything together and stir a bit. Only care to be taken is not to scrape the coconut clean along with the brown peel of it.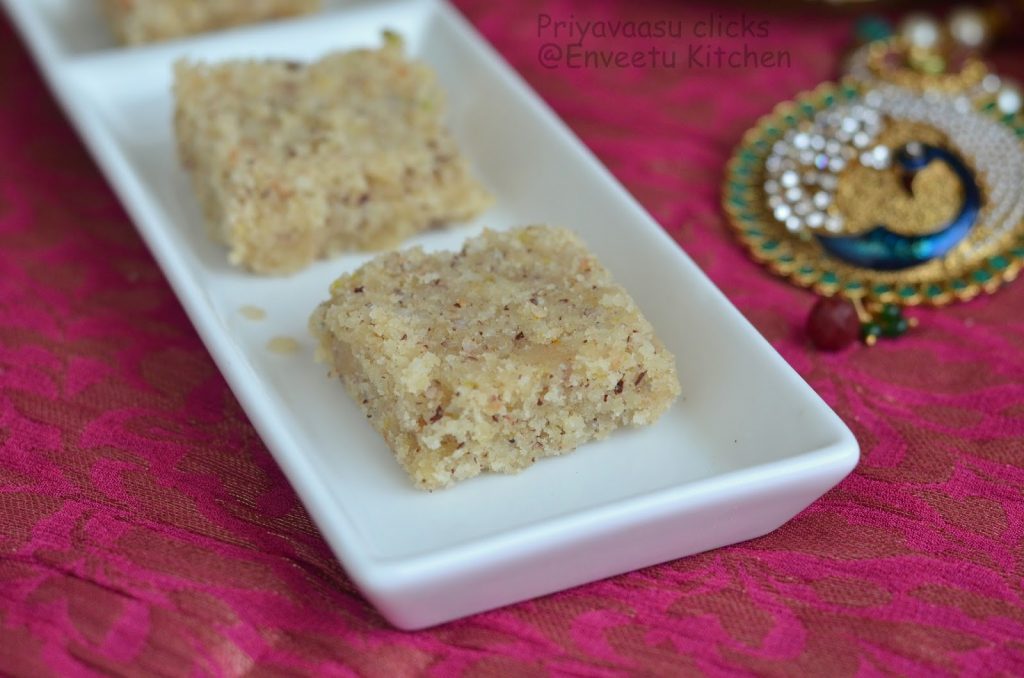 Ingredients (Makes 2 dozen squares)
3.5 Cups Freshly grated Coconut
2 Cups of Sugar
½ Cup Milk
½ Cup Water
2 generous pinches of Saffron
¼ cup chopped pistachios
2-3 tablespoon ghee + 1 teaspoon for greasing the plate.
Method
Grease a flat plate with ghee and keep aside until need. Take everything except Ghee in a heavy-bottom kadai, Mix everything well and cook it in a medium flame.

Keep stirring frequently, when the liquid has almost evaporated, add ghee and mix well and keep stirring.
When the mixture starts leaving the sides of the pan and moves along your ladle. It is time to transfer it into the greased plate.

Transfer the mixture on to the greased plate, smoothen the top using a greased bowl or parchment paper. When it is warm make markings using a knife,on top of the burfi.
Let it cool well completely. Break the burfi along the marked lines and store it in an air-tight container. I stored in the refrigerator, since it was there for more than a 3 days.
Check out the Blogging Marathon page for the other Blogging Marathoners doing BM#45