Beginning the second week of marathon with a delicious and super quick to make burfi/Barfi. This Barfi marks the beginning of Diwali treats here @ Enveetu Kitchen too. Every year, i start making trial sweets a bit ahead, so i would know what everybody @ home prefers and what to gift friends. So, one such trial was this Chocolate Burfi. Needless to say, it was a hit with Kids. Kuttu totally loved it, first it was chocolate and secondly it was soft and melt in mouth and with no nuts tidbits in the mouth. So, it would definitely be a hit at yours, if you have kids like mine or even adults like them.
2 heaped tablespoon of Cocoa Powder
½ tin Condensed Milk (400gms tin)
1 teaspoon Pure Vanilla Extract
Method
Take Milk Powder and Cocoa together in a Microwave Safe bowl. Whisk well to combine. The Cocoa and Milk powder should mix well.

Now add ½ tin Condensed milk to it and mix well. The Mixture will be very thick and will look like a dough.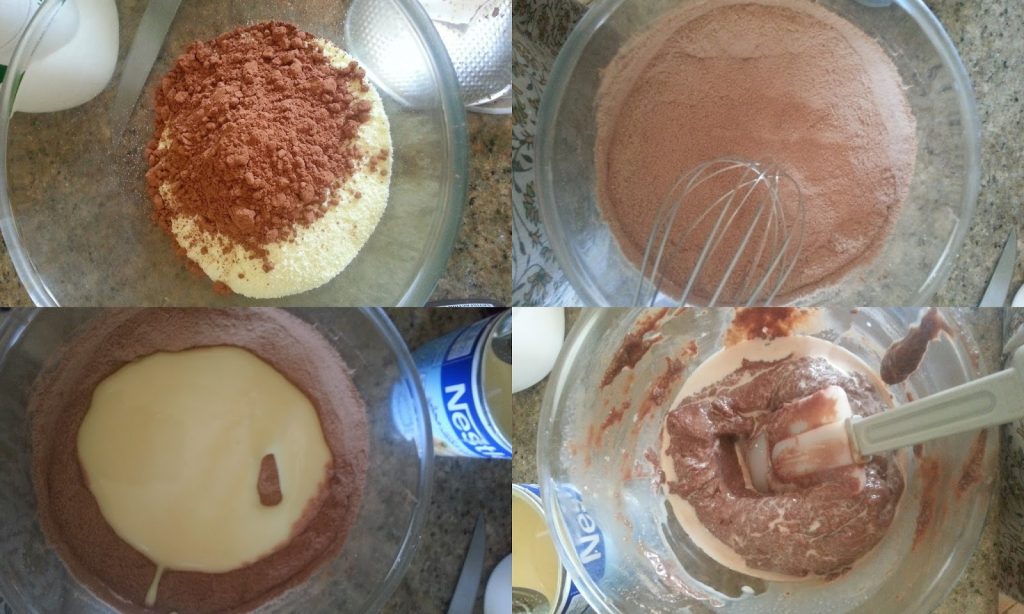 Now add 2 - 3 tablespoon of milk to this and mix to get a gooey consistency. Add vanilla extract to this and mix well.

Microwave the mixture on high for 1 minute, take it out, mix well and take it back to the Microwave and cook @ high for another 1 minute.

The mixture will look all crumbly, but soft at this point. Add ghee to this and cook for another 30 seconds @ high. Take it out and let it cool for 10 minutes.
At this point, you can grease your palm and make balls of it and make pedas. But i lined a flat plate with aluminium foil and transferred the mixture to it and spread it well and smoothed the top using a chapathi roller/belan or you can even use a parchment paper for this.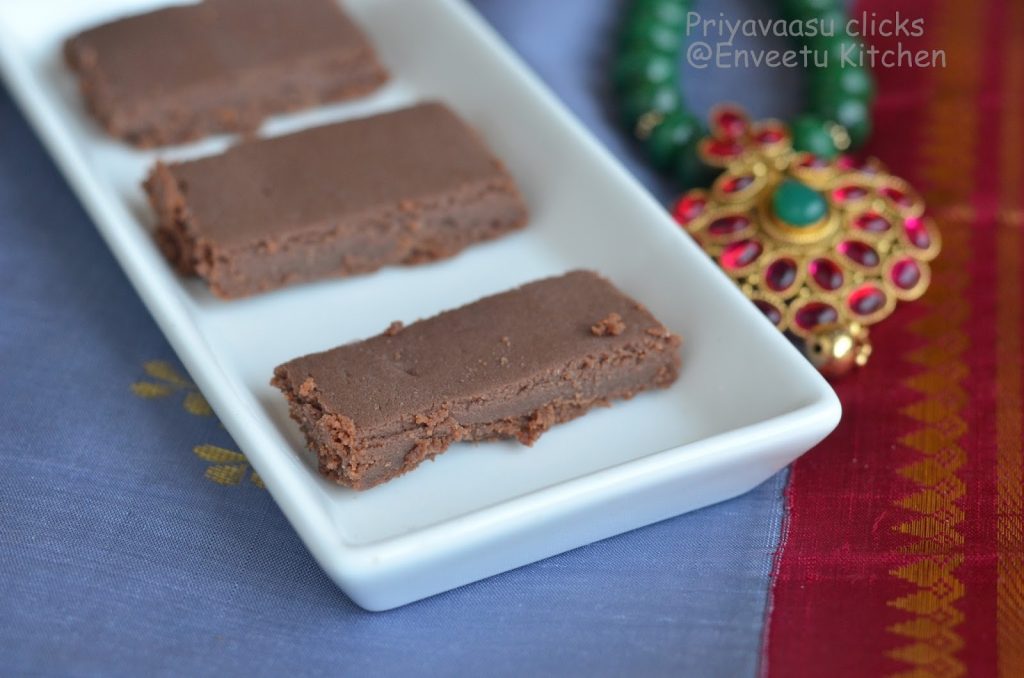 Let this rest for another 15 minutes. Cut them into squares and store in an air tight container.

I prefer to store in the fridge. It will stay good in the fridge for 2 days. Since it is made of milk, i recommend not to keep it more than 2-3 days.
Microwave power varies from brand to brand. So take care while cooking. But do not cook more than the given 2 minutes 30 seconds.

If you feel the mixture is a bit dry and doesn't hold shape, add 2-3 teaspoon of milk mix well and proceed.

This can be cooked on stove top also. Just mix everything and keep it on stove-top and keep stirring. When it all comes together without sticking to the bottom of the vessel, then it is time to transfer it to a flat plate and smooth-en the top.