Cauliflower fried rice, shredded cauliflower stir-fried into a indo-chinese style fried rice. A delicious keto/paleo recipe for those who are trying to avoid carbs.
Cauliflower rice, my new found love. No, i m not on a paleo/Keto diet. I have been eating low carbs for a long time now. I try to eat a variety of complex carbs like millets, quinoa, matta rice, parboiled rice etc.
Jump to Recipe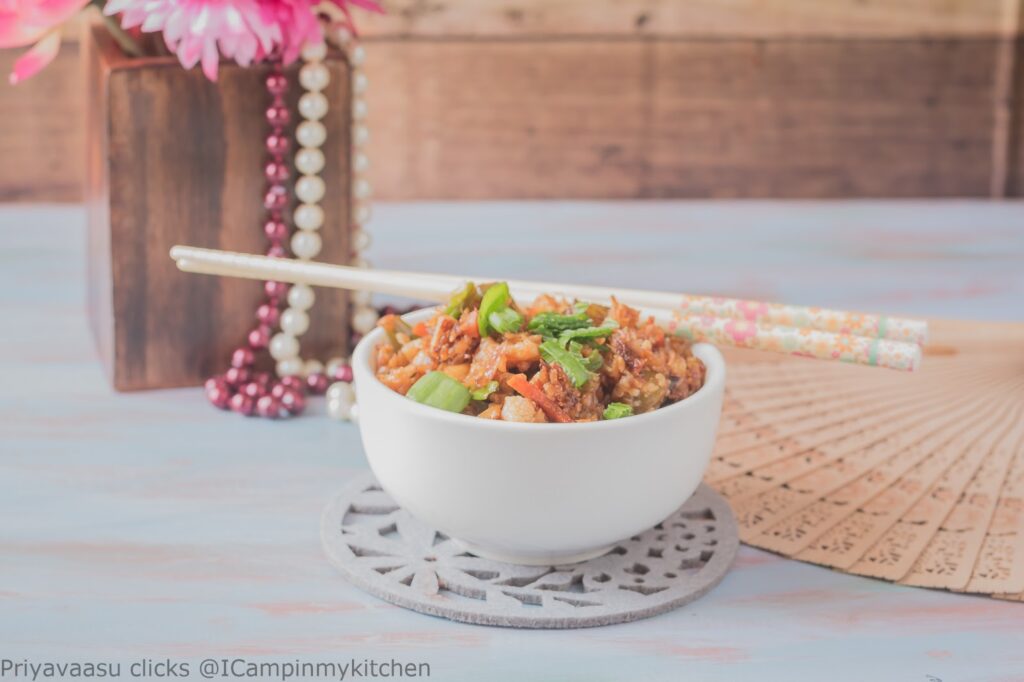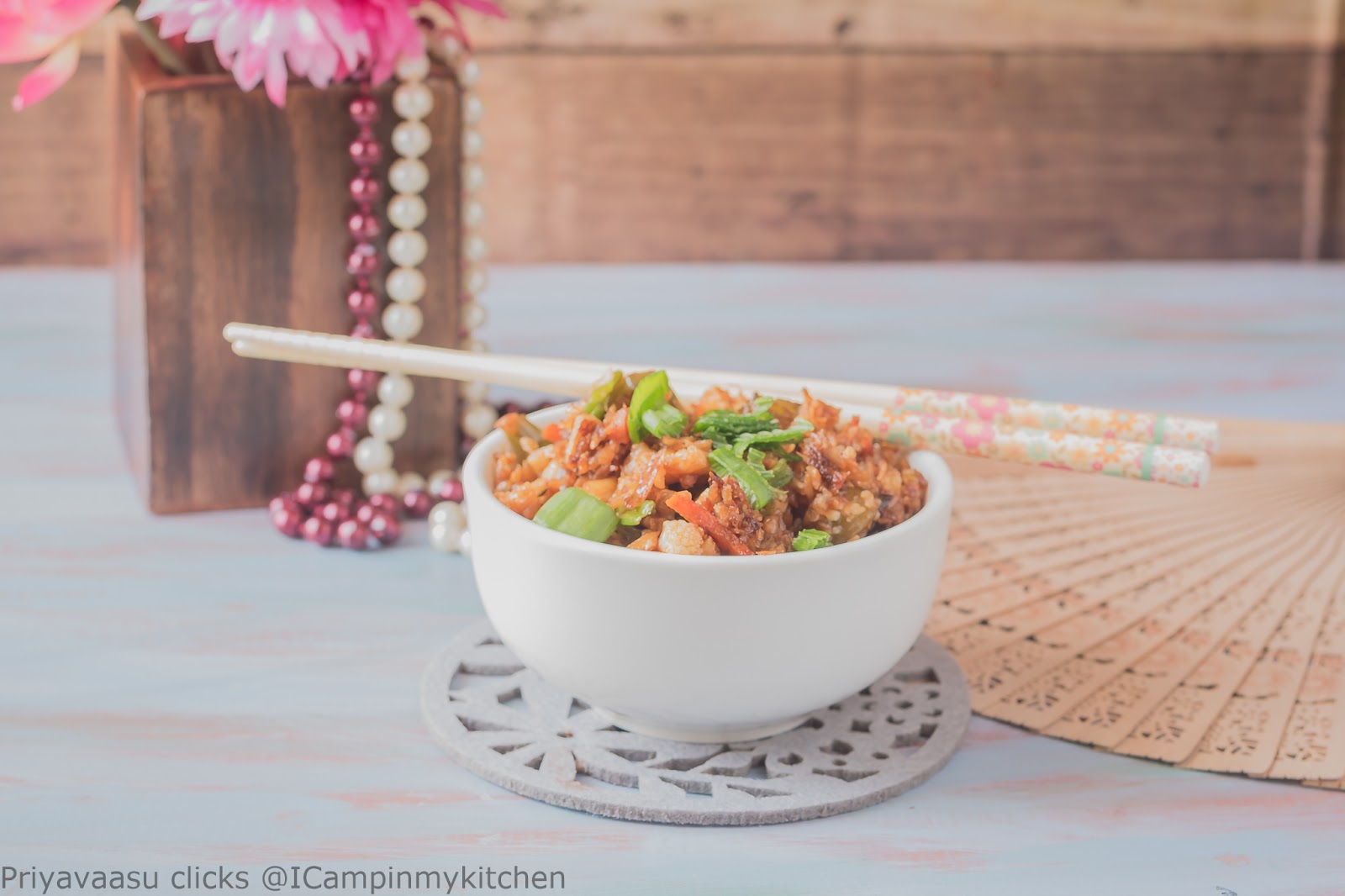 Why Low-carb meal?
As a south-indian, eating idly/dosa for breakfast, rice for lunch, it ain't easy to avoid carbs. I cannot totally cut-out carbs from my meal. But, i m trying to replace atleast one meal, so it will reduce my overall carb intake for the day.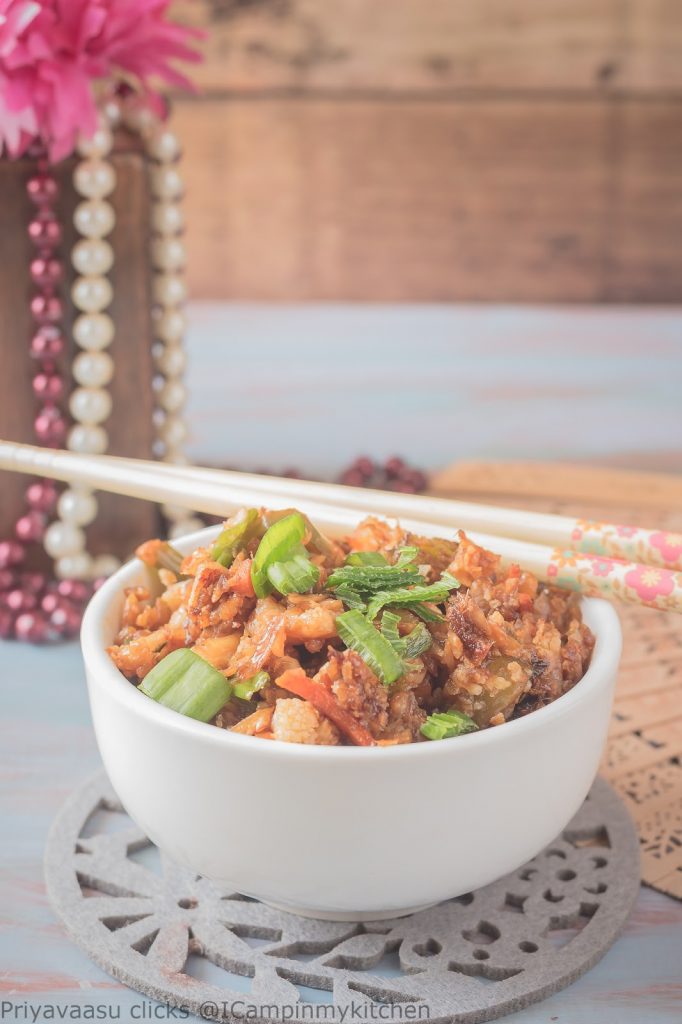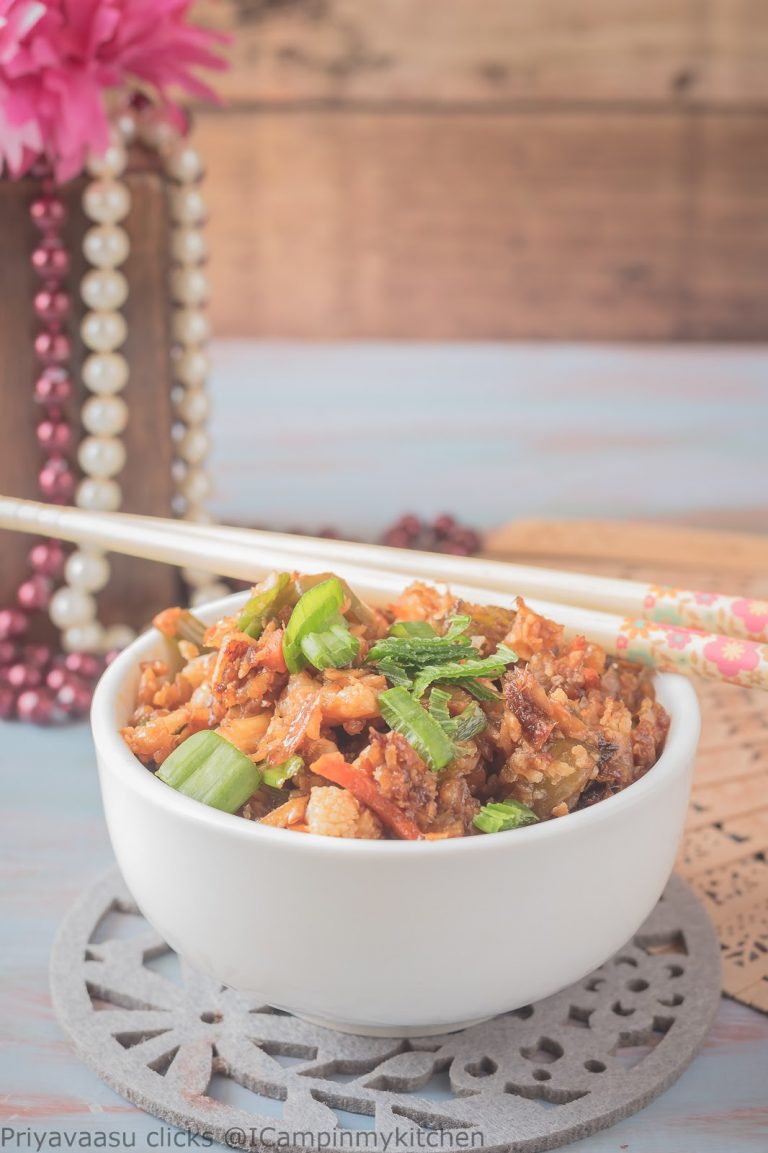 Cauliflower Rice, should we try?
I have tried cauliflower rice, sometimes back, when it was a craze, it is still a craze. But somehow, I didn't like it because of the awful raw smell. I had to use up that batch into other gravies
This time, I read thru some blogs that are into keto/paleo recipes and finally checked Gayathri Kumar blog for her cauliflower pongal and tried it again. Voila, nailed the recipe this time.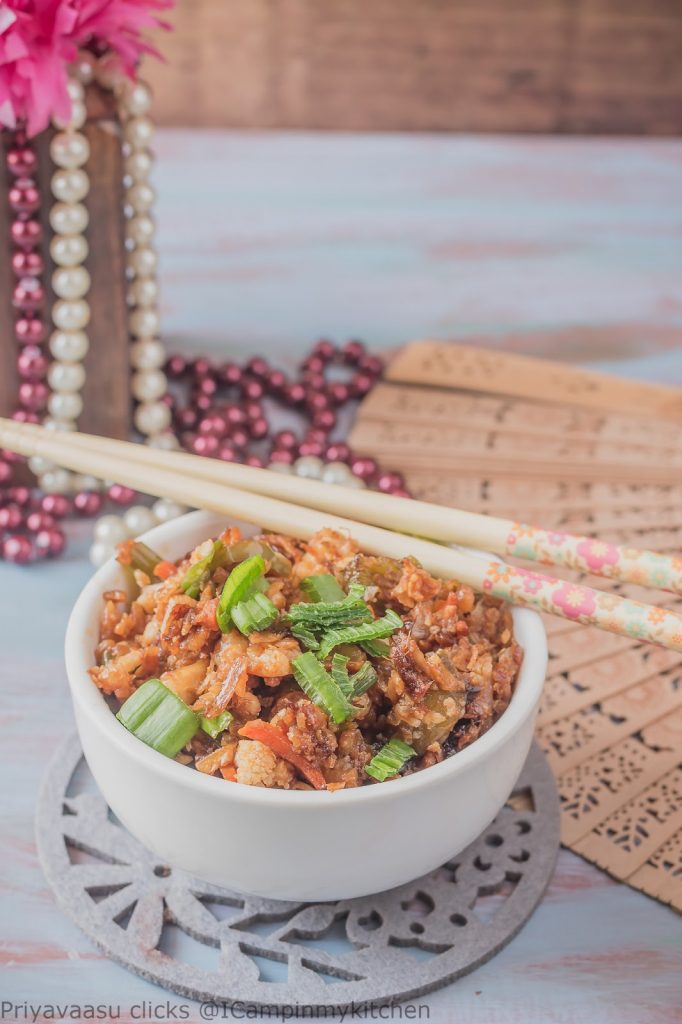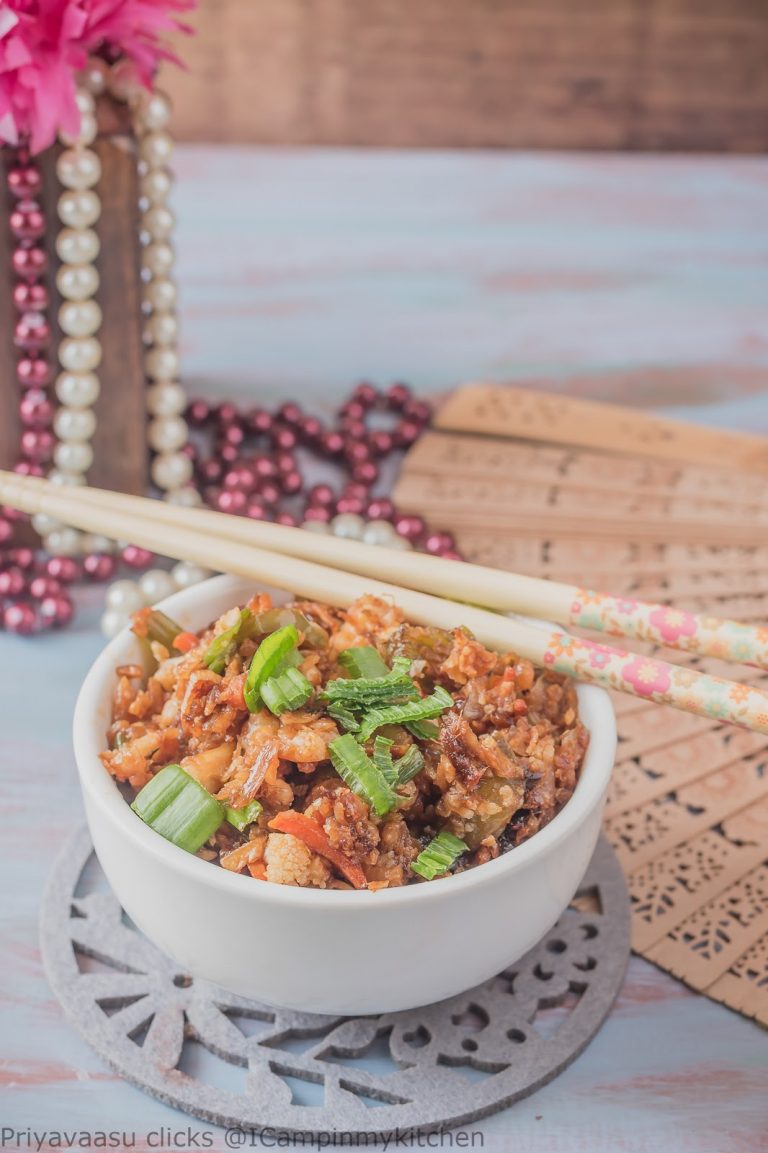 Loved the fluffy cauliflower that steamed so beautifully in the microwave. First day i made pongal with it and next day i made this yumm chinese style fried rice with the cauliflower rice. It was absoultely delicious and no, i m not exaggerating the taste of it. It was really good, and I m not person who would eat nonsense just for the sake of diet! As one of my yoga buddy says, "Eating is Believing" you should eat this to believe it!
What is Indo-Chinese?
Indo-Chinese, a popular style of fusion cooking that combines Indian and Chinese cuisine. Indian Ingredients, cooked with Chinese sauces and spices.
This article on the same topic in Food52, gave me a shock, when it said that there is no Manchurian in actual Chinese cuisine. I mean, we love Manchurian, be it Gobi Manchurian or this delicious vegetable manchurian from Sizzling tastebuds.
The origins of Indian Chinese food is centered around Chinese immigrants settling in Calcutta during British rule in India. From these first early settlers, communities of Chinese influence sprung up throughout the area, neighborhoods of immigrants cooking and eating foods from their homeland. These Canton cuisines, known in China to be light and fresh in flavor, began to adapt and evolve into the new area, forcing the flavors to naturally Indianize.
Some Popular Indo-Chinese Dishes
Thanks to this evolution and adaptation, or else we would have never known this zingy, saucy dishes from this fusion. If you too are fans of Indo-Chinese cuisine, then you should definitely try this Chili paneer, a classic fusion. The most popular Vegetable Fried rice from Sandhya's space or this Egg fried rice from Usha's space, is another must-try. If you are a Noodle fan, then this Hakka noodles from Pavani's space is your recipe. We Indians can never forgo our Chat, this Chinese Bhel from valli's space is another unique fusion.
The Ingredients
Cauliflower, obviously the hero ingredient of the recipe.
Vegetables, I have used onions, capsicums, carrots and spring onions in the recipe. You can add your choice of veggies. Some fresh peas, some mushrooms would be great.
Spices, I have used green chilies, ginger, garlic and some pepper powder, typical Asian spices to bring the flavor and heat.
Sauces, soy sauce and tomato sauce. I kept the sauces to minimum.
Step by Step Instructions
Please check recipe card below for exact measurements of each ingredient used and also for the detailed instructions
Clean and cut the cauliflower into florets. Grate the florets. Take it in a microwave safe bowl, sprinkle water and cook it for 8 minutes. You can do this on stove-top steamer too.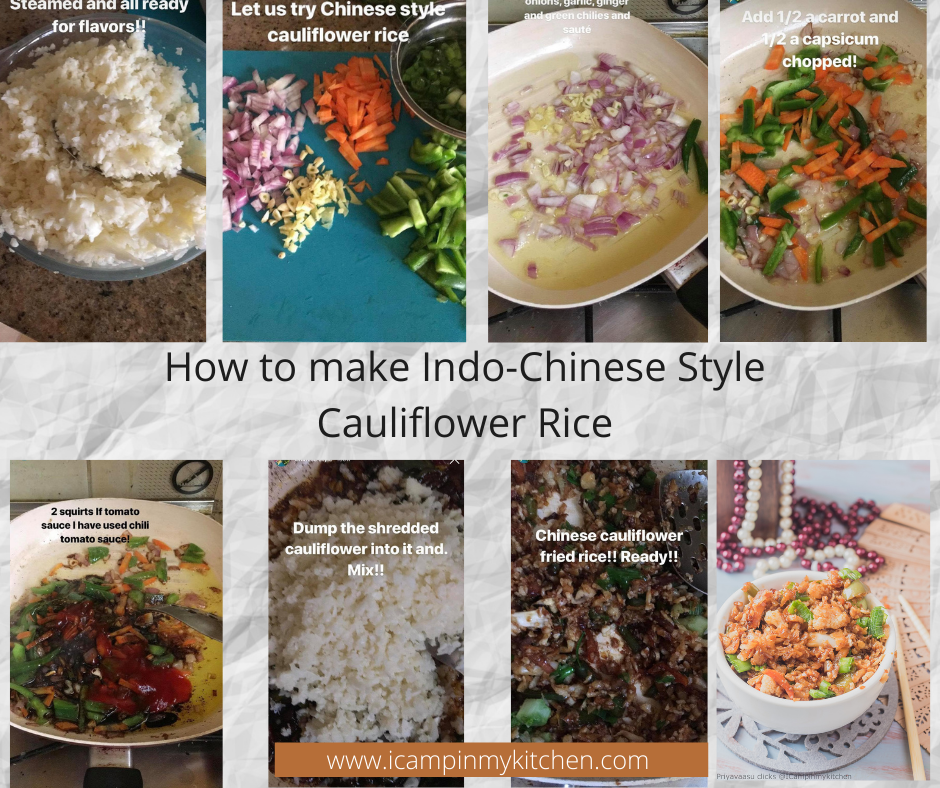 Once the cauliflower is soft and done. Heat a pan, with oil, saute onions, garlic and chilies. Next add the veggies and saute for a minute. Add the sauces and mix well.
Adjust seasonings, finally add the steam cooked cauliflower and mix well. Garnish and serve warm.
I m quite regular at Instagram and keep posting my daily banter in Insta stories. This cauliflower Chinese fried rice too made into my Insta stories, the day I made it. One of my yoga buddy tried it the same day and sent me some pictures, I was so happy to see that somebody tried and they too liked it.
If you have tried this recipe and like it, give it a star rating or let me know in the comments below. You could also share it with me on Instagram using #icampinmykitchen and tagging me @priyasrinivasan.
You could follow me and my recipes on  Facebook |  Instagram  | Pinterest  | twitter
More Rice Varieties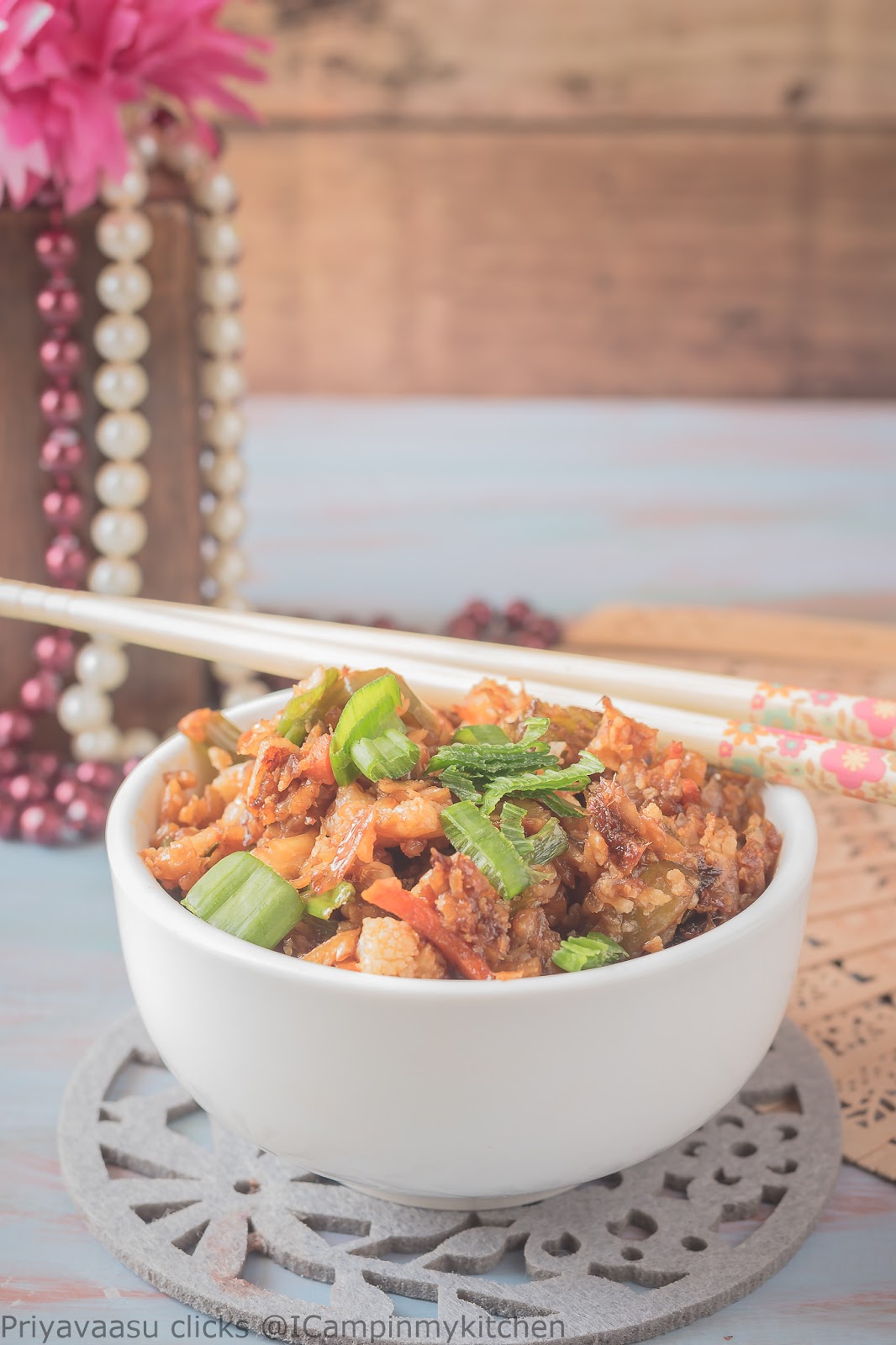 Caulilower rice – Chinese style fried rice with cauliflower rice
Cauliflower rice, shredded cauliflower stir-fried into a indo-chinese style fried rice. A delicious keto/paleo recipe for those who avoid carbs.
Print
Pin
Rate
Ingredients
300

grams

cauliflower florets

1

no

onion

chopped fine

½

capsicum

sliced thin

½

carrot

sliced thin

¼

cup

spring onions

finely chopped

2

nos

green chilies

slit lengthwise

2

cloves

garlic

minced

a small piece of ginger

finely chopped

¾

teaspoon

salt

or to taste

1

tablespoon

oil

any vegetable oil

fresh spring onion greens for garnish
Sauces & Spices
2

teaspoon

soy sauce

1

tablespoon

tomato sauce

i used tomato chili sauce

1

teaspoon

freshly pounded blackp pepper powder
Instructions
Clean and cut the cauliflower florets. Using a grater, grate them fine. you can also use your food processor.

Take the grated cauliflower in a microwave safe bowl, sprinkle water 2 or 3 times and microwave cook at power 80 for 8 minutes.

This steam cooks the cauliflower soft. This step can be done on a stove-top/ in a steamer also.

Heat a wide pan, add oil. When it is hot, add chopped onions,garlic, ginger, green chili and saute until the onions turn pink. Add chopped spring onions to this and saute for a minute.

Now add the chopped capsicum and carrots to this and saute until they turn little crisp. To this add soy sauce and tomato chili sauce and saute in high for a minute.

Now add the steamed cauliflower to this and mix well. Season with salt and pepper powder. Garnish with spring onions greens and take it off the stove.

Serve it warm with side of your choice.I enjoyed it as such.
Serve this delicious cauliflower rice warm, straight from the pan. If serving later, just warm it for 10-20 seconds in the microwave and serve warm.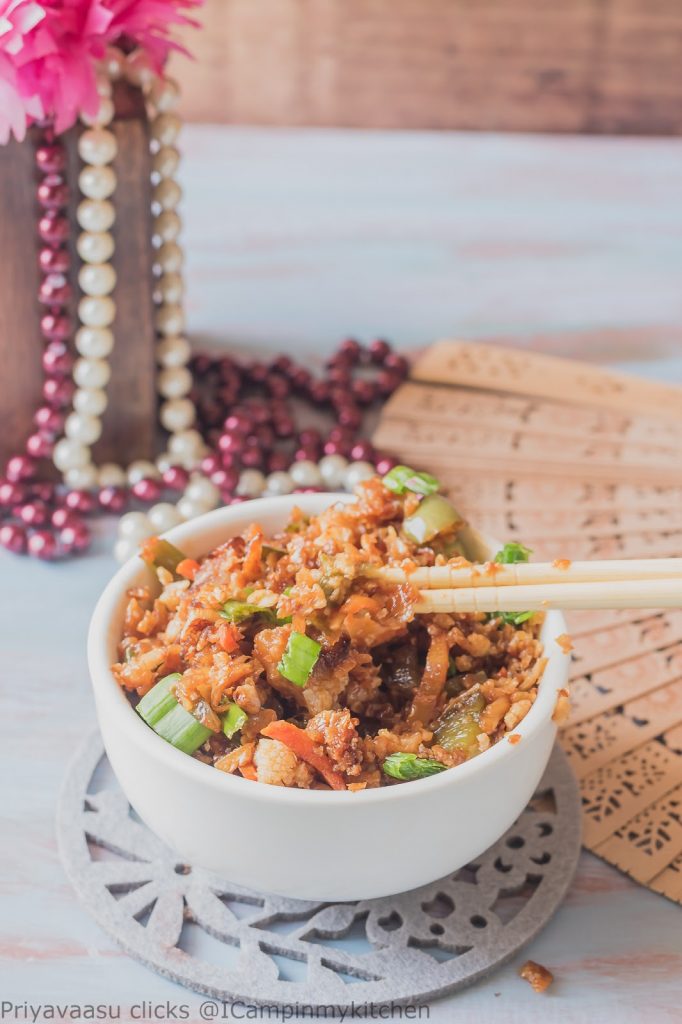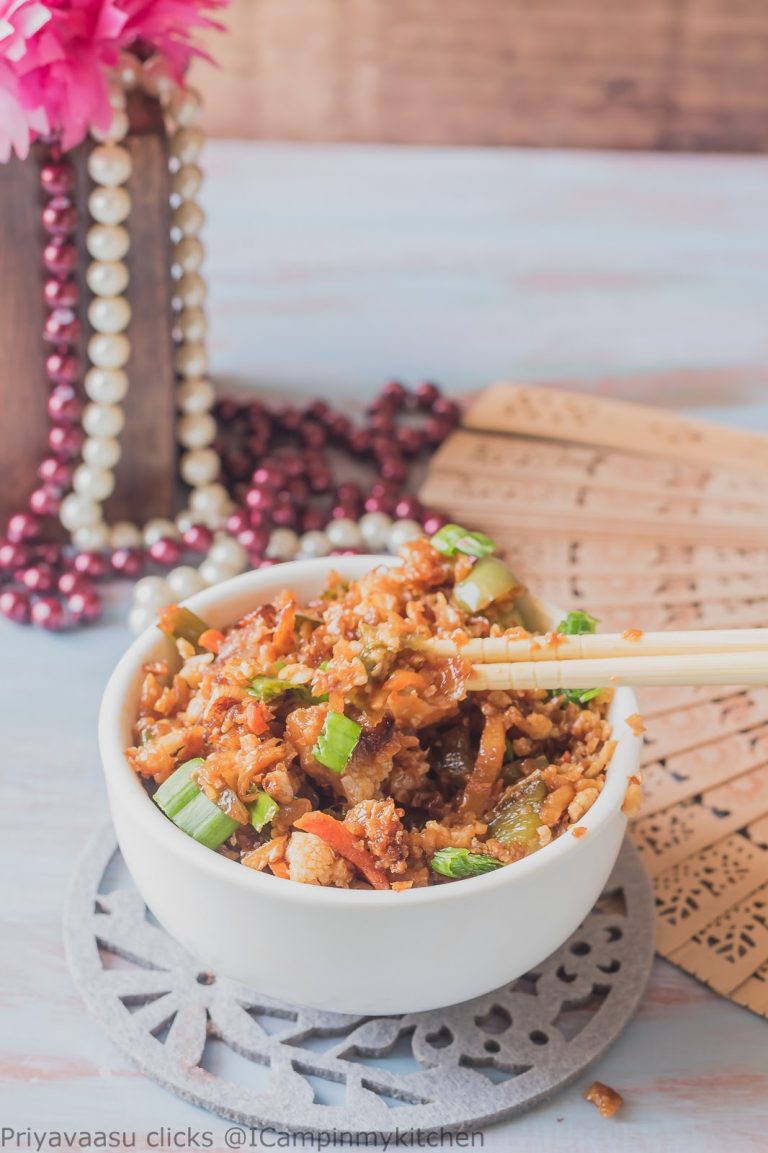 How to store Cauliflower Rice
The steamed cauliflower rice can be easily stored in the fridge or the freezer for easy use. You can make large batches of steamed rice, portion and store them, so it is easy available for you to cook.
To store, I would suggest portioning and storing the steamed cauliflower rice in an air-tight container for a day or two in the fridge and up to 3 months in the freezer. The fried rice can be made fresh, as the recipe takes only 10 minutes.
If making it from the freezer, then bring the cauliflower rice to the fridge at least 4-5 hours prior cooking, so it would thaw perfectly.
Do you like the recipe? PIN IT