One of my favorite pass time these days is drooling over Clicks from Food-Porn sites. Gawker is my favorite and tastespotting comes next. These Chocolate Vegan Fudgicles are a result of one such Drooling episode.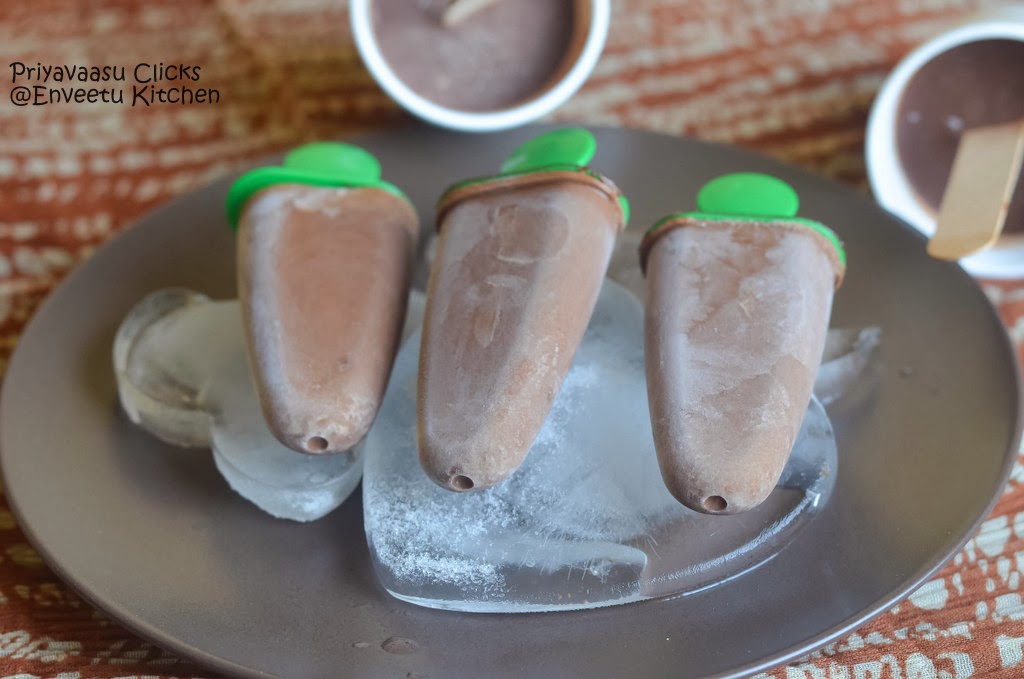 Kuttu these days are open to try new foods. He started loving chocolate-based treat if it is home-made. He wants me to make him new food atleast once in a week. I feel happy, my son has started to have a taste of his own and wants to try New Food. Strawberry Popsicles was my first try on home-made popiscles, which though he enjoyed, but was a bit hesistant to try since it was Pink!!! 🙂
He Loved these Chocolate Fudgicles so much, that i had to make it again the next weekend too, Even now i have two more popsicles waiting to be devoured!!! Go ahead and try them , i bet you won't like another store-bought stick!!!! 🙂


Inspired from Simone Anne
Ingredients
1/2 Cup Dark Chips
1 tin of Coconut Milk (300ml)
Method
Melt Chocolate using a Double-boiler Method or in a Microwave. I used Microwave.

In a Microwaveable jar, take the choco chips and Melt

@ Cook

@

high for 30 seconds to 1 minute. Take it out and Whisk well to a smooth consistency. If there is still some chunks of chips left, you can either microwave it for another 15-30 seconds or leave it as such to have bite here and there in your ice-cream.

Once it reaches smooth consistency, add the Coconut milk and keep Whisking to mix. It is perfectly OK to whisk, Coconut milk won't split while doing so.

Pour the Well mixed Choco-Coco Milk into Popsicle moulds and Freeze it for 5-6 hours Max, overnight would be great.
If you don't have popsicle moulds, you have use Paper cups. Pour the liquid the paper cups until 3/4th of the cup. Cover it with an alu-foil and stick a ice-cream stick in the middle perforating the alu-foil.

Enjoy after your lunch or your dinner. Perfect for get-together's. Awesome treat for kids.
Check out the Blogging Marathon page for the other Blogging Marathoners doing BM#33