Coffee jelly, a popular japanese dessert, wiki says, that it is most commonly served restaurants, cafe's and convenience stores. I planned to make a dessert from japanese cuisine and was stunned with many options, there was this honey toast, similar to bunny chow, but all sweet, loaded with all sort of sweeties you can think of. Then there was this popular mochi, i even had the glutinuous rice flour stashed in my freezer. But then i settled for this simple jelly, that can be served with innumerable toppings.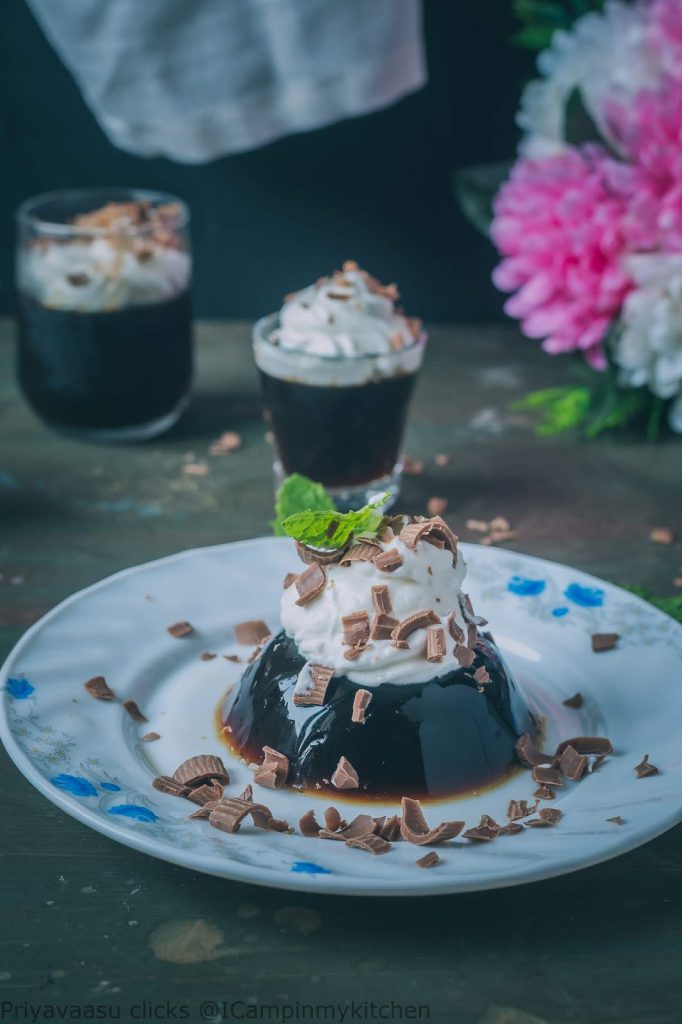 These cute jiggly jellies made with kanten (sea weed) can be served with milk shakes, ice creams, as garnishes on sundae, topped with condensed milk, the list is on, think of any layered dessert, you can include these jello's in them too.
When i made them, i was not sure whether my kiddos will like them, so i made a small batch of 2 cups distributed into 6 shot glasses. But to my surprise, both of them gobbled the shots as soon as i finished clicking. They loved the combination of soft cream with the black coffee jello and milk chocolate. I too in that gap tasted 2 spoons, yes just 2 spoons, to satisfy my craving that shoots ip when you look
something as pretty as this!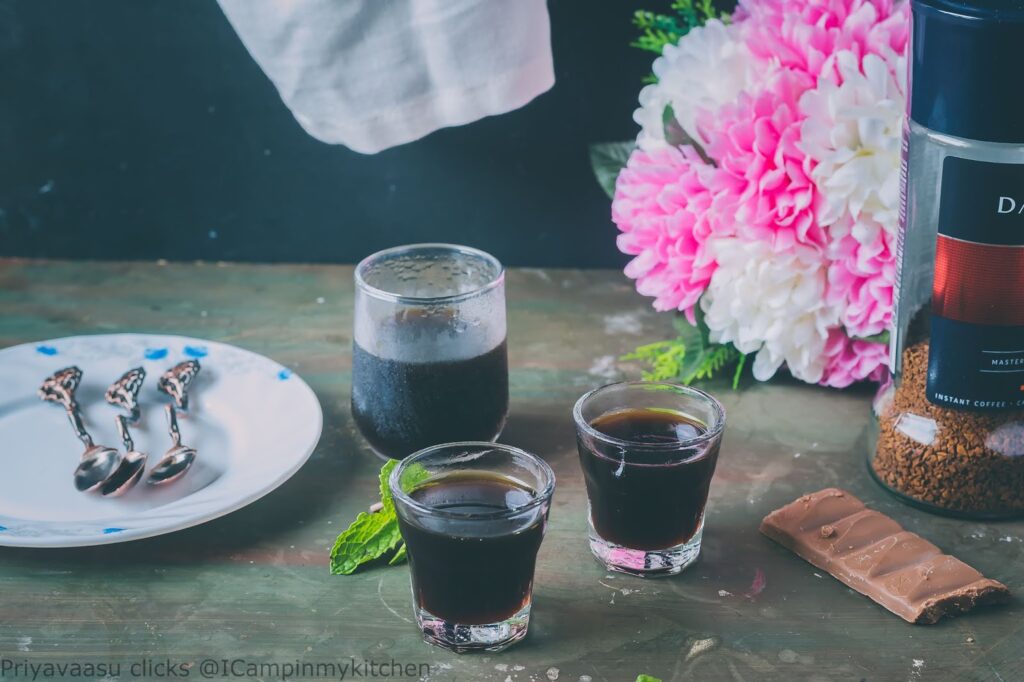 This is one perfect party pleaser, both kids and adults would love them, see to that you beautifully compliment the black coffee jello with lovely cream and chocolate. I didn't add sugar to the cream, instead used milk chocolate to balance the sweetness, i would recommend adding ganache on top that would definitely oomph this dessert to another level. Go ahead, make these cute shots for your weeked indulgence.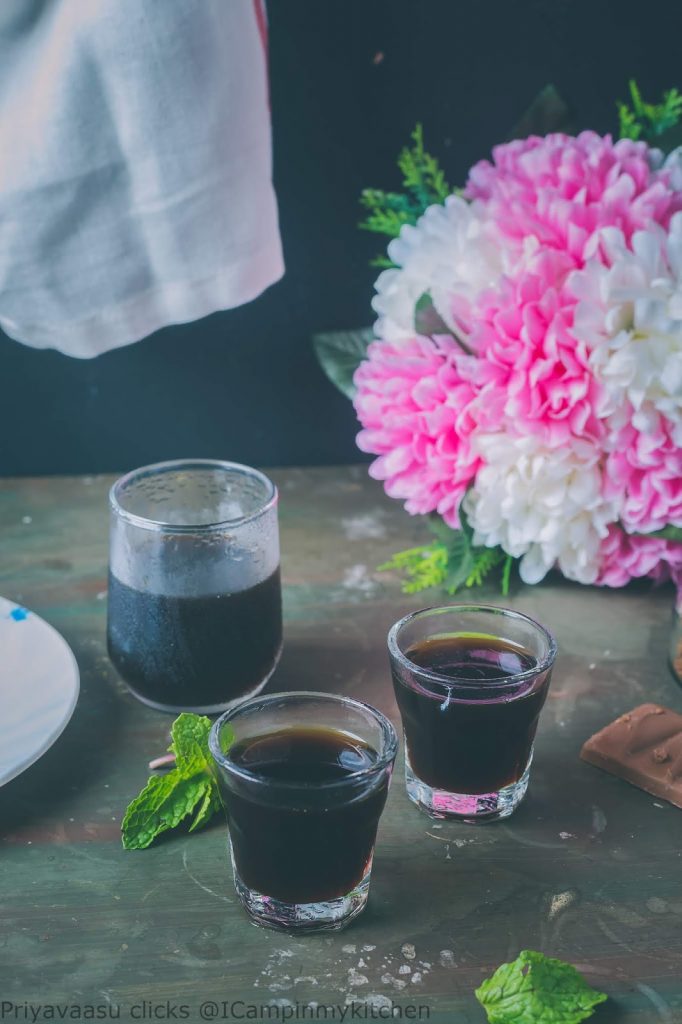 Source here
Ingredients
2-3 tablespoon of instant coffee
1 teaspoon agar agar flakes
For serving
Heat 2 cups of water in a sauce pan, when it begins to boil, add agar agar flakes to it and mix well. I used a whisk, whisk until it dissolves.

Take it off the heat, add instant coffee and sugar to it and mix well until the sugar dissolves.

Let this mixture sit on the counter for 5 minutes, then pour it small shot glasses or any other bowl you plan to serve it.

Cling wrap the individual shot glasses/bowls and refrigerate atleast 6 hours until serve.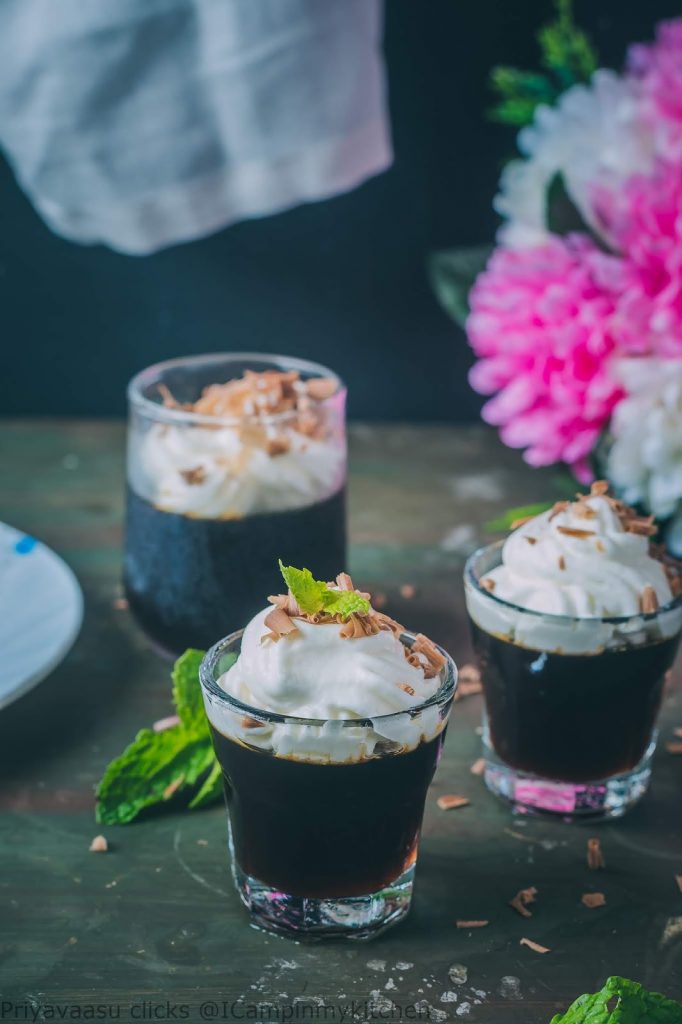 J

ust before serving, remove the shot glasses/bowls from the refrigerator, remove the cling wrap.

Top it with generous swirl of whipped cream, add some grated milk chocolate and touch of contrast with some fresh mint leaves, sit back and enjoy the dessert!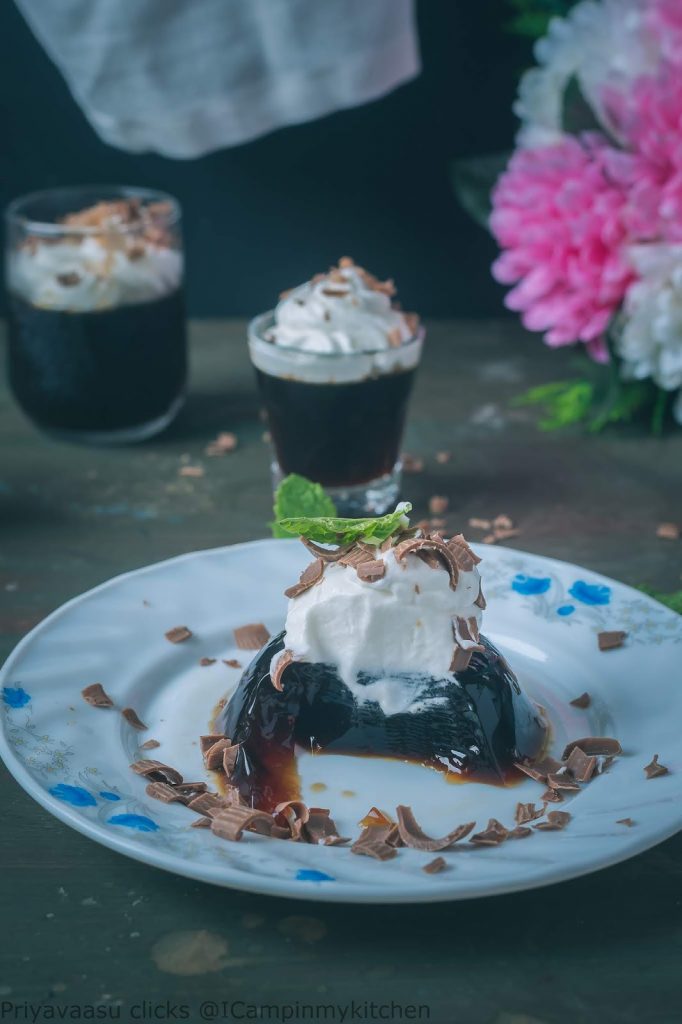 Check out the Blogging Marathon page for the other Blogging Marathoners doing this BM