Next week, this time i will be busy with last minute packing for our vacation, yes, it is Vacation time, at last!!! So, certainly for the past 2 weeks, i m busy using up things in my pantry and clearing my freezer. I normally freeze fruits when they are in abundance. I had a packet of strawberries and to top it over my SIL gave me another packet, as she left for vacation early this time. So two packets of plump strawberries in my freezer!!! hmmm, i wanted to try this Fro-yo for a long time and since the beginning of summer, My FB wall is flooded with lots of Fro-Yo pictures and me drooling over them. I didn't want to miss the chance to try it at home. Such a simple recipe, even your school-going kid can make it no time and surprise with a delicious and a healthy dessert.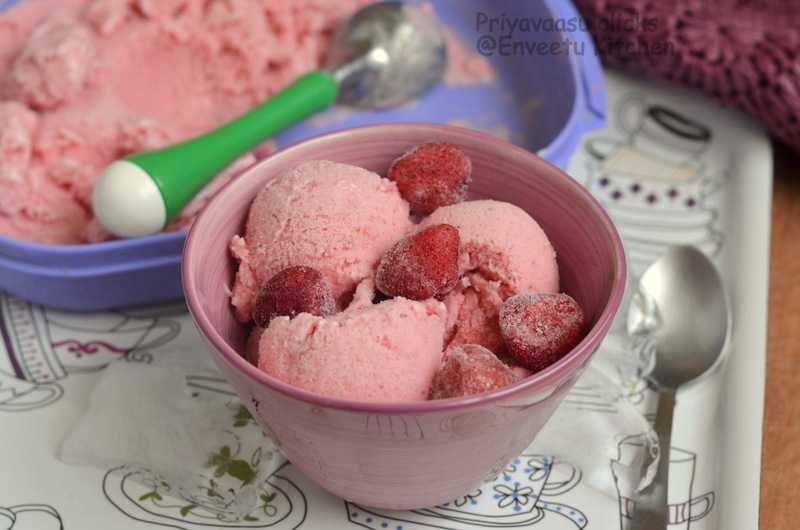 There is no hard and fast rules to follow in this recipe. I didn't have enough yogurt so i added another half cup milk. This can be done with any fruit, run your imagination and create your own flavor of fro-yo!!!!
Ingredients
2 Cup Fresh strawberries/frozen strawberries, washes and hulled
1 Cup Yogurt
1/ Cup Milk
¼ Cup Sugar (optional depends on the sweetness req)
juice of one lemon (Indian lemon)
Method
Blend all the ingredients together, pour it in a freezer safe box and freeze for 4-5 hours minimum. Optionally you can sieve the blended strawberry puree to remove the seeds before freezing, i skipped this step.

Remove the box from the freezer after an hour, blend it again (i used my hand blender)to break the ice crystals and get a smooth texture. Take it back to the freezer again. Do this blending after every hour for 2-3 times.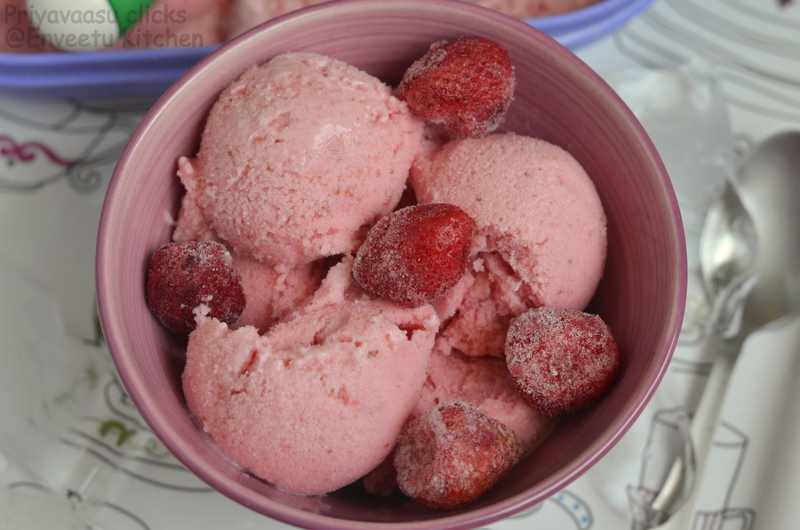 Freeze for another 3-4 hours.

Scoop and Serve, Enjoy the weekend.
Topping suggestions
Chocolate Syrup, Nut brittle, Fresh strawberry preserve, options are endless!!!