Home Baker's Challenge for December was hosted by Priya Ranjit of Cook Like Priya. She suggested some delicious cookies, cakes and breads. I chose to bake the snowman cookies and Sugar cookies. But the snowman cookies vanished even before i could save some for clicks. Since it is Christmas i thought i will bake something chocolate-y to up the spirits of the season. So instead of regular sugar cookies, i baked chocolate sugar cookies. They came out super good and i gifted a dozen to my wonderful maid, without whom my day will be a real mess!!!!
Merry Christmas to all my readers. May God Bless you all with Good health and greater prosperity!!!!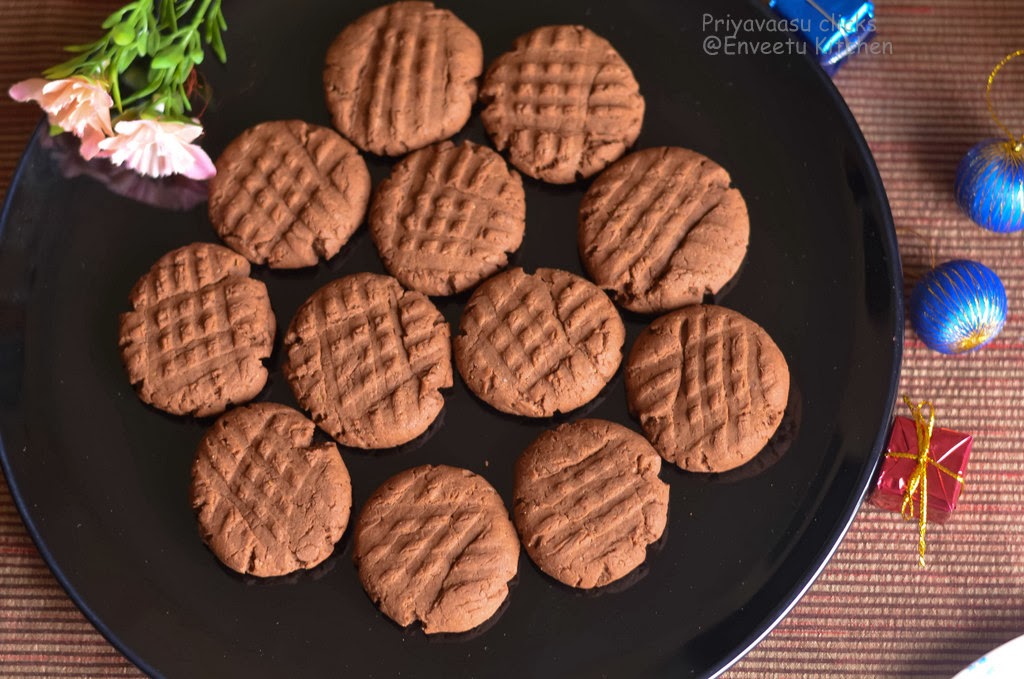 Source : Jocooks
Ingredients (Makes about 3 dozen cookies)
1.5 cups all purpose flour
1.5 Cups Whole Wheat Flour
1 cup unsalted butter, room temperature
2 tablespoon Flaxseed meal, soaked in ½ Cup Warm Water
2 teaspoon vanilla extract
In a bowl sift together the flour,cocoa, salt and baking powder.

In another bowl, cream together butter and sugar until fluffy.To this add Flaxseed meal soaked water, blend well to combine.

Now add flour mix little by little and combine using a spatula to form a smooth dough.Wrap dough in plastic wrap and refrigerate for at least an hour.
Preheat oven to 180C. Divide the dough into equal-sized balls and place it on a cookie sheet, flatten it using a fork, make markings using the fork on top of the cookie. You can also divide the dough in 4 pieces and roll out each piece at a time so that it's about ¼ of an inch in thickness, cut cookies with your favorite cookie cutter.

I used my Stainless Steel plate, covered with aluminium foil for baking these cookies. Place cookies on an ungreased baking sheet and bake for about 13 to 15 minutes, just until the edges are firm and the center still slightly soft. Repeat with remaining dough. Transfer to a wire rack and cool.

Let it cool completely and store it in an air-tight container or pack them into cute boxes and gift them to your friends. I actually packed a dozen to my maid, as a Christmas Gift.
Check out the Blogging Marathon page for the other Blogging Marathoners doing BM#35


Sending this to Kids Delight - Cooking with whole grains, happening @ Sandhya's space, an event by +Srivalli Jetti