Coconut macaroons, were in my to-do list for a long time. Being a food blogger, my favorites and bookmark folders are always overflowing, whenever i see a good recipe, i bookmark it immediately. That too if it is bake recipe, i bookmark with egg, without egg, vegan every good bake.
For the second week of BM, i chose Kids delight - mini bakes as my theme. Before deciding on the recipes, i checked my Bookmark folder and picked 3 recipes. First one, is this simple and easy coconut macaroons.
The recipe is so simple, even a kid can bake it. It is just mixing of ingredients and shaping it. The original recipe used just coconut and condensed milk. I have added tutti-frutti to the dough and garnished it pistachios.
The cookies have a crusty bottom and a soft chewy texture. This recipe gives a dozen cookies. You can double or halve the recipe according to the number of cookies needed.
Now coming to the photos, all are taken with iphone, since we had a family get-together at my BIL's house and had to leave very early. So, i hurriedly clicked using my iphone and left. Will try to take them again with my camera and update as soon as possible.
Ingredients
1 heaped cup of dessicated coconut
5 tablespoon condensed milk
2generdous pinched of vanilla powder or ½ teaspoon vanilla extract
3 tablespoon tutti frutti
2 tablespoon chopped pistachios
Method
Preheat the oven to 190C for 10 minutes.

Take condensed milk in a wide bowl, add coconut, tutti-frutti, vanilla extract/powder to it.

Mix well with a spatula. Grease your hand with some oil/ghee/coconut oil, pinch ping-pong sized balls out of the cookie dough and flatten them into thick discs.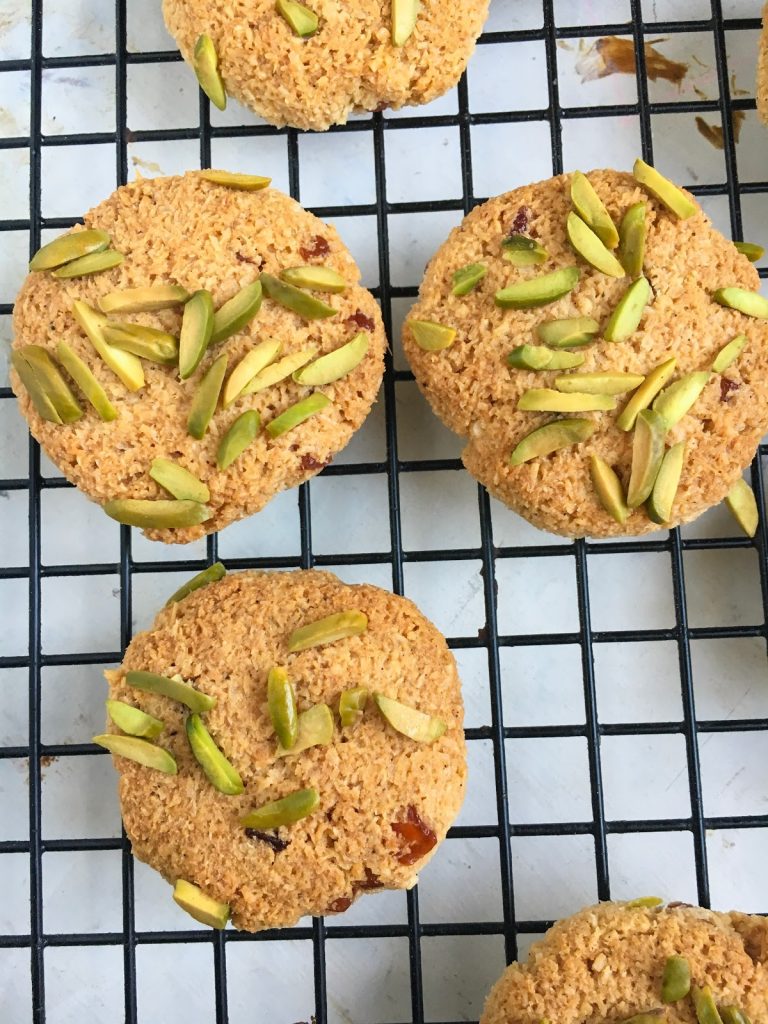 Touch the top of the shaped cookies with some pistachios.

Place the cookies on a parchment-laid baking tray and bake the cookies 🍪 for about 18-20 minutes or until golden brown.

Remove the cookies onto a wire tray. Let it cool completely. Store in an air-tight container.


Check out the Blogging Marathon page for the other Blogging Marathoners doing BM#73