When i was looking for some bakes with oats, these scones popped up from King arthur flour website. Loved the name first, christmas scones, loaded with berries and nuts and such an easy recipe to bake.Just mix, add liquid, pat and bake, it will take around 30-35 minutes on the whole to get these for your morning breakfast or for your evening tea.
The original recipe used All purpose flour and Rolled oats, i have used Malt house flour instead of APF. Malthouse bread flour is a combination of wheat and rye flour along with malted flakes of the same. The use of this flour gives a great crunch to the scones and gives an amazing feeling of fullness in your mouth and their also in your tummy. The added berries and walnuts enriches it even more and gives a wholesome, balanced, complete breakfast/snack.
2 Cups Malt house bread flour
or
1 Cup Whole Wheat flour & 1 Cup Malt house bread flour
1 cup old-fashioned rolled oats
1 tablespoon baking powder
½ cup unsalted butter, at room temperature
1 cup mixed berries (i used dried cherries, cranberries)
¾ cup buttermilk/sour cream/plain yogurt (I used buttermilk)
coarse sparkling sugar for topping, optional (i used raw sugar)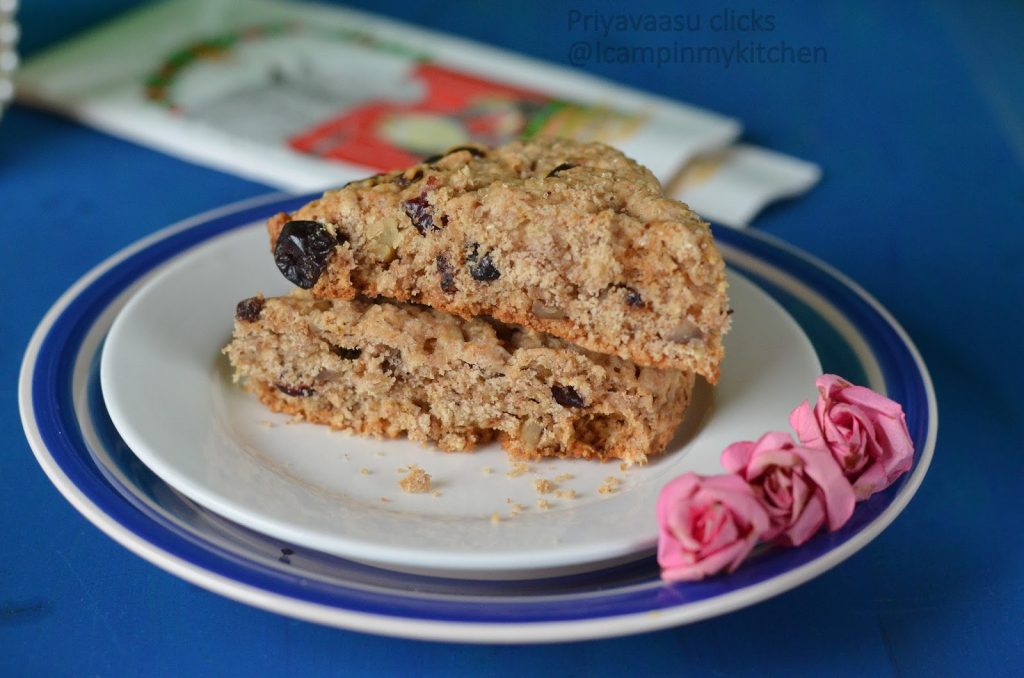 Method
Preheat your oven to 180C. Lightly grease a baking sheet, or line with parchment. I used my round 8" cake tin and pie plate.

Mix the dry ingredients Flour, rolled oats, baking powder, baking soda, salt and sugar in a large mixing bowl. Mix the butter into the dry ingredients until it looks unevenly crumbly. Mix in the fruit and nuts into the flour mixture. Stir in the buttermilk.

Since i have used malt house flour which is a combination of rye and wheat flour flakes, i needed a little more liquid, maybe about ¼ cup extra and mine was more like a gooey dough, i didn't get a soft/tight dough.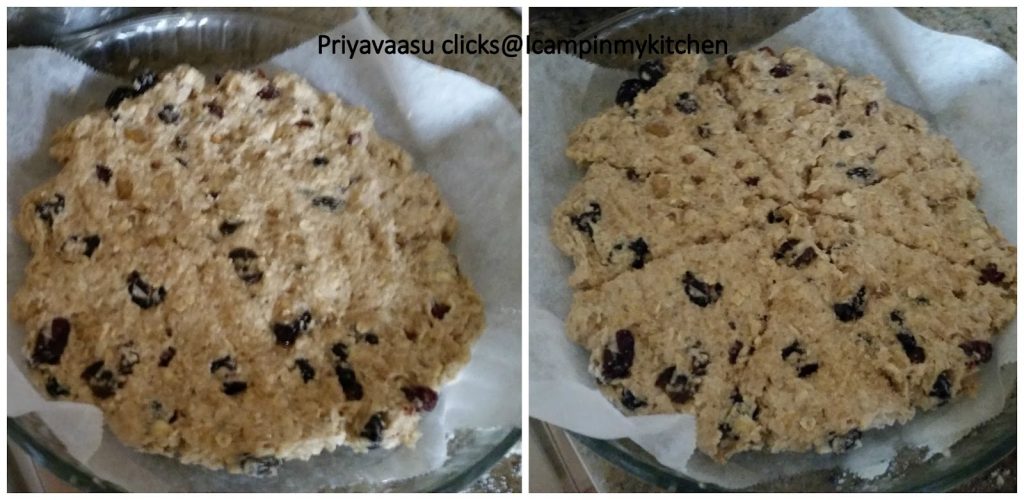 Divide the dough into two portions. Sprinkle little flour on the dough, coat your hands with little flou, take the dough and pat it straight on to the baking tray into a round about 6" in diameter. Sprinkle each disk with coarse sparkling sugar.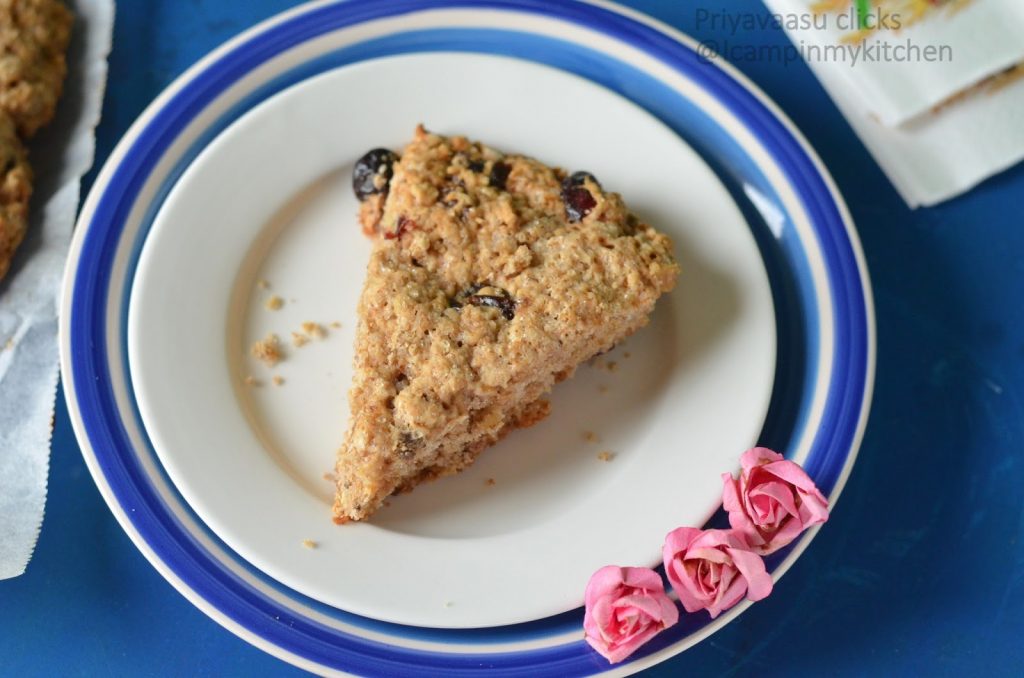 With a bench scraper or sharp knife, cut the round into 8 wedges. Do this by cutting straight down through the dough so you shear the edges. Don't separate the wedges. Just mark the wedges so it is easy for you cut after it bakes.
Bake the scones for 20- 25 minutes, or until they're just beginning to brown. AFter 20 minutes, when i checked, the top was a bit wiggly, so i baked it again for another 5 minutes, it came out perfect. Remove them from the oven, Let it cool for 10 minutes, cut into wedges and serve warm.