I planned to do different types of Naan for the second week of Blogging Marathon, thast starts today. But with kuttu's exam i couldn't concentrate much on that, so switched my theme to Soups and salads. I think the god's heard me and this week Friday magazine had featured some 5-6 recipes of soups. The one that caught my eye was the coconut milk soup with noodles. I tried it with for our dinner yesterday with some foccacia puligese. It was yum and the combo turned out great. 
My hubby had it with the noodles whereas i had it plain without the noodles. Both tasted yum and filling.
Ingredients
100gms of Vermicelli (Iused rice vermicelli)
400gms broccoli or one full head of brocooli
300gms of red pumpkin
3 tablespoon of shredded ginger
2 big onion, finely chopped
2 cloves of garlic
2 green chilies
400ml coconut milk (i used store-bought)
½ teaspoon pav bhaji masala
2 tablespoon coconut oil
Salt to taste
fresh lime juice and coriander leave for garnishing
Method
Cook Vermicelli according to packet instructions. I used peacock brand brown rice vermicelli. Bring a large pot of water (4-5 Cups) to boil. When the water is rolling boil, add the noodles to it and let it be on heat for 3 minutes exactly. Remove from heat, let it sit for another 2 minutes, then drain well in a colander and run cold water on top. Add a teaspoon of olive oil to the noodles, toss and keep aside until use.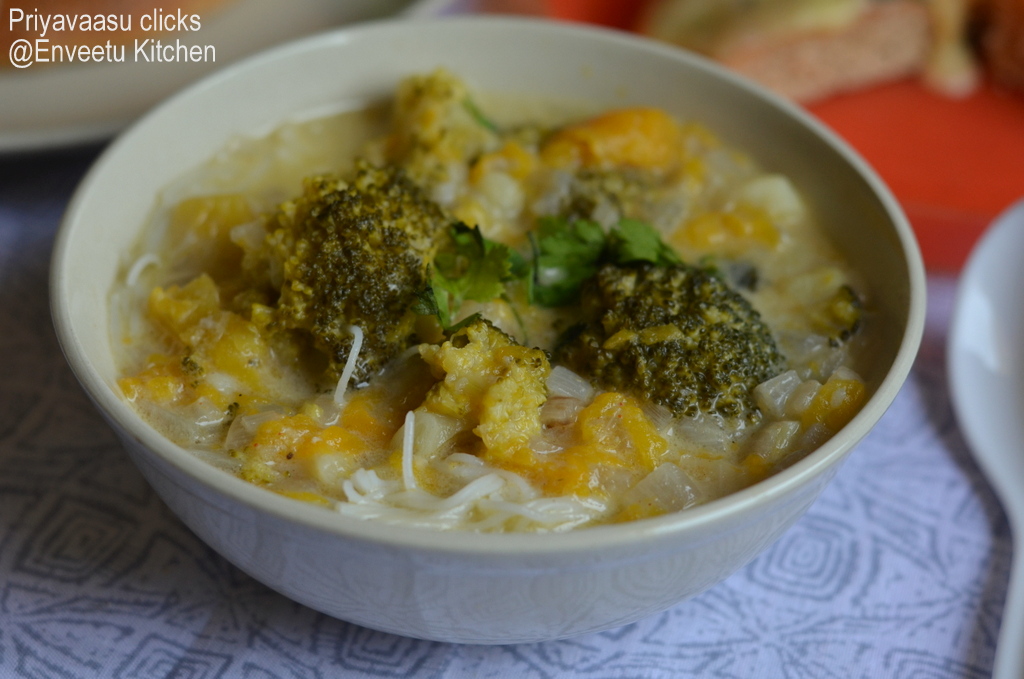 In the mean time, cut the broccoli into florets, cube the red pumpkin. Keep them immersed in Hot water for 10 minutes, drain and set aside until use. I used the drained vermicelli water for this. Take  ginger and green chilies in a mixer and grind it to a smooth paste. This is optional, but if serving it to kids, i insist on doing this, coz they might find the ginger pieces a bit disturbing. 

In a shallow pan, add coconut oil, when it is hot enough, add chopped onions, garlic and ground ginger-chili paste to this and saute until onions turn pink.

Next add the drained broccoli and pumpkin to this and saute for 2 minutes. Add coconut milk and ½ cup water washing the tin, reduce the flame to  lowest possible, add pav bhaji masala and salt, mix well.

Let this simmer for around 8-10 minutes for the flavors to mingle well. Take it off the stove, add chopped coriander leaves, if using. 
While serving, add 3-4 tablespoon of noodles to a bowl and pour 2 laddles of soup on top and squeeze a little lemon juice and serve hot with some bread on side. 

I served this soup for our dinner with some

foccacia

 .
Notes
The original recipe didn't add any masala or garlic to the soup.  But not adding them i find it difficult to suit our taste.

i skipped adding lemon juice coz i wasn't not sure how it will taste with coconut milk. And also coriander leaves i have used only for garnishing.

Do not let the soup boil for longer time, coconut milk with all the masala added, might split. So, not more than 10 minutes that too in a simmer flame. I had the soup without the noodles, it tasted the same.

While plating the noodles in the soup, i cut it at 3 or 4 places to made it like short strands of noodles so it is easy to handle it along with the soup.