Ginger & Lemon Soup which i posted 2 days before is getting lots of attention. Many of my friends have tried and they loved the flavors. Thanks a lot for liking it and most importantly letting me know. In that soup series, today again i m posting another interesting and flavorsome recipe. I m not a fan of tomato soup, i always order Manchow or clear veg soup in restaurants. So, i badly wanted to try a tomato soup that will suit my senses. While blog-hopping for the same, i came across this recipe here. Recently bought a fresh thyme plant and it too was calling my name. So, went ahead and tried this, no work at all except for dumping everything in the oven, bake, blend and serve.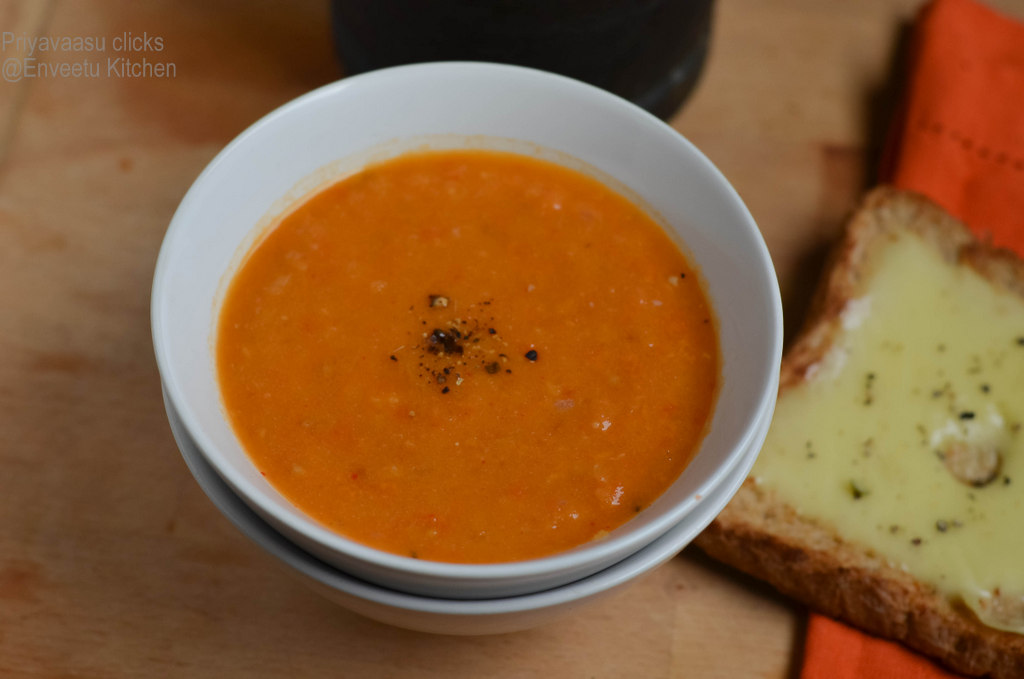 I served it along a cheese bread for my Lil ones mid-morning snack. He loved both the toast and the soup. Loved the mild flavor of thyme in the soup, definitely in my repeat list. Try serving with a dollop of cream if you are not calorie conscious, would definitely take the soup to another level.


Ingredients
250gms cherry tomatoes, halved
1 medium-sized onion, quartered
5 nos garlic cloves (skin on), top cut off
2 sprigs of fresh thyme or ½ teaspoons dry thyme
½ teaspoon brown sugar/use normal
Fine Grain Sea Salt &Freshly Ground Black Pepper as per taste
½ tablespoon olive oil (not extra-virgin)
¼ Cup Milk + ¼ Cup water (or vegetable stock)
½ tablespoon heavy cream (optional)
To serve along
A slice of cheddar cheese
Method
Preheat oven to 180 C.

Spread the cut tomatoes, onion, garlic, and thyme on a baking tray. Sprinkle with sugar, and season to taste with salt & pepper.

Coat with olive oil, and roast in the preheated oven for about 40 minutes, or until the tomatoes are about half their size, wrinkly, and some of the juices are caramelized on the bottom of the pan.
Let it cool for 10 minutes, take the contents in a blender or use a hand blender and blend until smooth. If you feel the soup is thick/thin enough for you, then serve it as such after this. But i felt it was thick, so thinned it down a bit.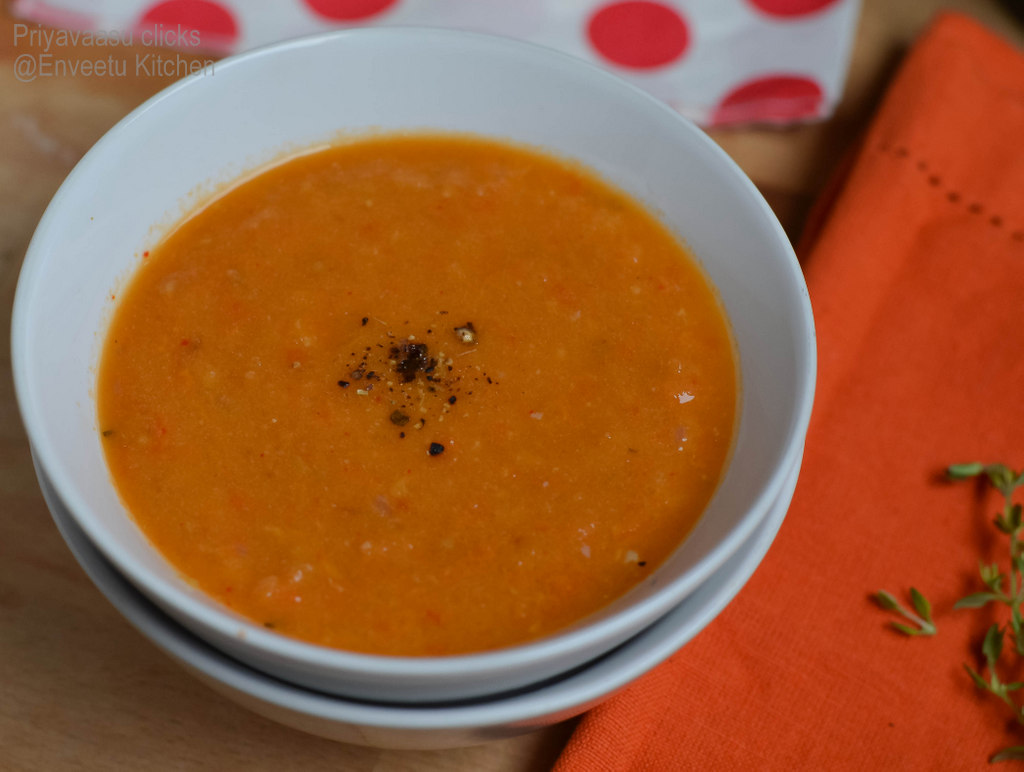 Take the blended soup in a pan, add water and milk Heat the mixture on medium heat, simmer until bubbly and warm for about 10 minutes. Take it off the stove serve hot or warm with cheese toasted bread.
Cheese toasted bread.
In a cast iron tave, toast the bread until brown on both sides, add cheese on one side and toast till cheese melts. Serve with warm soup.
Notes
I didn't blend the soup smooth, and also i didn't thin it a lot, the soup was a bit thick.
You can use vegetable stock instead of milk and water to thin down.
Check out the Blogging Marathon page for the other Blogging Marathoners doing BM#38