Along with Bake-a-thon, i m doing our regular blogging marathon too. The theme for this week is Birthday Treats. Planning a birthday party for your dear ones is such an enjoyable task. We recently did one for my Sister-in-law, i baked a cake and barged in to her place around midnight, it was such a fun.😅
I have slowly developed the confidence of baking my own cakes for my near and dear ones birthday. For my elder one's birthday i baked 3 cakes and in September for my niece's first birthday i baked a Barbie doll cake, that definitely was a big milestone for someone who cannot hold a piping bag and do a basic frosting. And to the see the results, the fun and excitement in the lil one's eyes, was an absolute gift and it just took away all the tension i had while making it. 
When i saw this theme for the BM, i thought of posting those cake recipes. But, i changed my plan and made an entirely different menu for these 3 days. I didn't want all the 3 recipes to be baked, what if somebody with no interest in baking wants to plan a party menu. So, i just thought myself as one such soul and planned 2 other recipes that can be made on stove-top.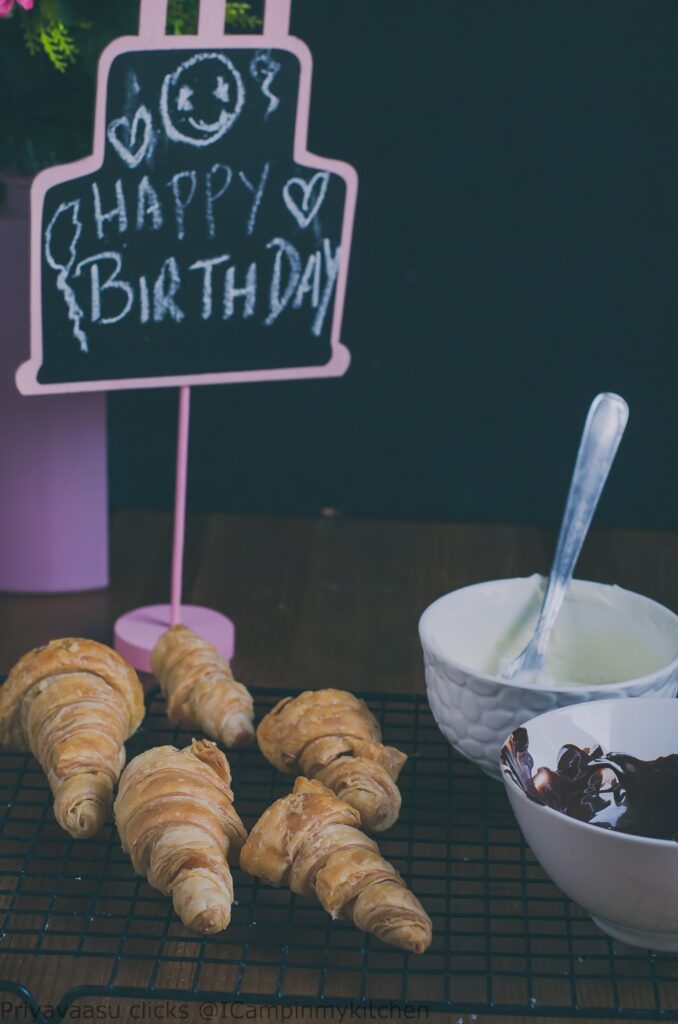 Today's recipe is a simple cream horn, baked puff pastry sheets, filled with sweet cream cheese and chocolate. This recipe is a bookmark from last year's Bake-a-thon, i saw this at Nalini's space and wanted to do it for a longtime now.  I have a baked Bread Cone/Cornets recipe filled with chocolate custard, already on the blog. But this is something pretty easy, no kneading, no waiting, just thaw the sheets, wrap and bake. Both my munchkins, were waiting for me click the pictures, the moment i said 'it is done' everything just disappeared!! It is a simple recipe and a super hit among-st kids. Do try and let me know, how you liked it.


Ingredients
5 nos puff pastry squares ( 2 sheets for 4 cones)
4 squares of dark chocolate, i used lindt
For the Filling
¼ teaspoon vanilla extract
In a bowl, take cream cheese, sugar and vanilla extract. Mix together well and keep refrigerated until use.
Method for making cones
I used square puff pastry sheets. Thaw it in the refrigerator for a day and use.

 

Take the puff pastry square on a board, roll it once and cut into ½ inch strips, i cut each square into 4 strips. 

Wrap the strip around the pastry cones, press the edges to seal well. I used 2 strips for a cone. If using pastry sheets, you will be needing only one strip for a cone, since it was a small square, i used 2 strips for one cone.  Repeat this for all the cones. I used 4 cones at a time.

Once rolled, freeze the cones for 30  minutes. Preheat the oven for 200C and bake for 30-40 minutes or until golden and crispy.

Once done, remove the cones from the oven, remove the metal cones and let it cool completely.
To Fill the cones
Melt the chocolate squares in a microwave. Take the chocolate in a Micro-wave Mug, microwave high for a minute. 

Dip each cone in chocolate, to get its mouth smothered with chocolate. Let it sit for a minute, for the chocolate to dry. Now pipe or spoon the cream cheese filling into each cone and see it disappear.